In the dental world, clinicians place roughly 800 million white composite fillings a year, and it's estimated that around 62% of those fillings or restorations fail within five years. This drives the patient back into the dental chair, re-opens their wallets, and fixes what they (reasonably) expected would last them for decades, if not forever.
Furthermore, The World Health Organization (WHO) ranks the treatment of oral health disease as the third highest health expenditure on non-communicable disease among people across the globe.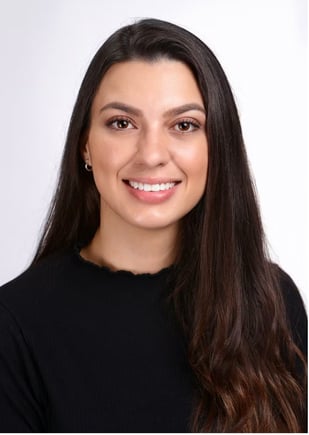 Dr. Cristiane Maucoski, a practicing dentist, orthodontist, and PhD candidate from Brazil.
With this information, Dr. Maucoski knew there had to be a better way for dentists to place restorations that wouldn't fail. Patients could pay for them once and depend on them staying in place for a longer period of time.
Ultimately, Dr. Maucoski wanted her research to accomplish three things:
To help manufacturers bring products to market faster

Help dentists make stronger, longer lasting fillings

Help patients spend less time in the chair without risking their health with an undercured filling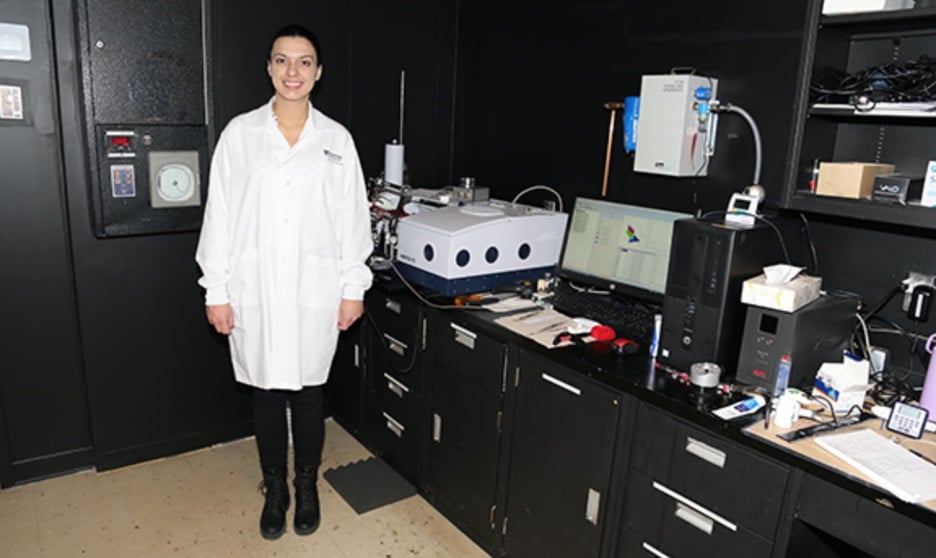 Dr. Cristiane Maucoski in her research lab at Dalhousie University, where she conducted award-winning research around dental curing lights.
Thanks to some prior knowledge about the importance of a proper cure and its effect on the longevity of dental restorations, Dr. Maucoski hypothesized that the answer to this conundrum may very well come down to curing lights—or the quality of cure when a restoration in placed.
Following this hunch, Dr. Maucoski reached out to Dr. Richard Price, a respected scholar and professor of dental clinical sciences, who specializes in curing light research. She desired the opportunity to go to Dalhousie University in Halifax Nova Scotia to conduct further research under his tutelage.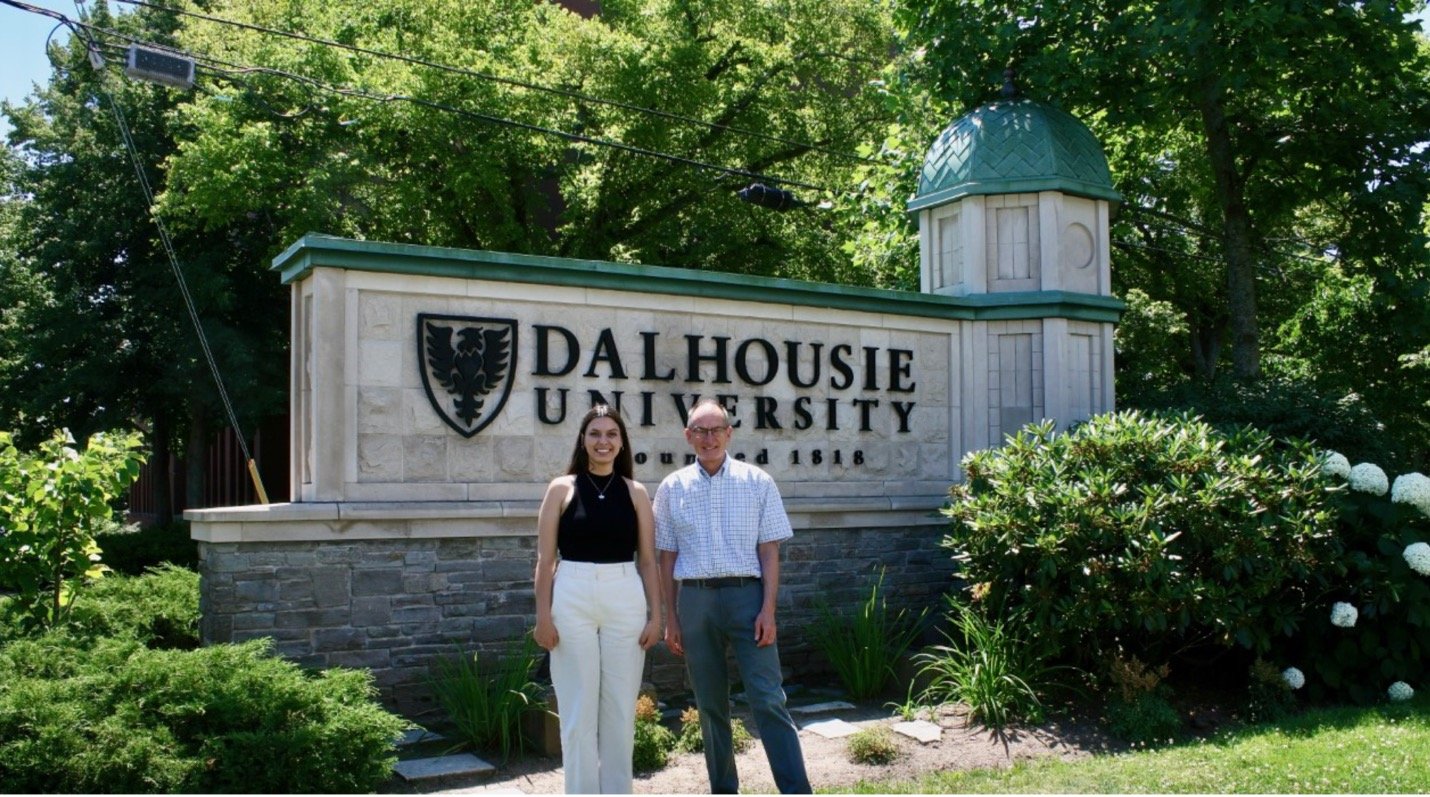 Dr. Cristiane Maucoski and Dr. Richard Price pictured together at Dalhousie University in Halifax, Nova Scotia, Canada.
Of her research in Canada from September 2021 through July 2022, Dr. Maucoski says:
Many dental supply manufacturers are creating modified resin-based composites and high-power light curing units in order to reduce patient chair time and improve productivity—so my research examined if these new, high-powered light curing units could achieve acceptable curing results and hardness at the bottom of white fillings, using simulated clinical conditions.
She continues:
Using 14 different curing lights (some expensive, and some 'budget lights') we checked the hardness of the fillings, the degree of conversion, the temperature, the depth of cure, and used the different lights to see if we could get acceptable properties; because if you don't have acceptably cured fillings, it can lead to tooth decay, breakage, or restoration failure, and it could produce leakage of chemicals, which then enter the patient's body.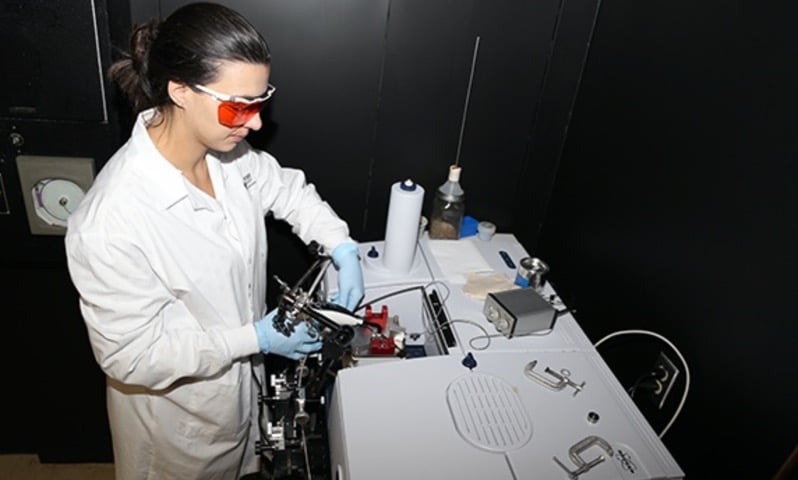 Dr. Cristiane Maucoski conducting curing light research last year in Canada.
Through her research, Dr. Maucoski observed that while some lights performed better than others, the best results at the bottom of the fillings she examined, after using the various lights, came as a result of longer exposure time to the composite. (Note: Ultradent's VALO X curing power came out on top in producing the highest quality cure compared to all other lights.)
Later, Ultradent joined Dr. Price in supporting the continuation of Dr. Maucoski's research by sponsoring the research findings she later submitted to the Mitacs Foundation, which is a not-for-profit organization that fosters innovation in Canada.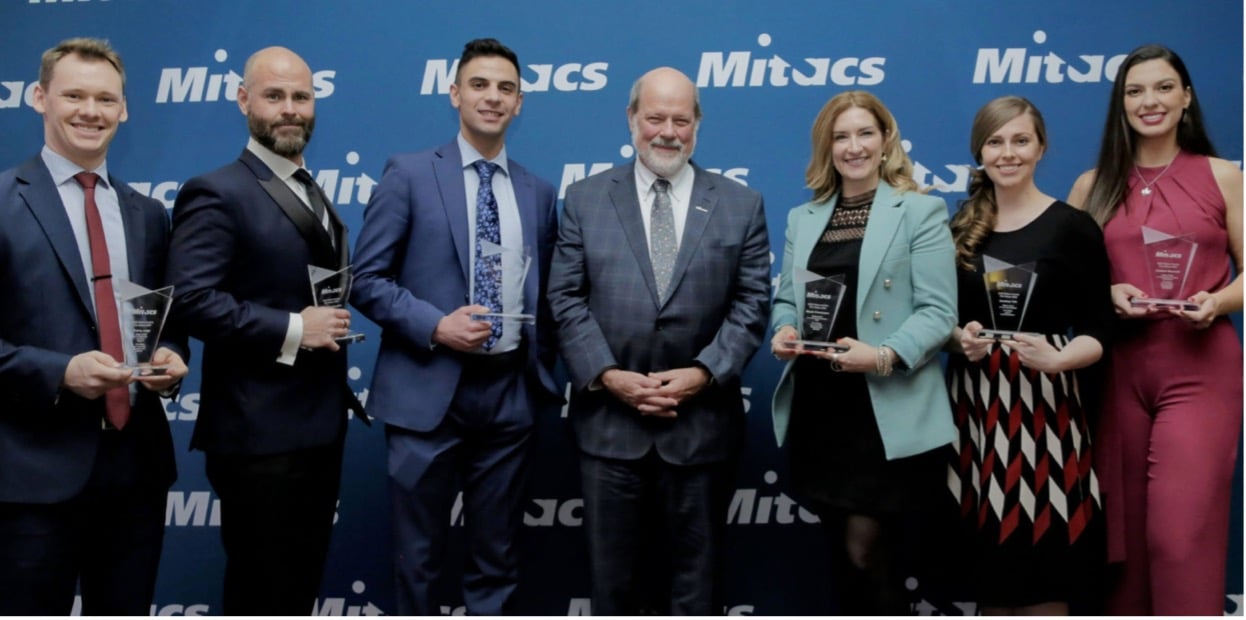 Dr. Cristiane Maucoski (far right) pictured with the other 2022 Mitac's Award Winners—chosen out of 400 total applicants.
In November 2022, she received the award for her research and findings, making her the first dentist to win a Mitacs Award. Joining Dr. Maucoski as the other 2022 Mitacs Award winners (after receiving roughly 400 award applications) includes a researcher who found breakthroughs in regards to prostate cancer, one who created AI that detects heart disease, a scholar who invented revolutionary tech for toxic clean-ups, and another who developed an app to improve the lives of people with disabilities.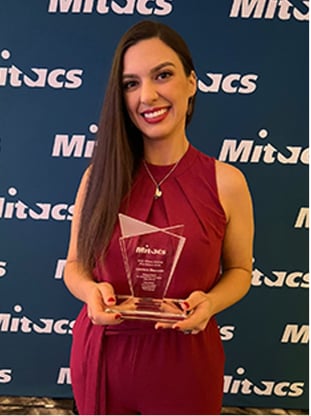 Dr. Cristiane Maucoski proudly holding her Mitacs Award for her innovative curing light research.
An article in the Dal News, Dalhousie's University's news site, states:
Among the lights Dr. Maucoski tested in her research for her MITACS Accelerate industry partner, was The VALO X—a powerful polywave curing light. It has a larger tip compared to previous VALO curing lights and emits a very uniform light beam. Dr. Maucoski found that it delivered better results than other curing lights she tested.
Backing up Dr. Maucoski's finding in the same news piece, Dr. Richard Price said, "It's estimated that over 50 percent of most dentists' income relies on curing lights, and if you're an orthodontist, it's closer to 100 percent. Plus, there is the headache of constantly bringing patients back to replace fillings or re-bond orthodontic brackets if the resin is not properly cured."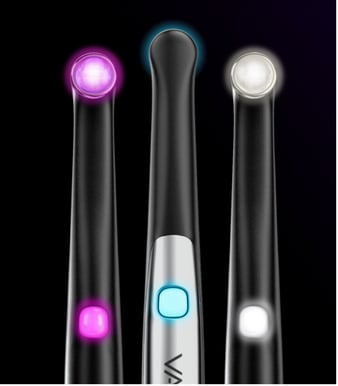 The new VALO X curing light.
The reach of Dr. Maucoski's research extends beyond simply improving the quality and longevity of restorations. In fact, curing lights are used regularly in dentistry to secure crowns and orthodontics by curing the cements and glues used in these procedures as well. So, her findings will positively change the way clinicians throughout the industry work and choose and use their curing lights in the future.
Regarding her findings, Dr. Maucoski said, "As a practicing dentist and orthodontist, I look forward to upgrading my VALO Grand curing light to Ultradent's newest VALO X curing light after seeing it perform so well during my research in Canada."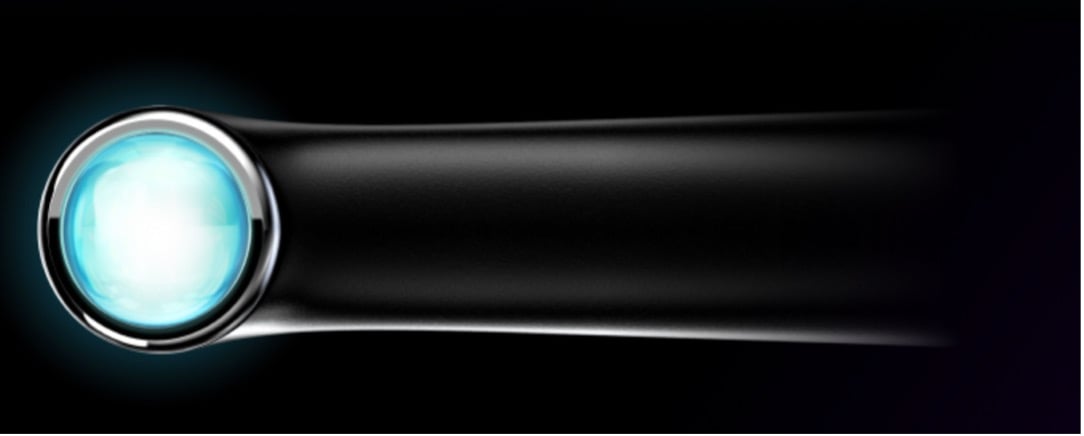 Ultradent's VALO X LED Curing Light.
So, what's next for Dr. Maucoski? Well, she completes her PhD later this Spring, and plans to continue practicing, researching, and hopes to continue improving her English with a visit to Ultradent headquarters after graduation. She said, "I want to visit Ultradent to be able to thank them in person, because I couldn't have done this research without their support of other innovators like me. This experience was just such a wonderful time in my life, and I owe a lot to them for helping me realize it."
Click here to learn more about Ultradent's award-winning line of dental curing lights, including the VALO X curing light, and click here to browse The Arch: The Ultradent Blog for more stories on Ultradent's products, humanitarian efforts, history, and to get helpful clinical tips to improve the quality and efficiency of your dental work.
You can also get more clinical information around why Ultradent's VALO X represents a step forward in restorative dentistry, as well as what to look out for when assessing a curing light's performance, as well as to learn about the difference between irradiance vs power, and why it's important.