We recently had the opportunity to sit down with Dr. Richard B. Price to discuss curing lights. For those not familiar with Dr. Price and his work, he's widely considered the dental industry's premier expert on curing lights and research surrounding dental light curing. In fact, he's been cited in more than 3,000 peer-reviewed, published research articles in over 140 publications throughout his career, and he shows no sign of slowing down. His innate curiosity for studying the reasons behind common issues that dentists in every field face unexpectedly led him to his chosen field of study. He now finds great satisfaction in mentoring and conducting research with the upcoming generation of dental students, dentists, and dental researchers at Tufts University School of Dentistry and at various dental schools in Canada, Brazil, and Europe.


Dr. Richard Price, clinician and renowned dental researcher
In our sit-down, we discussed all things dental curing, including what sets Ultradent's
VALO® Grand curing light
apart in the market, how much a dental office's revenue depends on the quality of curing light they use, what dentists should look for when purchasing a light, how to deal with composite shrinkage (and what's to blame for it), as well as a few pieces of sage advice for ensuring a quality cure every time.
Before we dive into your vast knowledge about dental curing lights, tell our readers a bit more about your background as a dental clinician and researcher.
I teach at
Dalhousie University
in Halifax, Canada, and I've been there since 1984. I also practice dentistry in Halifax. I made that my home base after finishing my graduate program at the
University of Michigan
in prosthodontics. I'm a prosthodontist by training.

Dalhousie University in Halifax, Canada, where Dr. Richard Price teaches and conducts dental research.
However, in 1991, I went to Sweden to begin my PhD in dental materials. While I was there, the research directed me more toward bonding, and from there, I got more interested in researching curing lights. I also did some work with
Branemark
, the company responsible for inventing dental implants.
When I returned from Sweden, I continued my research and then defended my thesis in 2001—so it took me a few years to finish my PhD. Since then, I've been focusing on researching dental curing lights and composite resins.

You've been passionate about the study of dental curing lights for many years. How, more specifically, did you gain the passion you have behind the importance of this dental technology and advancing it through your research?


As I was working on my PhD in dental materials, I began noticing a trend in what I call "iceberg composite" or "candy composite." So many times, dentists will cure composite with whatever curing light they use, and although it looks cured on the surface, they have no idea what's happening underneath—kind of like an iceberg. Or, like with candy, it will appear, very deceivingly, to be hard on the outside, but on the inside, it's still soft and not thoroughly cured, like a piece of candy. For so many years, dentists were blaming this trend on the quality of the composite or on water absorption causing the composite to break down, and it didn't quite make sense to me how some people had that problem and some people didn't, despite them often using the same composite. I had a hunch that it had nothing to do with composite, but instead, with the curing light, and that's how I started researching curing lights and curing light technology. To cut to the chase, we found, over and over, that it wasn't anything to do with the composites dentists were using, but instead, it had everything to do with the technique and the quality of light they were using that explained this common problem.
So with curing lights being such an important factor in the quality of a dentist's work, what advice would you give to a dentist that was looking to purchase a new curing light?
Buy a good one! (chuckles)
But in all seriousness, in addition to buying a good light (which I wasn't joking about), I would strongly advise that dentists take the time to learn how to use their new, hopefully high-quality investment properly! There's nothing worse than doing a whole day's work with your curing light on a low power setting because you somehow switched it from regular power to low power without realizing it had happened! That happens very frequently in practices where clinicians see an "on" and "off" button and don't take the time to learn more about the various power modes often offered by high-quality curing lights on the market like the
VALO
or
VALO Grand
curing lights.

The VALO curing light family, including the VALO Corded, VALO Cordless, and VALO Grand curing lights.
What would you say sets the VALO Grand curing light apart from all of the other LED curing lights that are available on the market?
I think first and foremost the tip size of the
VALO Grand
curing light is its primary distinguisher thanks to its 12 mm lens, followed of course by its unique durability thanks to its unibody construction. All of the
VALO
curing lights are very rugged. I'm not suggesting you throw it on the floor in anger, but I would dare say if someone did, it would most likely carry on working just fine, whereas if you were to drop other curing lights made by other companies on the floor—even the high quality ones—I'm pretty sure you'd be out a couple of thousand dollars.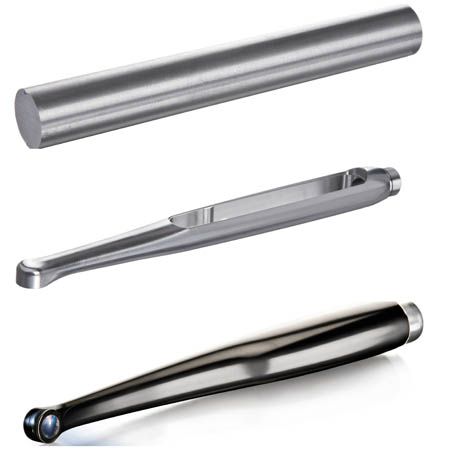 All VALO curing lights are precision milled from one solid piece of aircraft-grade aluminum which ensures its durability.
There are many "me too" products when it comes to curing lights, but in my experience, there's nothing else like the
VALO
light in those regards on the market.

Ultradent's VALO Grand curing light, which features a 50% larger curing lens (12 mm) than the original VALO curing light.
I think the other thing I would say to clinicians that are considering buying a new curing light is that with the VALO or
VALO Grand
curing lights, they can rest assured that they will
thoroughly
cure
all
resins and materials. They don't have to have any concerns or worries that way.

Ultradent's cordless VALO curing lights
For example, a regular LED curing light will certainly cure all composites, but the real question is how well will they cure the composite, and how long will it take. Those things matter! This is where "iceberg" or "candy composite" comes into play, as I mentioned. It happens way too often where a dentist is drilling into a filling and they get beyond the surface and all of the sudden their drill slips because it's soft in the middle. It shouldn't happen as often as it does and I believe that the VALO light—be it the original
VALO
light or the
VALO Grand
light, solves that problem with its ability to thoroughly cure. I use the VALO curing light in my office and I will say this, soft centers or bottoms don't happen to my restorations!
How much of an office's revenue would you say depends on the quality of curing light they use, given that they use it correctly?
I would say at least 50%, because when you think about it, we use curing lights not only for composite, but also for sealants, bonding, as luting agents for indirect restorations, and in orthodontics with brackets, etc. Can you imagine in an orthodontic office if their patients' brackets were continually slipping, what a disaster that would be for the office's revenue and time?
What would you say, in your experience, that dentists don't understand or are perhaps missing in their knowledge when it comes to light curing, and what tips do you have for clinicians, aside from buying a quality light and learning how to use it, to improve their quality of cure?
I think a lot of dentists don't recognize the extreme importance of light curing not only because, as we discussed, they will see that the top of the restoration is hard, and they think that because of that, the bottom is hard as well, but just as commonly, many dentists think that when they take the light off the restoration, the composite will carry on curing. The reality is that as soon as the light goes off, there's only a very, very small amount of composite that continues curing, and it will never be completely cured if you turn the light off prematurely.
My best tip for clinicians to ensure a proper cure is to wear protective eyewear and then watch closely what you're doing. So many dentists or their staff look away while they're curing because they want to protect their eyes without wearing eyewear, and then they end up curing the lips, curing the gums, the tongue, and curing everything but the restoration! It's so important to keep your eyes on the restoration to ensure that your light is directly over the restoration and that the tip stays in place. The
VALO
curing light makes that easy thanks to its low profile head that allows it to access posterior teeth very easily while also allowing the clinician good visibility.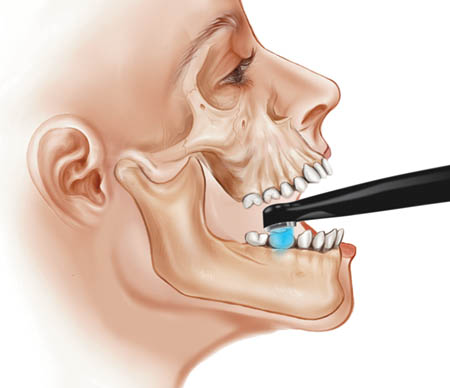 Dr. Price stresses the importance of holding the curing light directly above the restoration to ensure a proper cure.
Many dentists are concerned about composite shrinkage with a curing light. What tips and tricks would you give to dentist with these concerns?
Well, the only reason a composite is shrinking when it's being cured is that…it's being cured! It has nothing to do with the light causing shrinkage. The composite undergoes a chemical reaction when it's curing and it shrinks. It's a terrible idea to under cure a composite to avoid shrinkage. A complete cure is what you want! If you under cure, it's not as strong, it will fracture, it's going to pick up stains more easily, etc.
So how should a clinician compensate for shrinkage?
They can do incremental placement, building the composite up in layers, or they can cure incrementally. For example, with an MOD restoration, first cure the mesial, then cure the distal, then cure the middle/central part. That should allow the clinician to keep an eye on shrinkage and build up the composite as needed—but never ever, ever under cure!
Do you suggest that dentist use a radiometer, how often, and what radiometer would you recommend?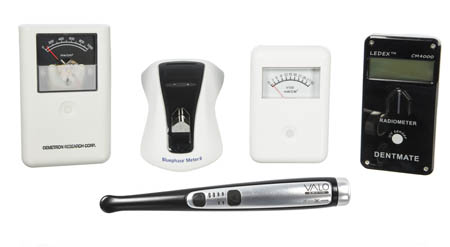 Dr. Price recommends benchmarking the operatory's curing light with a radiometer as part of the daily routine.
I do suggest that a dentist use a radiometer. I would only caution dentists to not believe the value that the radiometer reads. That is not the part that matters, because every brand of radiometer will give you a different reading. Essentially, they're cheap devices, unless you spend $10,000 on one, which is absolutely unnecessary. What matters is that you benchmark the value at which the curing light reads when you first buy it, and then note when the value goes down. Otherwise, it's impossible for the naked eye to tell when the value of the light when it is dimming. I think checking your curing light on whatever radiometer they have should be a part of every dentist's morning routine. Some people think once a week is enough, and I disagree, because if you check it one week and everything looks fine and then the next week it's not fine, what are you going to do, recall all of those patients? You need to be able to know when things begin going down in comparison to your benchmark, so that you can compensate for that with your exposure time and eventually by changing the light or getting it fixed when you get down to around 50% of where it originally benchmarked on your radiometer. I also suggest going with a radiometer that gives you a digital output versus a needle. They're much easier to read.
One last thing I would suggest dentists routinely do is check the tip of their curing light for resin, debris, etc., because those things cut down the light's output significantly, which can be remedied by cleaning/scraping it off or replacing the tip!
What curing light do you personally use in your office?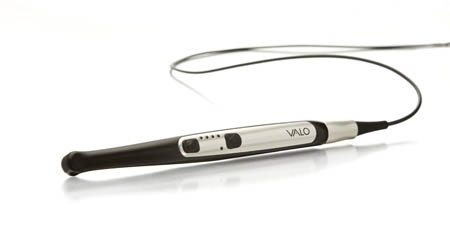 Dr. Price enjoys using Ultradent's original VALO corded curing light in his operatory.
I like using the corded
VALO
curing light, and that's because I like having it anchored in my operatory all the time so it never gets carried off or lost. That's just my personal preference. Other clinicians love the portability of the cordless
VALO
lights. I also love that with the corded VALO light, you never run low on battery life or lose your batteries, although the
VALO Cordless
and
VALO Grand
batteries are inexpensive and easy to replace.
Any tips, tricks, or personal advice you could share on how you use your VALO light?
With indirect restorations, I like having my
VALO
curing light on the Xtra Power setting, because for my crowns, zirconium, etc., I think it's most effective for curing the luting agent on them. I call it "punching through the ceramic." I think you need to have that Xtra Power setting to get through it!

Dr. Price advises doctors to get to know and to regularly use the various power settings offered on their curing lights.
Aside from that, I find that using the Regular Power setting on my
VALO
light is great for all of my direct restorations.
Thank you so much for your time, your research, and for sharing your knowledge and advice on this important issue with us today, Dr. Price!
It was my pleasure!