Ultradent Announces Icons of Dentistry: A Workshop for Women Event


​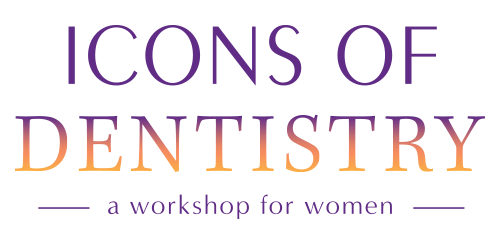 Ultradent is pleased to announce an upcoming special two-day event, Icons of Dentistry: A Workshop for Women. It will be a weekend of networking, socializing, rejuvenation, and education to celebrate women in dentistry. This year's theme for the workshop will be Compassion.
The Icons of Dentistry: A Workshop for Women event will take place June 22–23, 2018 at Ultradent's international headquarters in South Jordan, UT. It will feature iconic women in the field of dentistry teaching classes and workshops on everything from work/life balance, practice building and management, esthetic dentistry, lasers, and more. There will also be a special keynote speaker to be announced later this month.

Attendees will be treated to a special dinner in an orchard at the home of Dr. Dan Fischer, founder and CEO of Ultradent, as well as a cocktail social where attendees can mingle with each other and the event's speakers. Additionally, attendees will be treated to an evening of dinner and drinks at one of Utah's highest-rated restaurants, Tuscany.

By attending Icons of Dentistry: A Workshop for Women, clinicians will earn 16 continuing education credits. Registration begins March 8, 2018, with 100 spots available. Tickets are $199.

To register for, or learn more about Icons of Dentistry: A Workshop for Women, please call 800.520.6640 or visit www.iconsofdentistry.com.

Learn More »


---
Opalescence® PF Tooth Whitening System Unveils New Packaging
​


Ultradent Products, Inc., is pleased to unveil new packaging for its hallmark professional take-home tooth whitening system, Opalescence

®

PF whitening. Opalescence PF whitening system's new look showcases a modern, sophisticated, clean esthetic and utilizes less plastic than its predecessor. The new packaging also features a nesting concept, which maximizes space and gives each product element a designated place for easy access and product storage. The box uses an invisible magnetic closure, making it easy and desirable to save and reuse, adding to the environmentally friendly, contemporary appeal.

The Opalescence PF tooth whitening system has ranked as the number one professional whitening system worldwide since its release in 1990. The award-winning system features customized take-home whitening trays with syringe-delivered whitening gel. Opalescence whitening gel is known for its sticky, viscous texture which allows it to stay put on the tooth, instead of migrating to tissues, to provide maximum whitening results with minimum sensitivity. Newest to the Opalescence PF whitening brand is Opalescence

®

Quick whitening—a 45% carbamide peroxide whitening gel with a 15- to 30-minute wear time that is now part of Opalescence PF's take-home line of products. It comes in a Mint flavor. PF whitening also comes in 10%, 15%, 20%, and 35% carbamide peroxide concentrations, in Regular, Mint, and Melon flavors. The product also contains potassium nitrate and fluoride.

Shop Now »
---
Ultradent Manager Mitch Morgan Receives Patriot Award from ESGR
​
Mitch Morgan (middle left) receives the Patriot Award from the the Employer Support of the Guard and Reserve (ESGR) for hiring and supporting Ultradent Web Designer, Skyler Bradsby (middle right).


Ultradent MarCom Manager Mitch Morgan received the Patriot Award, which honors individual supervisors for their support. To win the award, one must be nominated by an employee who is a member of the National Guard or Reserve.

In this case, Mitch was nominated by Ultradent MarCom web designer, Skyler Bradsby, who serves in the National Guard.

Of receiving the award, Mitch said, "I was very shocked and excited. I'm proud and lucky to have Skyler Bradsby as a member of my team. Hiring him, knowing that he is a member of the National Guard, has never once been a mistake. He's incredibly talented, and even though he has to leave once in a while to carry out his duties, he always informs me plenty in advance and he never misses deadlines.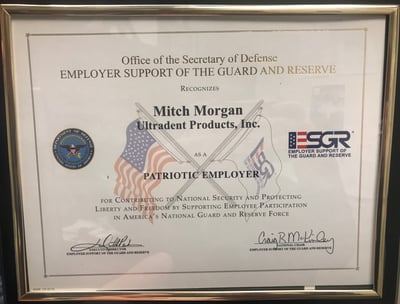 The Patriot Award, presented by Jeff Tiede of the ESGR to Mitch Morgan, Ultradent's MarCom Manager
Skyler Bradsby, who nominated his manager, Mitch Morgan, for the award, says, "I'm grateful for Mitch and Ultradent's support of my military duties. When I applied for the job, I had reservations that it would be an issue or perhaps hurt my candidacy as an employee, but with Mitch and Ultradent, it's never been an issue. We need more people like Mitch who support National Guard and Reserve members. It is essential for our country's safety and I feel it's very patriotic."
When asked to address other employers who may have reservations in hiring a member of the military, Skyler says, "Busy people, like military members, know how to work with deadlines, and are often more productive and responsible. I feel that being a member of the National Guard, although it makes my schedule busier, makes me a better employee."
Skyler's 1st Sergeant, 1SG Love, and the Employer Support of The Guard and Reserve Chair, Jeff Tiede, joined him in presenting Mitch Morgan with the award. To learn more about the award and organization, visit
www.esgr.mil
.