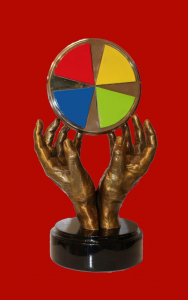 This past weekend at the California Dental Association, Ultradent received a most exciting honor, the Golden Hands Award of Xcellence for Ethics and Truth in Advertising.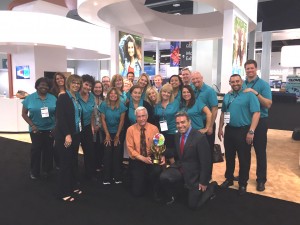 Initial company nominees for this prestigious award were selected by a respected group of well-known and well-respected clinicians and leaders in the dental industry, including numerous Key Opinion Leader doctors.
Together, they examined upwards of 3,000 companies before selecting a small group of nominees. They selected the nominated companies based on the following merits:
• Ethical Conduct
• Placement of Public Health before Profits
• Dependable Products
• Knowledgeable Personnel
• Excellent Customer Service
The final nominees were then voted on by thousands of practicing dentists across the nation to select the winner—Ultradent Products, Inc.!
Of receiving the honor, Dr. Dan Fischer, President and CEO of Ultradent Products, Inc. said, "We're so honored to have received this recognition. Additionally, it must be said that the true honor for this award goes to the men and women at Ultradent who work tirelessly every day to uphold the values upon which Ultradent hangs its hat: Integrity, Care, Quality, Innovation, and lastly, Hard work. They embody these values in the way they contribute to our vision every day, regardless of their personal job description or the continent on which they serve. We are humbled to receive this recognition and will use it as a critical reminder of our duty to continue to be responsible and caring to those we serve, both inside and outside Ultradent. Indeed, we are truly fortunate humans. Onward and upward!"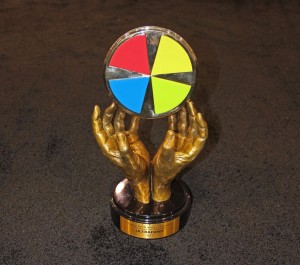 In choosing to create the award, Dr. Amir H. Motamed, DDS, says "As part of our efforts to create more transparency in dentistry, we have created a very unique and luxurious award: The Golden Hands Award of Xcellence for Ethics and Truth in Advertising. With the ever-increasing prominence of the Internet in the Information Age, it has become increasingly more challenging for dentists to delineate fact from fiction and pertinent research results from creative marketing strategies. The Golden Hands Award of Xcellence has been created to represent and promote the values that the dental profession holds in its highest regard.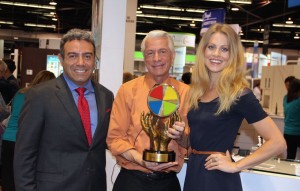 The Golden Hands Award of Xcellence has the distinction of being the most elaborate award in Dentistry. Conceptualized by Amir H. Motamed, DDS, the sculpture was designed and made by commissioned artist and master craftsman, Donjo. The sculpture is made of casted bronze over an Italian marble base. It stands 16 inches tall and weighs 18.4 pounds. The sculpted Golden Hands of Dentistry are shown upholding the four colored triangles of the dental profession: Dental Education, Dental Professionals, Dental Organizations and the Dental Industry—all pointing to a common core.
Ultradent is thrilled, honored, and humbled to have received such a distinction in the name of a cause we truly believe in. It is our greatest hope to continue on with a legacy of truth and ethics in advertising and all else that we do in all the years to come.