On September 26, 2015, Ultradent's very own Olga Klar (international regional manager over North Eastern Europe) was inducted into the University of South Alabama (USA) Athletic Hall of Fame for her accomplishments in track and field during her time at the university, and for her exceptional academic achievements as a student athlete. "My main event was the 100-meter hurdles, but I also did the long jump, javelin, shot put, and the heptathlon," she says.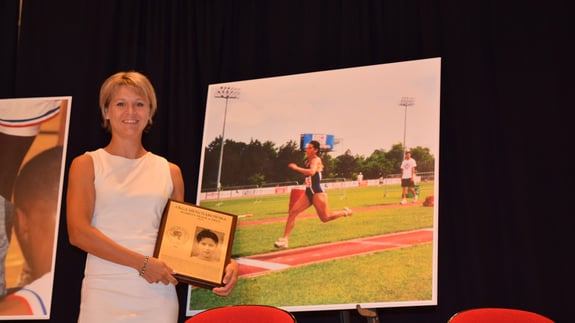 During her time at USA, Olga was made an 1999 Academic All-American, and led the university's track and field team to their first-ever championship win at the 1999 Sun Belt Conference. She was also named the team's 1999 "Outstanding Meet Performer and Top Scorer" overall and was the first female at USA history to qualify for the NCAA Outdoor T&F Championship. She ended her career with the Sun Belt Conference record in the 100-meter hurdles.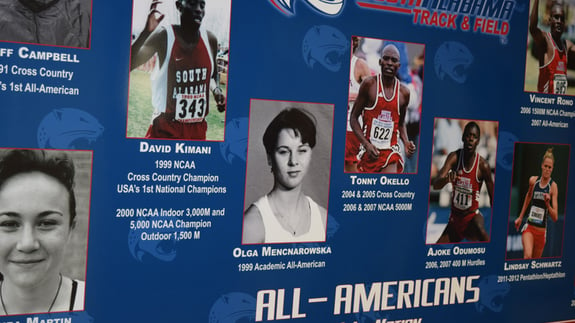 Growing up in the Czech Republic, Olga says playing hide-and-seek with the boys fostered her love for athletics. "I learned to run because I wanted to be the fastest so no one would see me or catch me," she remembers with a smile.
She later went on to attend a special athletic high school, where she became the Czech Republic's national champion for hurdles. After her national championship win, her coach, an American, told her that he believed she could get a full-ride scholarship to a number of U.S. universities, and with her permission, submitted her for consideration to several schools. After receiving numerous full-ride scholarship offers, Olga says "My coach encouraged me to go to South Alabama because he said it had great weather where I could train year-around, and since it was a smaller school, he thought the teachers would be more helpful there, as I knew very little English at the time." She continues, "Even though I knew nothing about the U.S., I said, 'Okay, I'll just go!'"
Arriving at the University of South Alabama, Olga excelled in English, and threw herself not only into track and field, but also into her studies, earning a 4.0 GPA for all four years at the university. However, despite her achievements, Olga says she was surprised to hear from the university this past year when they contacted her about inducting her into their Athletic Hall of Fame. "At first I thought it was a spam email!" she laughs. After realizing the email really came from USA, Olga says she decided to accept the honor, mostly, for her children. "I want them to see that with self-discipline—if you believe in yourself, and work hard, you can achieve things you would normally never be able to do."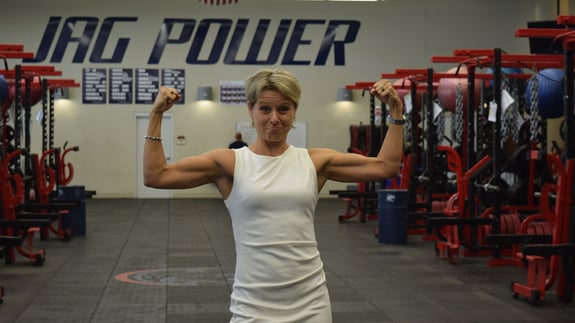 As a highly valued, top performer at Ultradent, the values Olga learned as an athlete continue to play into her daily life. "It's an experience that serves you for a lifetime. It definitely taught me discipline and hard work. It also taught me that working long and hard for something pays off in the end. In fact, putting in extra hours, if I need to, never seems like a big to me—as that was the norm during my time on the track team."
Accepting the award, she says, "I felt very emotional and proud because before, I just did everything automatically and without much thought—but going back to be inducted, I realized that it really was something special that maybe I hadn't considered before. It made me feel very appreciated that someone recognized something that I did for the school."
Alongside her on September 26th, the University of South Alabama also inducted legendary basketball coach Ronnie Arrow and Tonny Okello, who has since gone on to become a professional track and field athlete.