In the age of selfies, high-definition cameras, and social media, the demand for high-quality esthetic dentistry has never been greater. For dentists, one thing that can make or break their work is the quality of the composite they choose to use on their patients. With so many options out there, here are five attributes that all dentists should demand from their composite to guarantee esthetics, performance, and quality and ensure patient satisfaction. Yes, it IS possible to have all of the following in one composite.
1. Handling/Control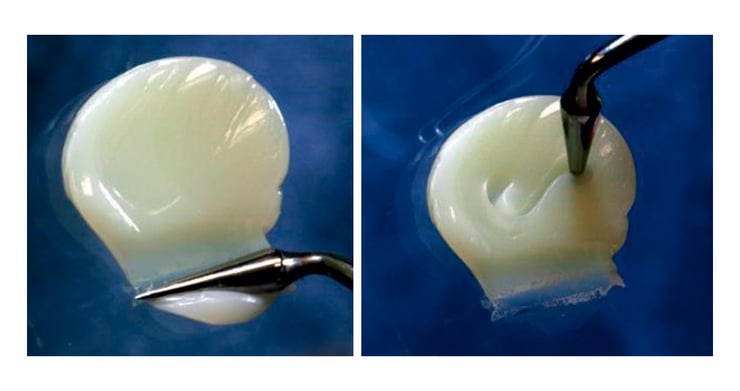 Ultradent Mosaic® universal composite


Clinicians should look for a composite that can be easily manipulated while also retaining its shape. It shouldn't slump, tear, pull, or stick to instruments—when this happens, valuable time is wasted on the restoration. Composites that cut smoothly, layer easily, and have ample working time provide a high level of control, allowing the clinician to work more efficiently on the task at hand.


2. Range of Shades, Opacities, and Translucencies

Esthetics are the highest thing on a patient's list when it comes to their degree of satisfaction with their dental work. For a composite, esthetics are most heavily determined by the range of shades, opacities, and translucencies offered by the product for the dentist to work with. The higher range of options determines how lifelike, finely detailed, and esthetic the final result will be, as dentition differs from person to person. Ideally, the composite a clinician chooses should offer opaque (dentin) shades that will naturally establish the hue and chroma of the restoration. There should also be a selection of translucent (enamel) shades that determine the value, or overall brightness. When creating a restoration, the opacity of the dentin shade in combination with the translucency of an enamel shade produce an effect that truly replicates the optical properties observed in surrounding dentition. Whether a single shade is used on a small chip or defect, or multiple shades are needed for a complex restoration, Mosaic composite offers 20 shade options to produce predictable, lifelike results.


3. Durability/Longevity

Class II restoration using Mosaic composite
shades A2 and Enamel Neutral; a tinted resin
was added for a stained effect. Photos courtesy
of Prof. Lorenzo Breschi


The range of durability in composite brands available on the market varies widely. That is why dentists should exercise extreme scrutiny and do their research when it comes to choosing a quality composite. Ideally, clinicians should look for a composite that boasts high marks in gloss retention, hardness, and compressive and flexural strengths. (Low marks are actually better for volume shrinkage and wear rate.) Yes, higher quality composites may cost a bit more initially, but will pay off in leaps and bounds in the long run with shortened chair time and far fewer failed restorations and redos.

Pro tip: In addition to a quality composite, a thorough cure also greatly contributes to the longevity of a restoration. Investing in a high quality curing light, like Ultradent's VALO® Grand curing light, which easily cures all photoinitiators no matter where they're located in the mouth, helps ensure restoration durability and longevity!



4. Versatility
Thanks to leaps in dental composite research, dentists can now purchase composites that use nano-hybrid technology, which allows the composite to perform well in any anterior or posterior restorative case. Nano-hybrid composites contain multiple sizes of particles, which combine the benefits of microfilled composites (which possess tiny particles to create high shine but lack strength) with the larger particles of hybrid composites (which offer good strength but give a less polishable, matte finish). This allows nano-hybrid composites to tick all the boxes when it comes to esthetics, durability, and polishability. Mosaic's nanohybrid formula contains filler particles composed of zirconia-glass ceramic and 20 nanometer silica. The optimized balance of nanofillers produce a smooth, glossy surface and contribute to mechanical properties that perform well in high stress-bearing restorations.
5. Accurate Shade Guide

Removal shade tabs (included with Mosaic
composite) make shade matching more accurate

An accurate shade guide is an invaluable asset to dentists when using a composite for the first time, as it reduces uncertainty when determining the composite shade(s) needed. Mosaic composite's shade guide has 20 shade tabs that take the guesswork out of shade matching, for a predictable, straightforward experience. Tabs made from 100% composite produce a true representation of the cured final outcome, as well as a guide for correctly combining and matching shades to the natural chroma, value, and hue of the patient's dentition.