Despite the challenge some dentists find in getting their patients excited about regular six-month cleanings, most clinicians can find a patient of almost any age that's enthusiastic and interested in a whiter, brighter smile! With that in mind, what better way to attract new patients—and subsequently, increase practice profits—than by implementing a turn-key teeth whitening sample program sure to get results?
Ultradent had this strategy in mind when creating the newest packaging for its award-winning, disposable, convenient teeth whitening system—Opalescence Go™ whitening.
The innovators behind the industry-leading Opalescence™ Whitening Systems prioritized the point of view of busy patients and clinicians when they designed Opalescence Go whitening's new look and feel—especially when it comes to sampling.
Opalescence Go whitening has a new look and feel, including a new dispense feature.
Now practices have the option of purchasing a sample tower with the same modern, deluxe look and feel of the new Opalescence Go whitening packaging. It's loaded with single use, separately packaged whitening applicators (our Ultrafit™ trays) that instantly mold to the teeth for a custom-like fit. A handy take-home card is included with each tray that reveals full step-by-step instructions for use. This enables the patient to use Opalescence Go whitening correctly the first time, without spending unnecessary time with office staff for explanations.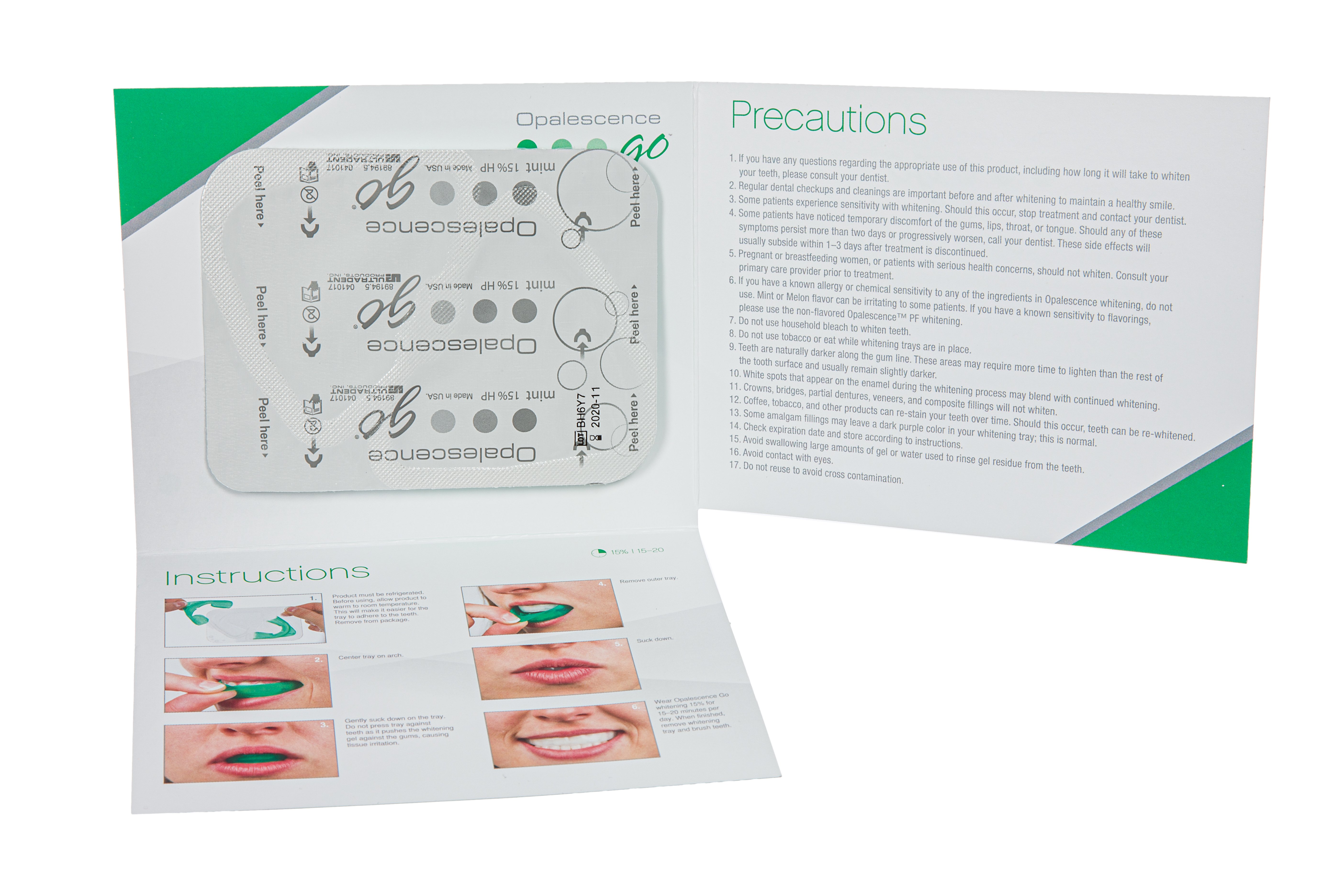 The new Opalescence Go sample cards open up to reveal easy to follow instructions so the patient can take the sample and go!
Additionally, its disposability and Ultrafit tray system allows clinicians to introduce patients to teeth whitening without the commitment of creating custom trays. It's a win-win for patient and clinician in terms of economics, efficiency, and barrier of entry! Thanks to this, sampling Opalescence Go whitening strategically can truly take a practice to the next level in terms of patient pool, and of course revenue.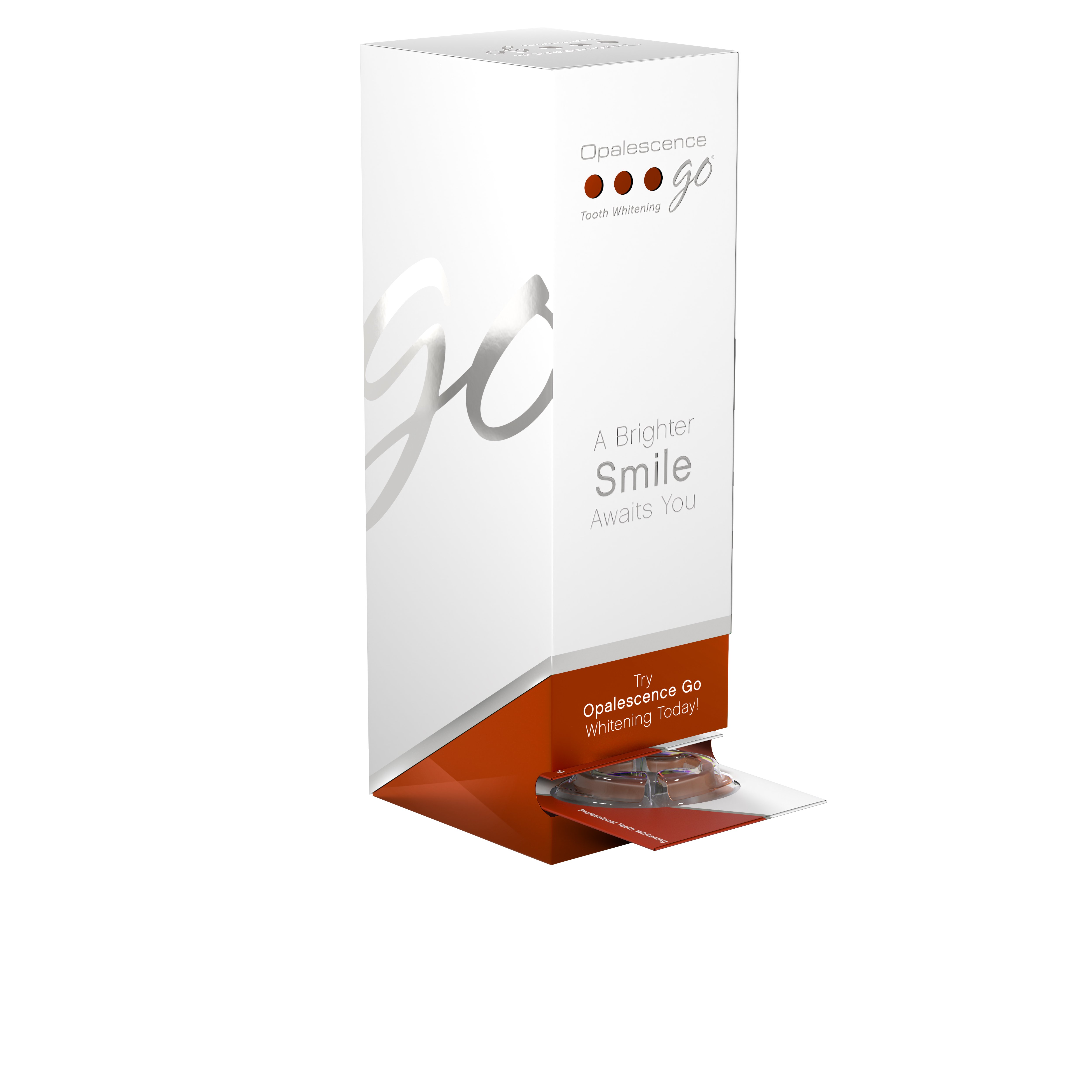 The Opalescence Go Whitening Sample Tower is available in Mint and Melon flavors.
The 2 Ways Samples Help Increase Cash Flow
Sometimes the hygienist, assistant, or clinician runs the risk of offending the patient by implying they need whiter teeth. Steve Gerber, an Ultradent sales trainer, suggests these tips for avoiding awkward whitening conversations with the patient:
Tip #1. It's actually really easy. I always tell our doctors to have samples of our take-home, semi-custom Opalescence Go whitening system in their office and at the end of their patients' appointments ask them if they'd like [you] to put trays in to sample it. I've rarely heard a story where the patient turns down a free sample of tooth whitening. Then, once the patient has seen how it works, they usually come back wanting to purchase the system and complete the whitening process. By offering them that initial sample of Opalescence Go whitening, you've bypassed any awkward whitening conversation and let them come to the conclusion themselves about whether or not they'd like to whiten. The answer is usually "yes!"
Tip #2. When dental practices purchase our Opalescence Go whitening tray sample towers to display at the front of the office, most dentists who have employed this strategy have said that a high percentage of their patients who take a sample, or try one on in the office, end up buying a full patient kit (which contains 10 trays and sells for anywhere from $50 to $100). Even if only two of the twenty patients who try a sample from the tower end up buying kits, the dentist has already more than covered the cost of the sample tower, while still making a profit. I would say that's a pretty sound investment.
Paired with the Opalescence Go whitening sample tower, keeping whitening patient kits in clear display throughout the office (at the front desk as well as in operatories) is another good sampling strategy. Patients are more likely to see the attractive teeth whitening display, and upon inquiring office staff can seize the opportunity to send them home with a sample—or offer to help them try a sample on the spot! More often than not it results in a sell, continued patient visits, and patient referrals. Viewing teeth whitening sampling as a strategic business move instead of a free giveaway is truly a simple, easy way to transform a practice and its revenue without a hefty investment.
Learn more or order Opalescence Go whitening patient kits and sample towers here!