"If anybody has had to move a dental office, you'll find out it's ten times worse than moving a home," says Ultradent VP of Clinical Affairs, Dr. Jaleena Jessop. "Often times there are so many different products that just have one indication for what it can be used for."
Closets full of single-indication products can certainly create headaches during a move, but they can also be expensive, both on time and actual cost. Products that can be used in multiple ways add simplicity to the complex workings of a dental office. J-Temp™ temporary resin offers multiple solutions in one syringe. "J-Temp is a product that kind of covers a variety of different needs," Jessop says.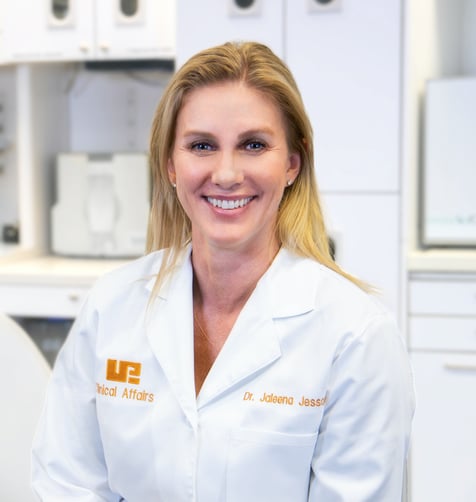 Dr. Jaleena Jessop
Dentists can utilize J-Temp temporary resin for everything from bite ramps and temporary occlusal buildups, to build structure for isolation clamping, for temporary restorations, and for splinting between implant copings.
"The first time I started thinking about J-Temp, I was doing a root canal on a maxillary molar, and the mesiolingual cusp was fractured below the gingiva. And I was just really struggling to get isolation before I irrigated the canals," says Jessop. At that time, she was doing a good bit of ortho work and she took an ortho product to use as a barrier for irrigants and to help support the cusps that were in place before the clamp was put on. Sure enough, it worked well. "I thought about doing some composite and bonding, but when you get down below the gingiva and you try doing etch and then adhesive in this fractured area, it can be difficult if not impossible to get isolation. I wanted something that would remain until the final build-up and restoration could be placed. This was the idea for the first of the indications for this product."
The more Dr. Jessop started using it for different niches, the more she discovered how nice it was to have one product capable of covering a gamut of different needs as opposed to five, six, or more different materials that may all expire before they were used again after opening.
And thus, J-Temp temporary resin was born.
Emergency calls are nothing new to dentists, and Dr. Jessop says she'd continually receive them from patients saying they'd just had a root canal and the temporary would be gone. "They would never call the endodontist, they always call the general dentist. And so, nine times out of ten, it had just washed out. It wasn't gone. The seal was still there, but it was incredibly washed out. So they'd get food packed in there and they struggled with the stress of a fracture—thinking they were going to have to now have the tooth extracted or have to pay to have the root canal retreated, this doesn't happen with J-Temp. You put it in, you make sure that the occlusion is good, and you'd let them go."
Temporaries are unique in that there can be an unforeseen consequence to them being too good. It's a strange concept, to be too good—but the perfect temporary may lead to a patient feeling like their problem is fixed and they don't need to return for a final restoration. "He didn't come back for seven years. It looked too good," Jessop says of a patient she saw soon after graduating dental school. It was a particular situation where her father, Ultradent Founder and CEO Emeritus, Dr. Dan Fischer, was out of town and needed Dr. Jessop to place a temporary before he could do the full restoration. "I'm like, no problem, Dad. I got this. I made the most beautiful temporary. I mean, I was so proud of myself. I took a picture of it and I sent it to my dad and he's like, "Oh, J, what did you do?" The patient didn't return for the full restoration for the better part of a decade."

When it comes to its unique color, "J-Temp is light purple because we want just a subtle reminder to the patients that this is still just a temporary restoration, that they need to get back into their doctor and get the final restoration placed."
A common theme with the versatile J-Temp temporary resin, the light purple color serves multiple purposes. "For the doctor, it's also a color that will allow them to determine what's temporary and what's tooth structure, so that they know all of the temporary is removed before they do the final restoration."
"It's just lightly light purple [ . . . ] you can use it on the lingual of an anterior tooth. It doesn't show dark. You can use it on the occlusal surface and it doesn't show too dark. So that's why the light purplish color," Jessop says.
J-Temp resin is a polymerizable, temporary material. "It's nice because it doesn't require an adhesive to be placed. It's self-leveling.1 It's something that has a little bit of shrinkage, but not much. It's a resin that isn't really affected by peroxide, so it can be used with the walking bleach technique. There's almost no oxygen inhibition layer to it."
"You're not supposed to be able to put resins over peroxide because oxygen inhibits polymerization. So you normally use more of a putty type or a self-adhesive resin cement like UltraTemp™ material and it comes out within a few days." Jessop continues, saying she was searching for something that had more support, and structure to it, so it didn't fall out in between appointments.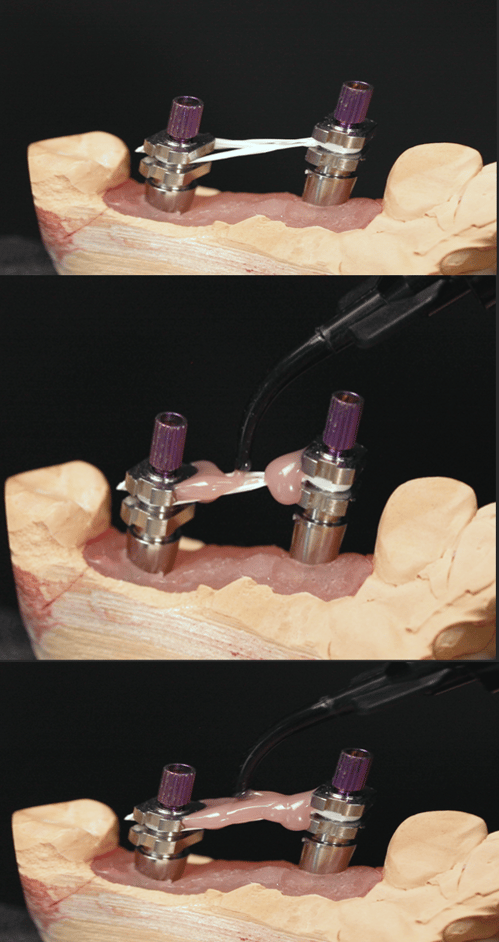 You can also use J-Temp temporary resin to build splints between implant copings or with the floss technique to help prevent implant distortion. "I have this patient who years and years ago was changing the tire on his car and he got hit and knocked over an overpass and he got a facial impact and it knocked out a lot of his teeth," Jessop says. Following the accident, her father, Dr. Fischer, restored the patient with a bridge. Over time, with perio and bone deterioration, the abutting teeth for the bridge had to be extracted and implants had to be placed. "Many may already be aware of how difficult it can be to seat the framework on implant abutments. This is often times due to the flexing of the implant impression abutments during the impression making procedure. Being able to isolate and stabilize the copings while the impression material sets will be a game changer," Jessop says. She then took another impression to test the seating before final restorations were made. "I just took a little bit of floss, went around each one, and then I reinforced with J-Temp. Place the J-Temp along the floss covering all but a very small segment, then light cure. Only connect the J-Temp to the coping once the majority of the resin has already covered the floss and been polymerized. This will reduce the polymerization stress, thus reducing the distortion on the coping. The next coping came back and seated beautifully."
Dr. Brigham Stoker practices in Utah while also working on Ultradent's clinical team. He used J-Temp to splint five implants together for a hybrid prosthesis impression. "Because of the implant coping distortion that can occur during the impression, the lab usually has to send me back a "jig" to try so that we can assure the fit is perfect. Then some sort of adjustment is often necessary and a new impression is taken. This adds several appointments into the process and can be frustrating," Stoker says. "This time, I took the impression with the J-Temp splint, and told the lab that I effectively made my own jig with the J-Temp, included underneath this first impression. It eliminated 2-3 appointments in the process and the prosthetics fit perfectly!"
Ultradent Products was created more than four decades ago when Dr. Fischer saw a need for a new tissue management product and created Astringedent™ hemostatic. Today, the tradition continues with Dr. Jessop and Ultradent's latest revolutionary product, J-Temp temporary resin. Why have multiple products that only have one indication when you can have one product for multiple indications? Try J-Temp temporary resin for yourself here.
Data on file.