Endodontically treated teeth can sometimes require special restorative attention. That's where the UniCore™ Post and Drill system comes in. With drills and posts specifically designed to work together, the UniCore system provides superior strength and esthetic results for all your post and core procedures.
UniCore Drills





With the UniCore system, there is no need to purchase special finishing drills. The UniCore Drills are designed specifically to remove post/plastic core obturations while preparing a post chamber that perfectly matches the UniCore Post. The heat-generating tip makes it easy to remove fiber posts, plastic rigid carriers, and traditional gutta percha. Each drill can be used to remove gutta percha or plastic core obturation materials up to 15 times, or pre-existing fiber posts up to 5 times.
UniCore Drills have a diamond-coated drill collar that prevents binding in access openings and helps to dissipate heat. Uniquely designed flutes cut canal walls laterally rather than vertically and ensure rapid and consistent removal of debris from the canal.
Because UniCore Drills are sized to their corresponding post, the post chamber is always a perfect match to UniCore Posts. With the UniCore system, you know you will always get a precise fit. The Drills and Posts are color coded according to size for easy identification.
UniCore Posts





UniCore Posts are made of highly filled, continuous prestressed glass fibers that respond to compressive forces as dentin would. Other posts, like those constructed of metal, are more rigid. If the tooth were to receive trauma, a metal post is rigid and could fracture the root where a fiber post will flex. Additionally, metal posts are not as esthetic and require masking before the restoration. Fiber posts are also stronger than composite resins—reinforcing the restoration on both the inside and outside.
The tapered shape of each UniCore Post mimics the tooth's natural anatomy and allows for dentin conservation and enhanced adaptation. Parallel posts require more dentin removal. The tapered shape of the UniCore Post also minimizes gap formation from polymerization shrinkage.
When placing the post, the self-venting tip allows for even dispersal of cement and the microporous surface ensures microretentive bonding. The translucent UniCore Posts transmit light to the bottom of the post space, so the cement can be easily light cured. The high translucency also gives excellent esthetics and light conductivity. After placement, UniCore Posts are easily identified on X-rays thanks to a radiopacity higher than the ISO standard.
If needed, UniCore Posts can be easily removed with the UniCore Drill for retreatment.
UniCore Accessory Posts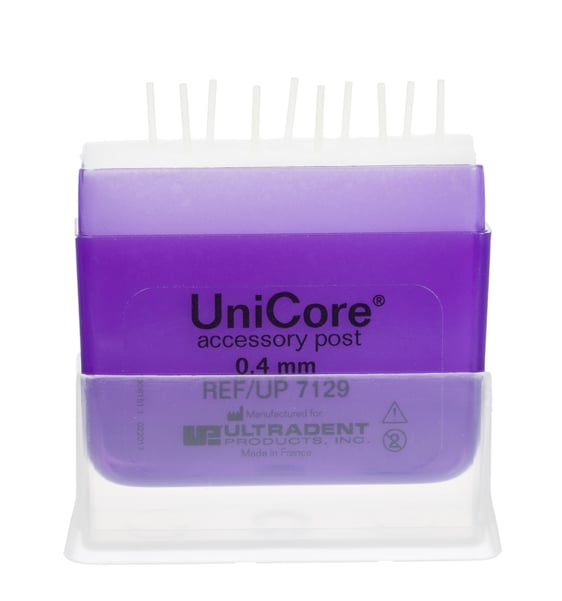 In cases with flared or oval canals, UniCore Accessory Posts allow for better adaptation and have all the same benefits as master UniCore Posts.
The UniCore Post and Drill System is available in spill-proof modules which hold components in place, even if the module is dropped. The modules themselves are color coded by size, so the drills are packaged with their matching posts, simplifying chairside use.