Time is a critical asset in any practice, usually in short supply and high demand. Impression taking can steal large chunks of time, especially when rework is involved. Ronald. D. Perry, DMD, MS, suggests the average clinician takes roughly 384 impressions annually, costing more than $38k/year.
Bite registration is essential to taking quality impressions and it's essential to patient comfort as well—it can also be tricky to get right, causing rework and costing valuable time. Choosing the proper impression material plays a large part in achieving ideal bite registration.
When deciding on impression material, visibility, working and setting times, texture, whether a tray is needed, and how a material pairs with other materials (like crown and bride material) all factor into consideration.
Increased Visibility Translates to Improved Accuracy
Voids and bubbles—they might as well be considered curse words when it comes to bite registration and impression taking. With opaque bite registration materials, these tiny (yet consequential) roadblocks often occur without the clinician even noticing. That is, until it's too late. With transparent bite registration materials like Ultradent's new Thermo Clone™ Clear Bite Registration, the material makes catching bubbles, spaces, and voids easy. This allows clinicians to fix the problem before it becomes an issue and getting the bite registration correct the first time.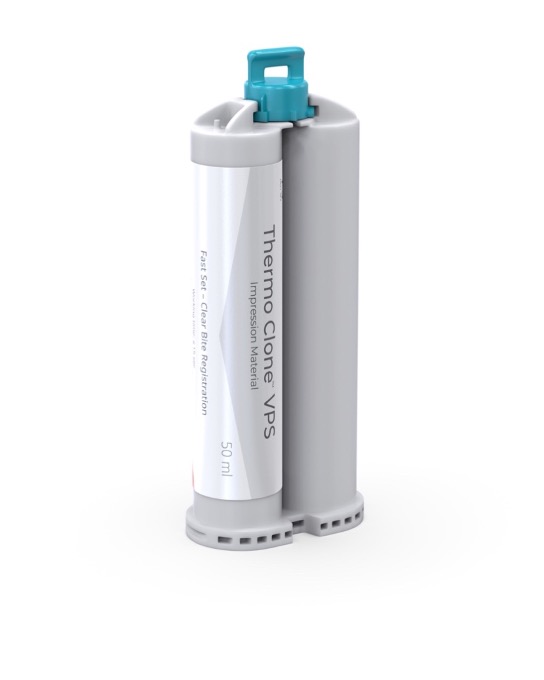 Saves Time, Material, and Increases Revenue
Of course, catching voids and bubbles before the patient leaves the office translates into time saved. You'll have no need to fix mistakes or retake impressions. But, Thermo Clone Clear Bite Registration saves time in other ways too.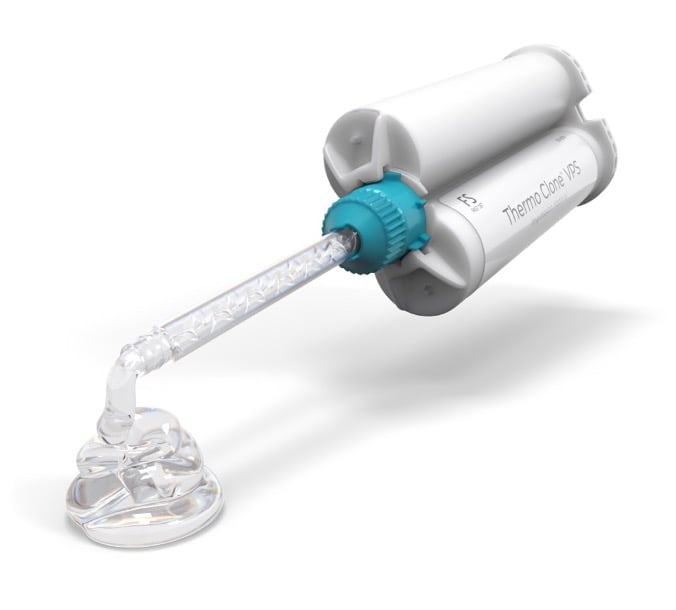 Thanks to its 15-second working time (as well as a setting time that clocks in approximately one minute faster than its competitors) the thermal-accelerated set technology shortens your wait. The non-sticky texture makes for easier handling which saves the clinician valuable chair time. The ability to light cure right through the material prevents distortion, further ensuring accuracy the first time. Also, because of the increased visibility the material provides (in addition to the accuracy) clinicians end up using less material. So, your purchase will last longer.
Ideal Template for Temporaries and Mock-Ups
For clinicians not wanting to invest in a direct composite veneer template system, such as Ultradent's Uveneer® templates, Thermo Clone clear material serves as a great alternative for creating beautiful provisionals. Duplicate patients' existing dentition and create mock-ups easily by expressing the material directly over the teeth (with or without a tray). Clinicians can even use Thermo Clone clear bite material for orthodontic procedures: such as an outer tray matrix for indirect bracket placement.
Pairs Perfectly with ExperTemp™ Crown and Bridge Material
Thermo Clear Bite Registration's clear formulation makes it the perfect complement to Ultradent's ExperTemp™ Crown and Bridge Material. You get the ease of confident seating and ideal crown and bridge temporaries, every time.
Dr. Mark Pettit, practicing clinician, dental lecturer, and member of the Ultradent clinical team says, "With Thermo Clone Clear Bite Registration, my provisional crowns look and feel more like finished crowns. Floss contacts and occlusion is much improved, which means my final crown seating appointments are going faster than ever before."
Click here learn more about Ultradent's new Thermo Clone Clear Bite Registration and its many convenient, time and money saving uses.