Dr. Dan Fischer, founder and CEO of Ultradent Products, Inc., says, "Minimally invasive endodontics is paramount, even for root canal instrumentation, as removing as little tooth structure as possible allows us to maintain as much tooth structure as possible." With this philosophy in mind, the world-renowned endodontist and endodontic researcher Dr. Carlos Spironelli Ramos created Ultradent's minimally invasive, award-winning line of endodontic products meant to be used before, during, and after endodontic procedures. The complete line includes everything from equipment to irrigants, tips, gutta percha points, and beyond. Here are six essentials that every clinician should have on hand to make their endodontic procedures easier:
Clinicians no longer have to choose between the safety of reciprocation and the efficiency of rotary movements thanks to the
Endo-Eze Genius System
, which includes the Genius
®
motor, the Genius
®
8:1 contra-angle, and the Genius
®
files.
The
Genius endodontic motor
is designed for use with reciprocating and rotary files. An adaptable, open, and easy-to-use motor, it is perfect for any endodontic procedure as it provides the safety of reciprocation and the efficiency of rotary movement. The Genius motor has various torque settings and quiet, smooth, adjustable speeds. The auto-stop settings interrupt movement when a set torque limit is reached to help prevent file separation. It also:
Moves easily between reciprocating and rotary movement
Includes pre-programmed settings for the Genius files
Features torque-controlled auto reverse in rotary mode
Features varying contra-angle reduction ratios
The
Genius 8:1 contra-angle
is designed to work with the Genius motor. This contra-angle enables endodontic files to reach the required speeds for any procedure. It is autoclavable and also features:
Small head to give the best possible access to the treatment site
Moves easily between reciprocating and rotary movement
Push button to make file changes quick and easy
A comfortable, non-slip handle
High-end steel ball bearings for accurate, precise movement and a quiet procedure
The Genius files
are compatible with both reciprocating and rotating movement. We recommend clinicians use the Genius files with the Genius endodontic motor, which has pre-programmed settings designed specifically for the Genius files. The files also:
Operate ideally in the 90°/30° reciprocation movement provided by the Genius motor
Allow the clinician to complete most procedures with just two files
Push button to make file changes quick and easy
Provide multiple finishing options
Perfect for both treatment and retreatment
2. Endo-Eze™ FIND® Apex Locator
Clinical research shows that establishing the correct working length is critical for success in root canal therapies, and using an apex locator can significantly increase the success rate of endodontic treatments. The
Endo-Eze FIND apex locato
r offers unsurpassed accuracy with a convenient, easy-to-read, full-color graphic display, audio feedback, and fully automatic multifrequency measurements. Its compact design and small footprint allow it to easily fit on any counter or treatment tray.
3. Endodontic Irrigants: Consepsis®, ChlorCid®, and Ultradent® EDTA 18% Solutions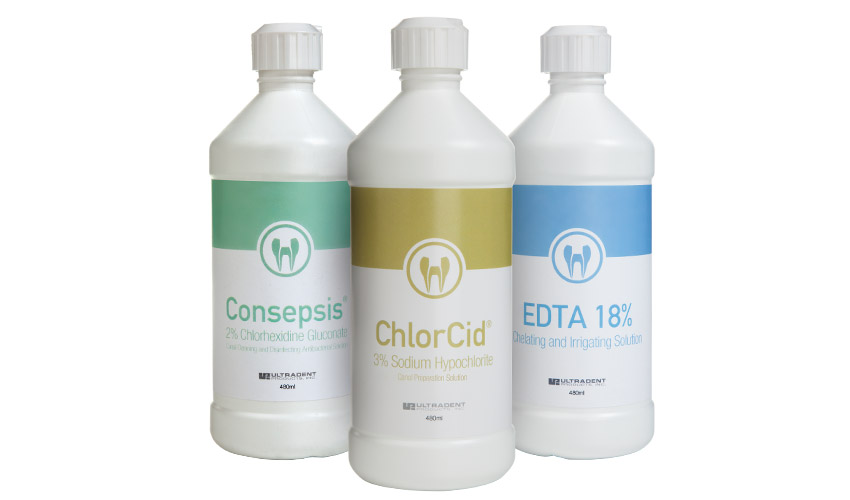 Consepsis® Solution
Consepsis is a 2.0% chlorhexidine gluconate solution free of emollients that interfere with bond strength. It helps to minimize post-op pulpitis and sensitivity by thoroughly cleaning and disinfecting the preparation prior to sealing and restoring. Use
Consepsis solution
prior to crown cementation, luting (provisional and/or permanent), and direct restorative placement, as well as procedural endodontic disinfection. During pulp capping, acidic etchants and hemostatic agents can cause disastrous effects on the pulp. Disinfect with the near-neutral Consepsis solution, which can also be used to passively control nonhyperemic bleeding.

ChlorCid solution
ChlorCid solution
contains 3% sodium hypochlorite. When in the canal,
ChlorCid solution
dissolves soft tissue and organic matter and acts as a file lubricant.
Ultradent® EDTA 18% Solution
Ultradent EDTA 18% solution
is a root canal chelating agent that conditions/cleans through a chelation process. Ultradent EDTA 18% solution is the irrigant of choice for smear layer removal and can be used as a final irrigant prior to obturation.
4. NaviTip® Tips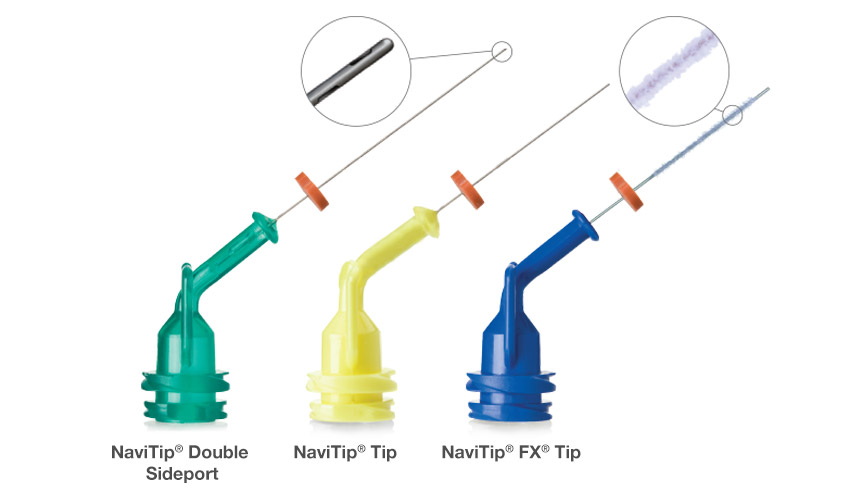 NaviTip delivery tips
are available in four lengths and two gauges to easily deliver endodontic sealers, irrigants, and other medicaments of varying viscosities just short of the apex. The cannula of each NaviTip tip is slightly rigid through the base and center, but flexible at the tip to allow for easy navigation of curved canals. Each
NaviTip tip
is color coordinated to match the corresponding endo file lengths, further simplifying their use. Navitip tips also:
Offer controlled delivery to the apex
Boast flexible, stainless steel cannulae that easily navigate curved canals
Feature economical stainless steel material for single use
Are available in 17, 21, 25, and 27 mm lengths and with 29 or 30 ga cannula
5. MTAFlow™ Repair Cement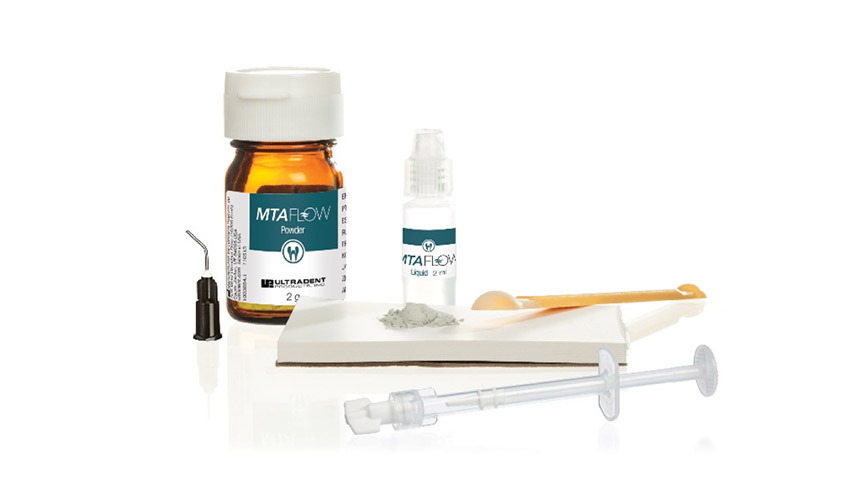 Ultradent's
MTAFlow mineral trioxide aggregate repair cement
is made especially for pulp capping, apical retrograde filling, apexification, perforation repair, and root resorption.
Mineral trioxide aggregate (MTA) endodontic repair cements, including
MTAFlow repair cement
, are used in numerous endodontic procedures to form a layer of hydroxyapatite after the clinician expresses the product into the canal. Dr. Ramos says, "One of the truly beneficial advancements in dentistry has been the introduction of mineral trioxide aggregate repair cements into endodontic treatment. The development of bioceramic-based materials has greatly improved pulp cappings, apices, apicoectomies (retrograde fillings), and accidental perforation and resorption repairs."
Additionally, Ultradent's
MTAFlow repair cement
allows for quick and easy mixing to achieve a smooth consistency and the desired thickness thanks to its ultrafine-grained powder and proprietary gel mixing medium. In fact, MTAFlow cement is designed to mix so smoothly that it can be easily expressed through a tip as small as the 29 ga NaviTip tip.
Various consistencies can be reached using Ultradent's MTAFlow repair cement by varying the ratio of the fine powder and water-based proprietary gel. A thin consistency can be delivered through a delivery tip for applications which demand more accuracy and control, such as apexification, resorption, or an apical plug procedure. A thicker consistency allows for pulp capping and pulp chamber perforation. Mixing
MTAFlow repair cement
into a putty-like consistency allows the clinician to perform apical retrograde fillings when performing an apioectomy procedure as well.
6. EndoREZ® Canal Sealer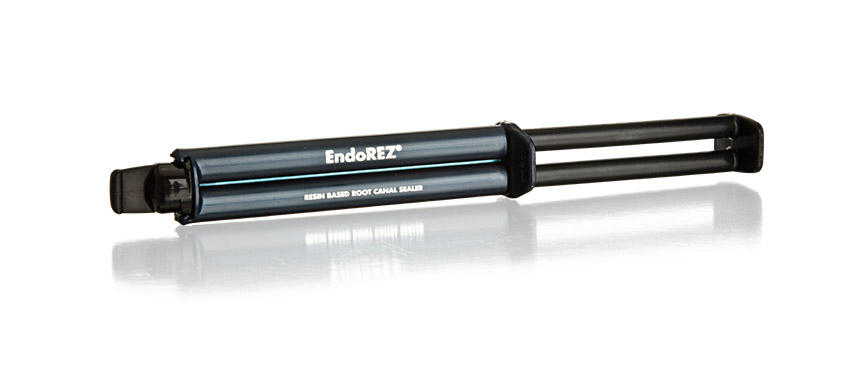 The world's first syringe-delivered, self-priming canal sealer,
EndoREZ canal sealer
minimizes the amount of chair time required for obturation. This thixotropic material has an affinity for moisture found deep in dentinal tubules and lateral canals, providing the most complete seal available. Since the methacrylate-based
EndoREZ sealer
relies on chemistry rather than heat or pressure to fill the canal, the risk of additional root trauma/fracture is greatly reduced. Rapid set can be further accelerated with the
EndoREZ accelerator
. Additionally, studies show that the
EndoREZ sealer
is versatile enough to be used as the sealer with any obturation method, such as master cone, lateral condensation, or warm gutta percha.
Learn more about Ultradent's award-winning endodontic products