By Dr.
Irene Renieris, DDS
EDITOR'S NOTE: This article was originally published by Dental Product Shopper, September 10, 2021, viewable here.
When I was looking to purchase what would be my first dental laser, I spent a lot of time doing research—I even had different companies drop off their lasers for me to give them a try for a week. By far, the Gemini laser from Ultradent stood out as the cleanest and easiest to use. I really liked the fact that it had dual wavelength, and it allowed for easy updates by just plugging it into a computer.
The Gemini 810 + 980 Diode Laser is actually the first dual-wavelength soft-tissue diode laser available in the United States. That basically means it combines the optimal melanin absorption of an 810 nanometer wavelength diode laser with the optimal water absorption of a 980 nanometer wavelength diode laser. Whenever I turn it on, I always use dual wavelength.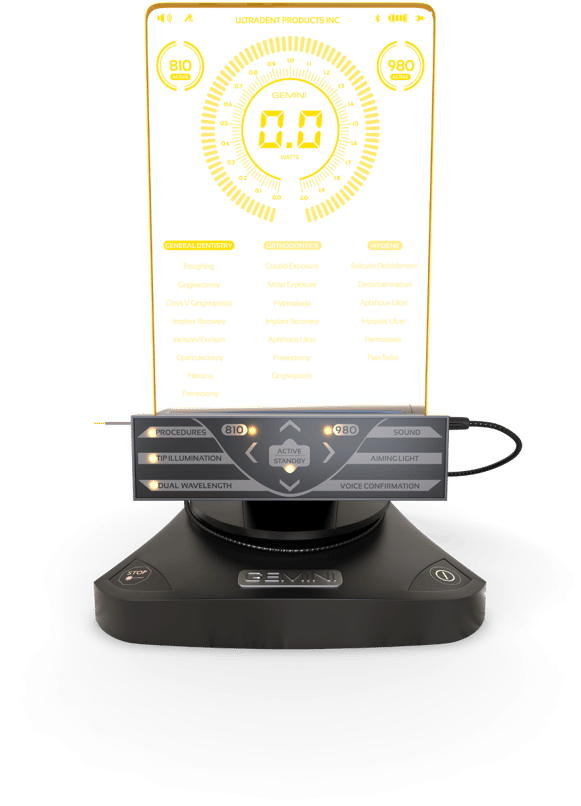 I use it for troughing around a crown prior to scanning for the lab to make the crown. I've also used it to remove fibromas and for frenectomies. Recently, I had a patient come in and he had 2 fi bromas on his tongue. He said that they had been there forever, and I said, "Do you want me to just go ahead and laser those off?" Surprised, he asked, "Can you?"
It took about 30 seconds to do. He came back a week later and I had made a note in his chart to check his tongue, but I couldn't remember what I was checking for because there was no trace of anything on his tongue. Then, I remembered that we had lasered off a couple of areas and I told him, "Honestly, I had to look at your chart because I couldn't remember what I was supposed to be looking for." I couldn't even tell they were ever there.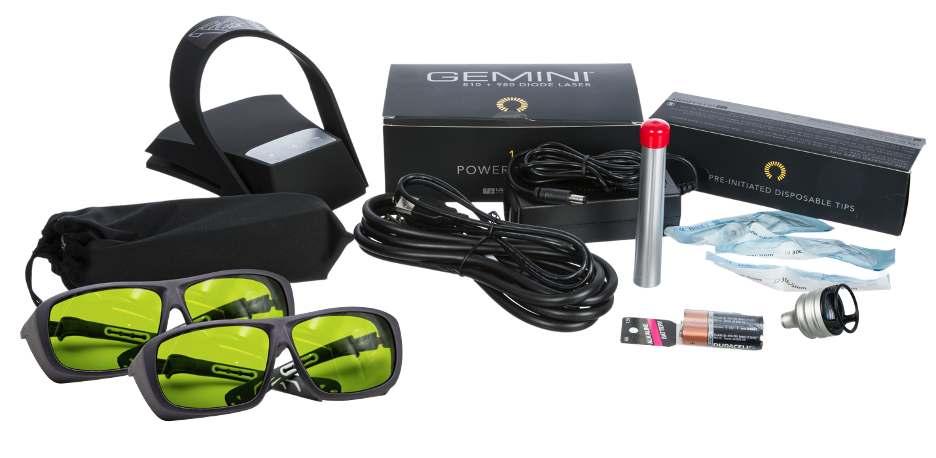 Clean and Effective Performance
Of all the lasers I tried, the Gemini laser is the most modern, and it really catches the patient's attention as a high-tech item. The design is all glass, which is very sleek looking, and it even speaks to you. It prompts you to select the settings you want the laser to use. There are 3 different categories—hygiene, orthodontics, and general dentistry—and 20 preset procedural options within those categories. It's nice for the patients to be able to hear what you're doing and it's also good for new users because the machine itself guides you through the process.
Patients also love the laser because of the painless healing process. I never prescribe pain medication and I tell patients that they might need some ibuprofen, but it's unlikely. I think any patient would have a better experience with a laser versus a scalpel. The Gemini laser is a game changer—everyone should have one.
About the Author:
Dr. Renieris completed her undergraduate degree in Communications from the University of Michigan. She then went to the Indiana University School of Dentistry, where she graduated with her dental degree. After dental school, Dr. Renieris completed a 1-year general practice residency at the University of Michigan Hospital in Ann Arbor. Dr. Renieris and her staff at Dental Masters offer a broad spectrum of modern dentistry services including general teeth cleaning, exams, and cosmetic dental treatments.