​Recently, Ultradent added two new vice presidents to its executive team—Dr. Jaleena Jessop as VP of Clinical Affairs, and Karen Phillips as VP of Sales and Marketing. Both women bring a rich background and breadth of experience to their new roles and are proven, outstanding leaders in their field of expertise.
Today you'll have the chance to learn about both women's impressive professional backgrounds, and also a bit more about their dynamic personalities—their favorite movies, their favorite Ultradent products, and more!
Dr. Jaleena Jessop's Professional Background: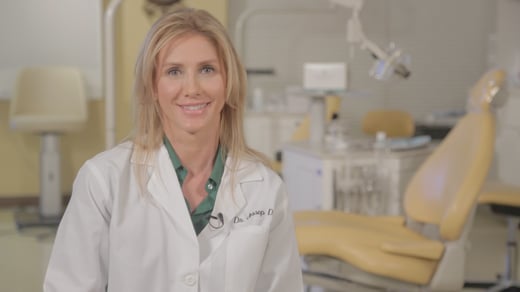 Dr. Jaleena Jessop, Ultradent's new Vice President of Clinical Affairs.
Dr. Jaleena Jessop, a practicing dentist for 17 years, has brought an impressive depth of understanding of dental products and procedures, as well as an expert critical eye and voice to many of Ultradent's departments in the last two and a half years in her role as the Director of Clinical Affairs.
Additionally, Dr. Jessop has made valuable contributions to Ultradent for many years, playing an important role in the company's New Product Evaluation Committee, as well as consulting on numerous product development and design projects. Dr. Jessop has also participated regularly for several years in the company's upper management meetings, helping to establish the strategic direction of Ultradent and contributing her vast clinical acumen to many of the company's decisions.
Dr. Jaleena Jessop began her undergraduate work at the University of Utah, studying medical biology prior to attending dental school. She then went on to graduate with honors in oral surgery from Loma Linda University School of Dentistry in 2002. She later completed a two-year certification for straight wire orthodontics from the American Orthodontic Society. Dr. Jessop served for two years on the Utah Dental Association board. She's also served for several years on the National Advisory Board at the University of Utah Dental School, where she currently teaches as an adjunct professor. On top of that, Dr. Jessop owns a private dental practice where she specializes in esthetic and minimally invasive dentistry.
Thanks to Dr. Jessop's connections and talent for recognizing other outstanding clinicians, she has built the team of doctors that make up our Clinical Affairs team.
"With Ultradent's vision to improve oral health globally, as well as her commitment to go above and beyond in serving both the clinician and patient, it is completely appropriate that Dr. Jessop should represent our Clinical department at the highest level of the organization, which will enable her to offer solutions that are driven from her clinical insights for many years into the future." —Dirk Jeffs, President of Ultradent Products, Inc.
Lightning Round Questions with Dr. Jessop: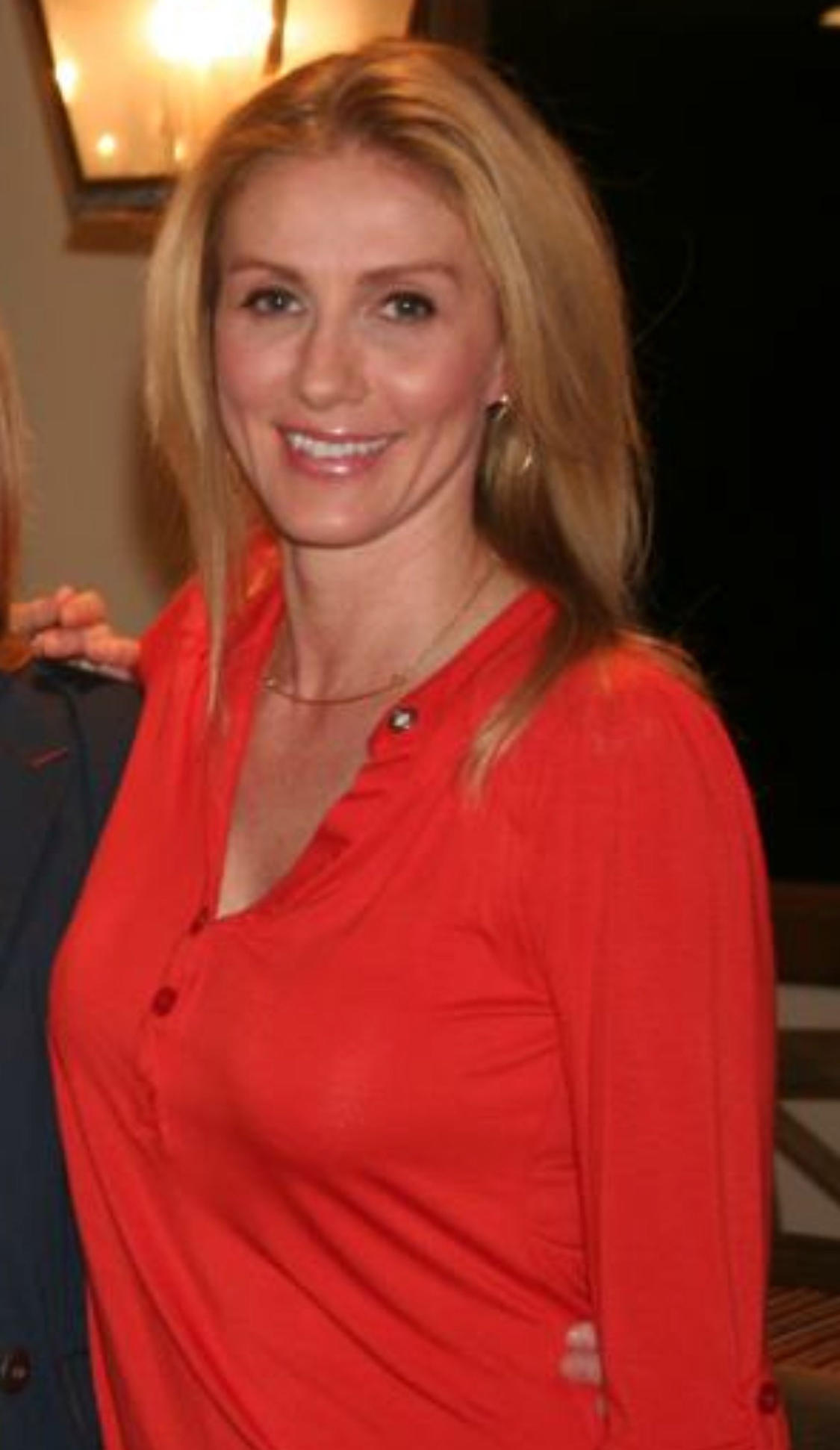 Dr. Jaleena Jessop
How do you feel about your new role as Vice President of Clinical Affairs, and what are you looking forward to?
I look forward to, along with my team, incorporating clinical relevance to as many parts of the company as possible and making our clinical voice heard and applied to every aspect of what we do, for the benefit of our customers. I have a fabulous team of doctors that bring diverse perspectives, opinions, and methods of practicing to the group—and when we meet I enjoy hearing each voice and perspective. This ensures clinically we're covering our bases and making sure that we're offering products that appeal to a broad span of dentists, and consider different points of view as we're developing them. I think that is a huge asset that our diverse group of doctors [brings].
What unique perspective do you hope to bring to the executive team?
If my team and I can bring a clinical voice to various aspects of our business—from development to marketing—I believe it will communicate the message to our dental colleagues (who are our customers): that we hear them, we value their needs and what they're saying, and that our goal is to help them solve problems they face every day. I think heading up the clinical aspect of the company as a practicing dentist ensures we'll continue to offer what Ultradent has always uniquely offered to the marketplace—products made for clinicians by clinicians. That will and must continue to be our mantra, message, and mission. It is the reason Ultradent products have always been and will continue to be innovative and cutting-edge.
What progress and changes do you hope to see at Ultradent in the next 10 years?
I think that as we grow it's important that we not be afraid to be bold with the research and development of new products, and instill a solid confidence in our people. This gives the freedom to create and take risks while staying conscious of our mission and ultimately the end user—the patient. I believe this will enable us to make moves that will take Ultradent confidently and competitively into the future.
What is your favorite Ultradent product?
I would have to say our Peak Universal Bonding Agent. Without it I couldn't practice dentistry.
What is your ultimate vacation spot?
At home in my courtyard. I don't have to go anywhere, I can be in my pajamas if I want, and I'm comfy—surrounded by the people I love.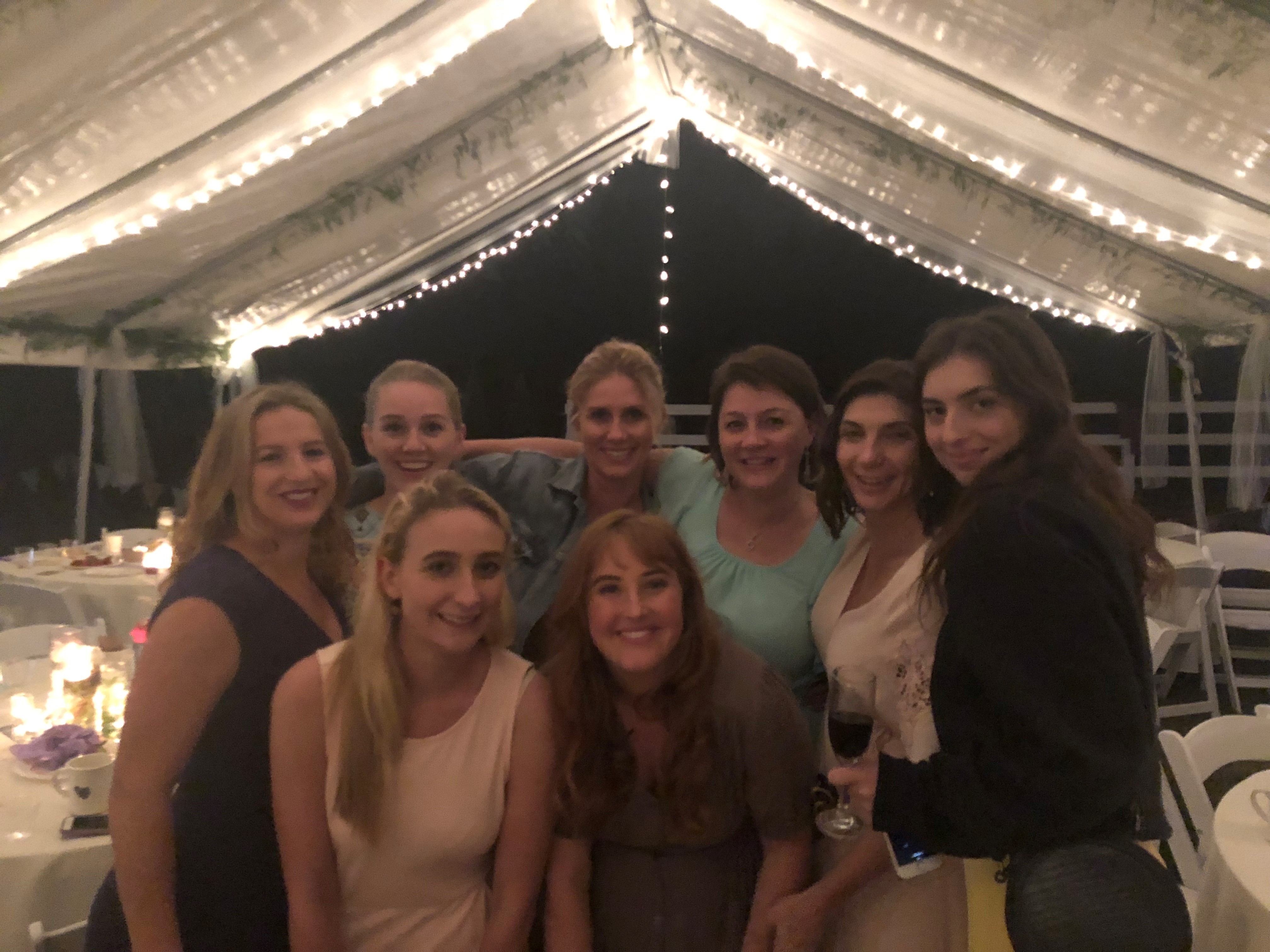 Dr. Jessop pictured with several of her sisters, her daughters, and nieces.
What is your favorite movie?
I love the old movie Shenandoah and on the goofier side, I love Step Brothers and Zoolander. I would much prefer to laugh than to cry when watching a movie!
What is your favorite hobby?
Cooking and remodeling!
What do you do to decompress?
I love doing Bikram Yoga.
Favorite Quote:
You know, this isn't really a quote, per se, but not that long ago, I bought a t-shirt in Seattle that says, "Farming saved my life," and I love it so much because it perfectly captures how I grew up, and my philosophy that you should never be afraid to get your hands dirty. It's my favorite t-shirt because for me, that saying is so true.
Fun Fact:
I love the artistic side of dentistry that still allows me to help people. One of my patients is a well-known fine artist, and one day when he was in my chair I said to him, "You know, I just love your art. I have some of your art in my house and what you do is incredible," and he said to me, "And I love your art, which is why I come here." It was so incredibly touching, and one of the best compliments I've ever received. I love that dentistry doesn't always have be like the way it's portrayed in movies.
Karen Phillips's Professional Background: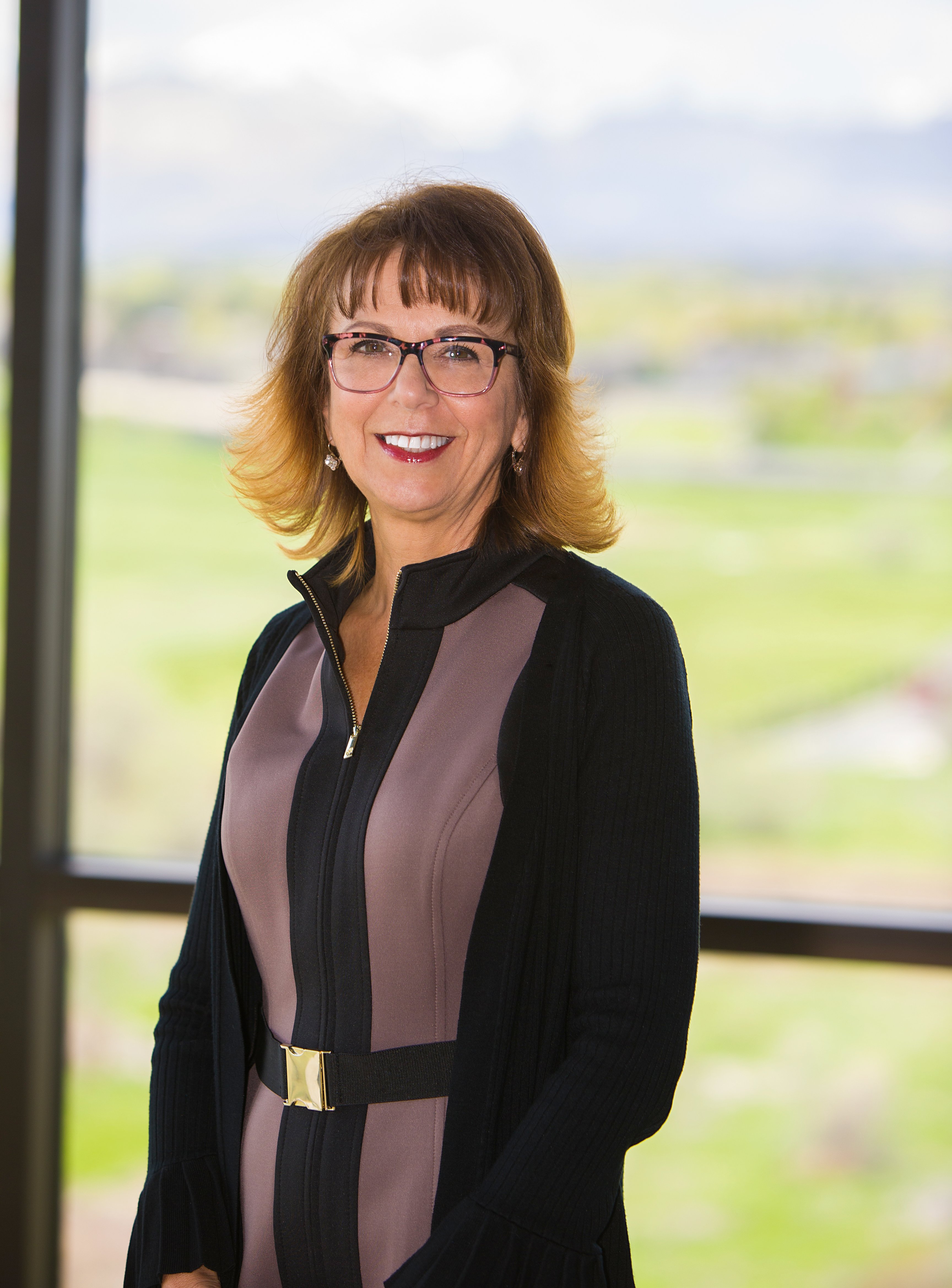 Karen Phillips, Ultradent's new Vice President of Sales and Marketing.
Karen Phillips brings 19 years of dedicated, passionate service at Ultradent to her new role as the company's VP of Sales and Marketing. Prior to coming to Ultradent, Karen worked for 24 years in clinical dentistry, with several of those years as Dr. Gordon Christensen's course clinical coordinator and lead dental assistant.
Starting as a territory account manager at Ultradent in 2000, Karen's vast clinical knowledge, experience, and passion for product education and training led to her promotion to regional manager. Later, she was promoted to Ultradent's corporate headquarters as the sales and product training manager. In this role Karen created, defined, and structured "Ultradent University," Ultradent's training program still in use today.
Later, Karen's promotion to U.S. Director of Sales resulted in consistent sales growth during her six-year tenure. The company's salesforce also grew from 92 to 140 territory account managers under her leadership.
In 2018, Karen became Ultradent's Director of Field Marketing and Events. She oversaw: seminars, public relations, training, universities, the company's key opinion leader program, trade shows, and technical product advisors.
In her new role as VP of Sales and Marketing Karen will lead not only the Field Marketing team but the eBusiness, Sales, Marketing, and Brand Management teams as well.
"In addition to her vast business experience and 24 years of clinical experience—including having worked closely with Dr. Gordon Christensen, one of the most renowned dentists in the world—Karen's professionalism, care, and work ethic has earned the respect of her peers throughout the organization. She will be an outstanding addition to our executive team for many years to come." —Dr. Fischer, founder and CEO of Ultradent Products, Inc.
Lightning Round Questions with Karen Phillips: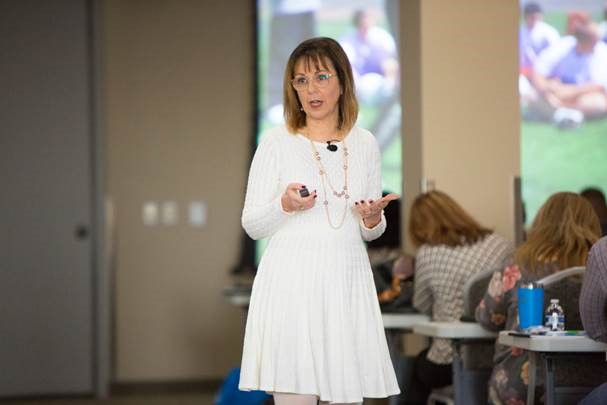 Karen Phillips presenting at Ultradent's National Sales Meeting in 2018.
How do you feel about your new role as VP of Sales and Marketing, and what are you looking forward to?
I always love a new challenge and I appreciate growth. I know that the only way to do that is by accepting new opportunities and continuing to learn. I'm also excited to dive into new parts of the business. I hope to assist the team in making a positive difference with the life and work experience I've had. I believe if we share our experiences with others, everyone learns and benefits.
What unique perspective do you hope to bring to the executive team?
I hope that my outside sales experience, combined with my clinical experience, will help us as a company make decisions that keep our customers at top of our mind. I'm also grateful and look forward to bringing the work ethic and principle of sacrifice my parents taught me, my energy and enthusiasm for Ultradent and our customers, and my belief that happiness comes from having gratitude for what we have.
What progress and changes do you hope to see at Ultradent in the next 10 years?
Of course, my greatest hope would be continuing upward growth and continuous improvement. At Ultradent, we've established a certain brand and base of customers. I see our brand—what we stand for and offer—only growing (both domestically and internationally) as we focus on continuing to offer the most innovative solutions for our customers.
What is your favorite Ultradent Product?
The VALO curing light. It just far exceeds anything that's out there and I could talk about it all day long!
Ultimate vacation spot?
Home, honestly. That includes here in Utah and Denver, Colorado where my daughter and her family live.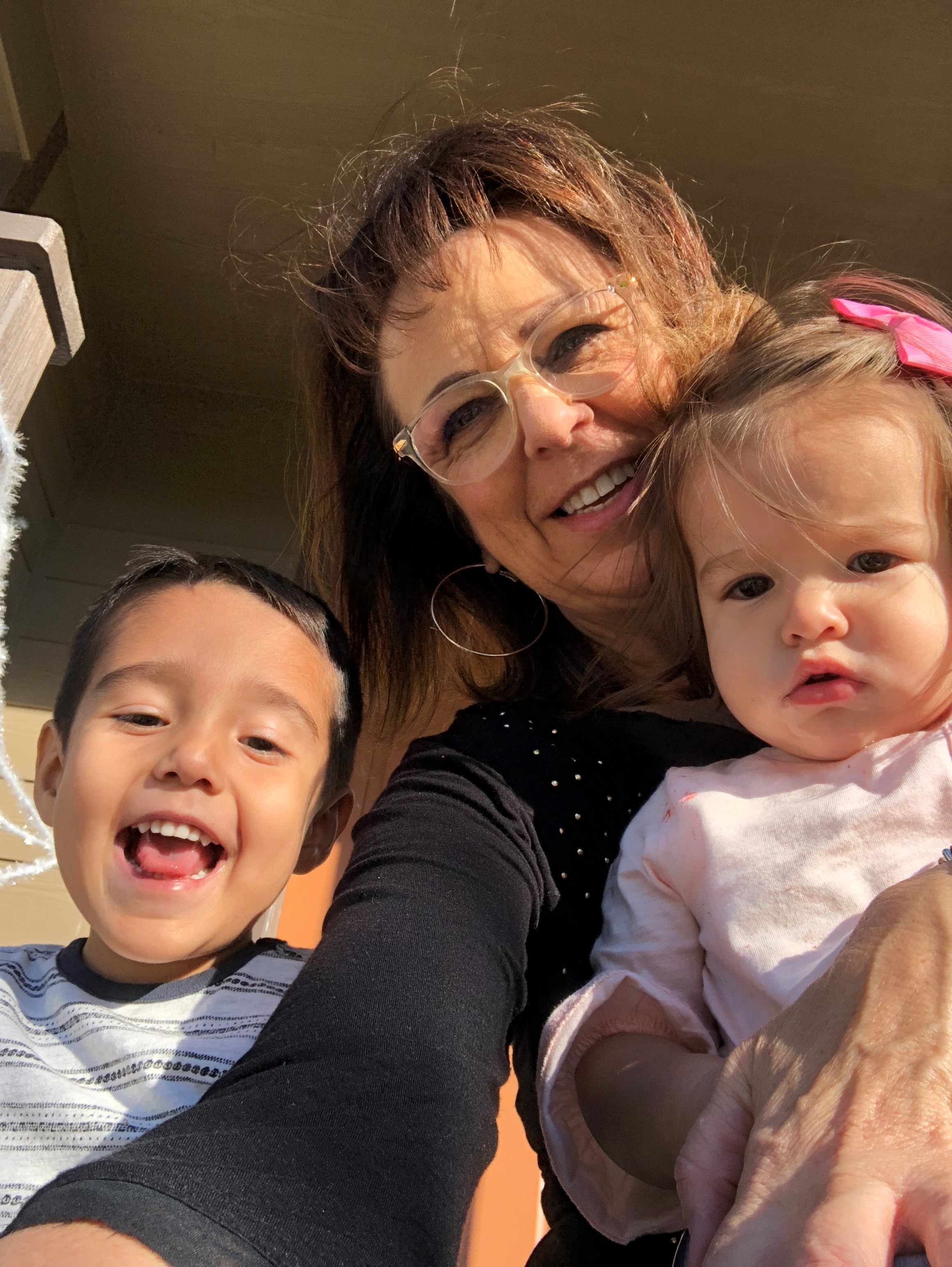 Karen enjoys spending time with her two grandchildren in Denver as often as possible.
Favorite hobby outside of work?
Golfing with my husband.
What is your favorite movie?
Planes, Trains, and Automobiles—it's funny, adventurous, and in the end, it's heartwarming.
Favorite Quote?
"Life is short—take the trip, buy the shoes, eat the cake."
I also love, "Tell me and I will forget, show me and I will remember, involve me and I will understand."
What do you do to decompress?
I love anything DIY because I just love to create.
Fun Fact:
I met my husband when I was 15, and we've been together ever since!