You've seen those awful tetracycline tooth stains before. Perhaps you're the one struggling with them. Perhaps you thought there was no hope to get a white, stainless smile except extremely expensive veneers.

Meet Karen Stein. She was born and raised in Salt Lake City. Sometime between when Karen was three and eight years old, a doctor treated a common illness she had with tetracycline, a type of antibiotics that at the time, medical professionals did not know would stain her teeth forever. Well, at least that's what Karen thought. She says,


"By the time I met Carol Jent at Ultradent I had just come to accept the fact that my teeth would always be grey, and that there was nothing anyone could do about it with the exception of expensive porcelain veneers. I had tried over-the-counter whitening strips and nothing worked. It didn't even fade the stains a tiny bit. I had lost hope for them ever whitening and simply accepted it, since it's something I was essentially born with."



Carol Jent, Ultradent's clinical dental hygienist, says that when she met Karen she wasn't positive she could get rid of the staining, or that Karen's teeth would respond to whitening, but she decided to give it a try. She says,



"I never make any promises that patients with this degree of tetracycline staining will whiten for sure, but I do tell them that their chances to see at least some improvement are good. However, I decided to take on Karen's case because when I met her and talked to her, I knew she was committed to the process and to seeing it through to the end. That is probably the biggest determining success factor in a whitening case like this. You can give the patient the tools, but the patient must have the patience, desire, and commitment to follow through."



With that, on July 1, 2017, Carol Jent took impressions of Karen's teeth to make her custom tooth whitening trays, and within a few days Karen began the whitening process. Karen recalls:

"Carol Jent had me start by wearing Opalescence PF® 10% peroxide concentration tooth whitening in my custom trays for a few hours at a time, several times a week. When I didn't experience any sensitivity I started wearing them overnight, every night. I started seeing results within the first month! Every month, I'd go into the clinic to take photos, and the gradual difference was so encouraging. I also received a chairside whitening treatment with Opalescence® Boost® in-office whitening every month when I'd come in for my check-up, and it's true to the name…each treatment truly gave a 'boost' to my whitening process and encouraged me to keep going because of the difference I could see with it, combined with my nightly Opalescence PF whitening treatments."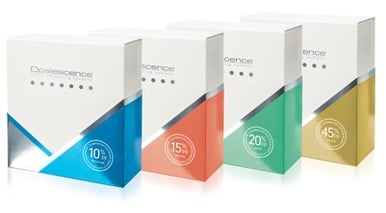 Karen started whitening nightly with
Opalescence PF 10% whitening in her
custom scalloped trays


After the first month, Carol increased the concentration of Karen's nightly Opalescence PF whitening treatments to 15% peroxide. "As the months went by," Karen recalls with a smile, "it was fun to see people and family start to notice the difference in my teeth. I started getting compliments and questions all the time about how I was getting my teeth so white!"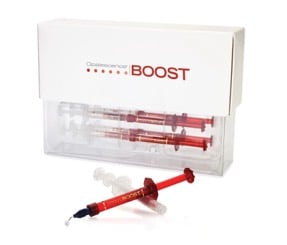 Combined with nightly Opalescence PF
whitening treatments, Karen also received
monthly Opalescence BOOST in-office
whitening treatments to advance
the whitening process


A year later, Karen's results are astounding! "I couldn't believe it when I saw the final results," Karen says. "The before-and-after photos are like night and day. I never thought this was possible. I'm so excited and happy. It's truly life changing!"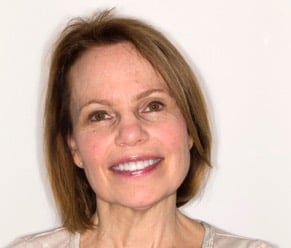 Karen Stein's white smile one year
after she began the whitening process
On Karen's amazing results, Carol Jent says, "Karen is a beautiful lady, and I saw that when I met her, even with the tetracycline staining. But I also saw someone that was shy to smile and seemed self-conscious. She truly has blossomed. I love seeing her smile and laugh openly. To be honest, I get choked up with all of my tetracycline patients. Karen is really someone special that has given so much to others over the years and I love that she wanted to give herself this gift. She deserves it." Carol adds: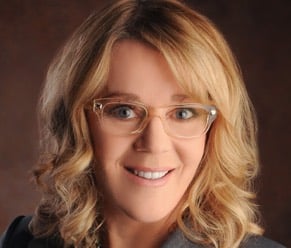 Carol Jent, Ultradents Clinical
Registered Dental Hygienist, who
oversaw Karen Stein's case
"Too many clinicians rush to cutting the teeth for veneers in these types of cases, and when you remove enamel, the patient and never ever gets it back. It doesn't grow back. Tooth whitening can be an amazing alternative for esthetic dental issues because it preserves the enamel and once the patients see the results, it leads to better home hygiene and acceptance of other necessary treatments that will last. There are enough challenges with aging and long-term dental care without the patient having to worry about crown and veneer margins, not to mention their cost! I love offering whitening as a great long-term solution, and I don't believe in cutting the enamel for veneers or crowns until there is no other option, which in some cases, can be true. However, Karen is a great example of the difference whitening can make."
Karen is happy too! Now that she's achieved her desired whitening result, she simply touches up by wearing her custom whitening trays once a week overnight with her Opalescence PF 15% tooth whitening gel. "I smile all the time. My family is always commenting too. I'm glad I did this. It's been such a wonderful adventure," she says.
Learn about Opalescence Whitening Systems