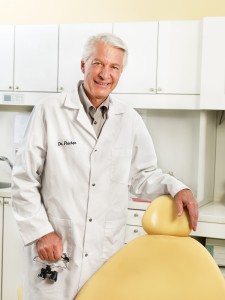 "I often say that with dentists, half of our brains are in our hands. If you can't use your hands, you can't be a dentist because it's just such a hands-on profession. I love being able to shape a tooth—it's like an art to me that I enjoy immensely," muses Dr. Dan Fischer, president and CEO of Ultradent Products. "There are many similarities between art, construction, engineering, and dentistry. Hey, we even build bridges!" he chuckles.
A talented and innovative craftsman, even in the dental sense, it shouldn't come as a surprise that in his senior year at Murray High School in Salt Lake City, Utah, Dr. Fischer received the prestigious Sterling Scholar Award for Industrial Arts, which included drafting and metal design.
Having been named a Sterling Scholar, Dr. Fischer had never even considered a future career in dentistry, but given his immense contributions to the dental industry over the last four decades, it's clear his talents and entrepreneurial spirit extend far beyond his profession today.
"I think a lot of it came from my dad, who was a "can do" kind of a guy. He would often take on projects that others weren't willing to do, roll up his sleeves, and bust his tail—finding a way to make it happen. I grew up with that, and before I got into dentistry, he exposed me to a number of businesses, including a machining business he had, a plating business, and a number of other industries that exposed me to various solutions."
Of his endless, contagious energy, Dr. Fischer says, "I definitely attribute my energy to my dad as well. However, I also owe a lot to my mom, who spent many a night helping me with school and homework and the like. I actually only really started to excel when I hit high school. I was probably a "B" student in junior high, but things really came together for me in high school."
Dr. Fischer went on to do undergraduate work at the University of Utah. "In college, I did okay, but dental school, at Loma Linda University in California, is where I really hit my stride. That's where I found my passion and was really able to shine," he recalls with a smile. "I was the top of my class in dental school, and on my dental boards I placed in the 99th percentile in the country. Dentistry just connected with me."
Dr. Fischer rose right to the top, despite the fact that at dental school, he had a family to support and he rode his bike back and forth to class to save on gasoline costs. He points this out not to brag, but to illustrate that with hard work and determination not only can you accomplish anything—you can excel.