Whether it's a patient presenting with one front tooth that's several shades darker than the rest or teeth with tetracycline staining so severe that the patient refuses to smile, most dentists can agree that not all teeth whitening cases are cut and dry. Certainly, some are easier to treat than others...by a long shot. 
While all Opalescence™ teeth whitening products essentially work the same way (varying in concentration and required wear time from product to product), different Opalescence teeth whitening product combinations and protocols often work better for one patient than another. Depending on the kind of staining, severity of the case, and how quickly the patient would like to get to their ideal result, the trick lies in determining the best approach for the unique patient in the chair. That's where renowned dentist and Ultradent clinical researcher, Dr. Renato Miotto Palo comes in. 
Dr. Palo, thanks to his deep knowledge behind the science of teeth whitening, has garnered a well-earned reputation for his incredible results, even with the toughest whitening cases. One of his secret weapons is Ultradent's Opalescence Boost in-office whitening, which he often combines with take-home Opalescence teeth whitening products like Opalescence Go™ prefilled whitening trays or Opalescence™ PF custom teeth whitening gel. 
He recalls one particularly challenging teeth whitening case, "A 60-year old woman, who happened to be a dentist, attended one of my lectures and approached me afterward. She showed me her severely discolored teeth due to tetracycline staining, and asked if I thought anything could be done with her case. As a long-practicing dentist herself, she'd never trusted another dentist to whiten her teeth out of fear they would end up damaged, or that she'd experience severe pain in the process." 

Patient's initial severe tetracycline stained teeth.
Not one to shy away from a challenge, Dr. Palo took on the case. He continued, "I decided to approach this doctor's unique case with Opalescence Boost in-office whitening treatments combined with Opalescence Go whitening treatments at home in between her in-office whitening treatments to achieve our mutual goal of healthy, white teeth that she would no longer be ashamed of," he says.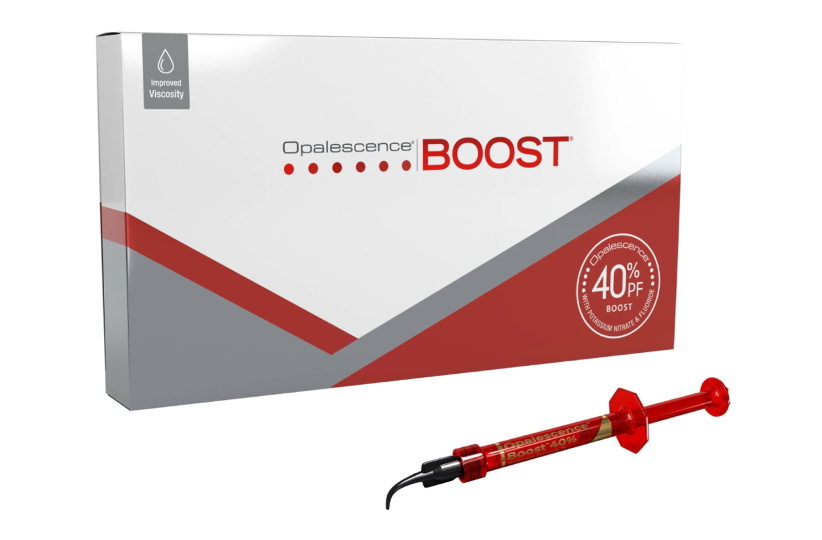 Opalescence Boost in-office whitening.
Over the next five months, Dr. Palo administered a round of Opalescence Boost in-office whitening every three weeks for five months, and then between Opalescence Boost in-office treatments, she'd use Opalescence Go whitening trays at home—wearing them every evening for one hour. He notes, "I'm proud to say that throughout the process, she didn't experience any sensitivity, so the experience was pretty easy from start to finish."

Patient using Opalescence Go take home whitening trays between Opalescence Boost in-office treatments.

Patient undergoing Opalescence Boost in-office whitening treatment.
"With time and patience, we slowly saw improvement, until this dentist who was once too shy and self-conscious to smile, ended up with teeth as white or whiter than my own," Dr. Palo says with a grin. "Watching her smile at the end of everything made it all worth it. She invited me to lunch to her after we finished her treatments and we took a photo, and in it, her teeth are brighter than mine. It's amazing."

Results after the end of the whitening treatment.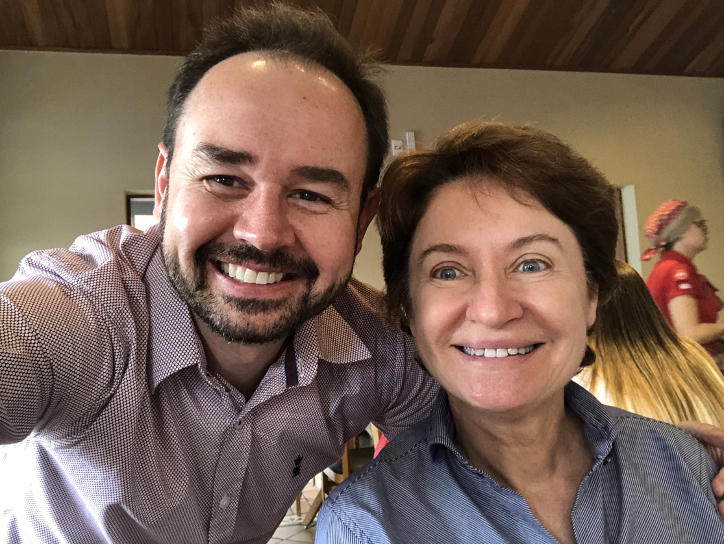 Dr. Palo (left) and patient, a dentist, post treatment.
Another challenging teeth whitening case Dr. Palo took on involved a patient with one front tooth that was several shades darker than the rest of her teeth. Upon further inspection, Dr. Palo discovered that the tooth presented more yellow than the rest due to extensive internal calcification. He said, "Instead of being filled with typical dental pulp tissues, this particular patient's tooth was filled with calcified dentin, so I knew I needed to use a more aggressive approach to get it white enough to match the rest of her teeth."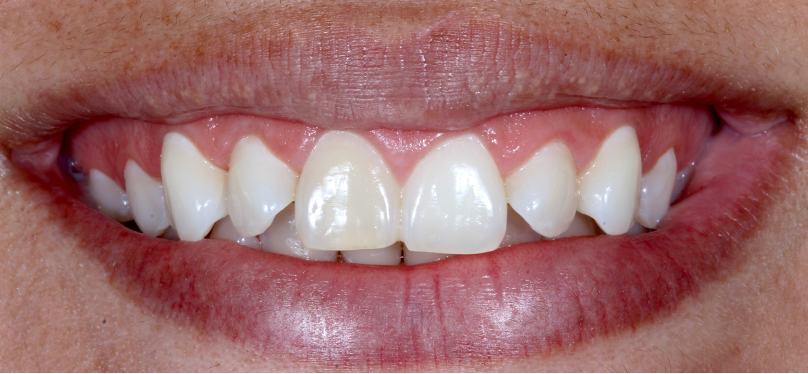 Patient presenting with left front tooth several shades darker than the other.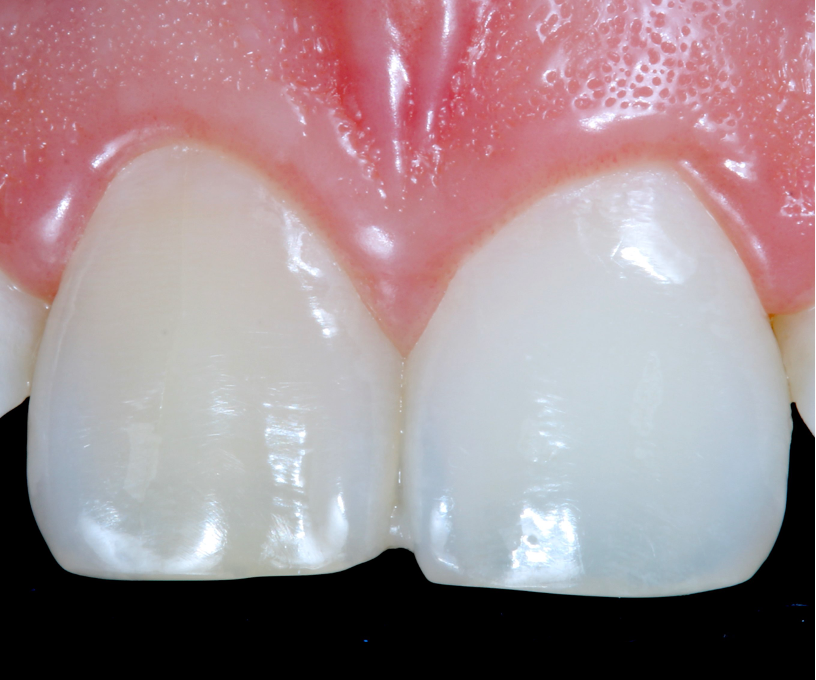 The darker tooth prior to treatment on the left.
Dr. Palo's first step involved creating a customized tray that the patient would wear overnight that would allow her to apply Opalescence PF whitening gel to the single front tooth. 

The special custom tray designed by Dr. Palo to only apply bleach on one of the patient's front teeth, to be work overnight with Opalescence PF take-home gel.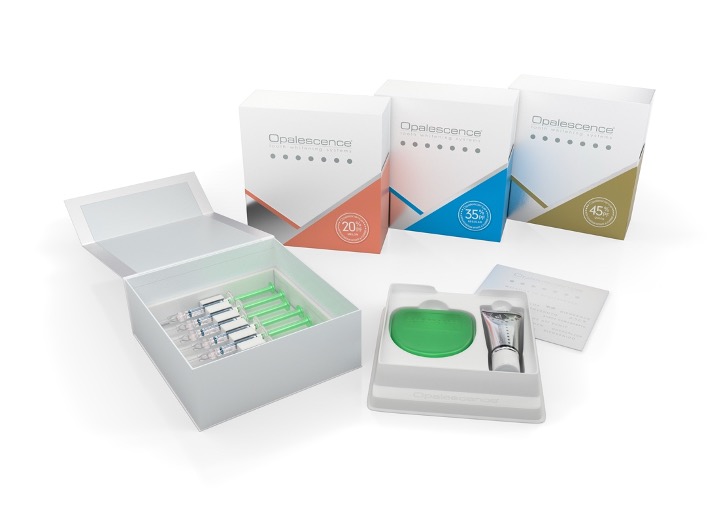 Opalescence PF take-home whitening system.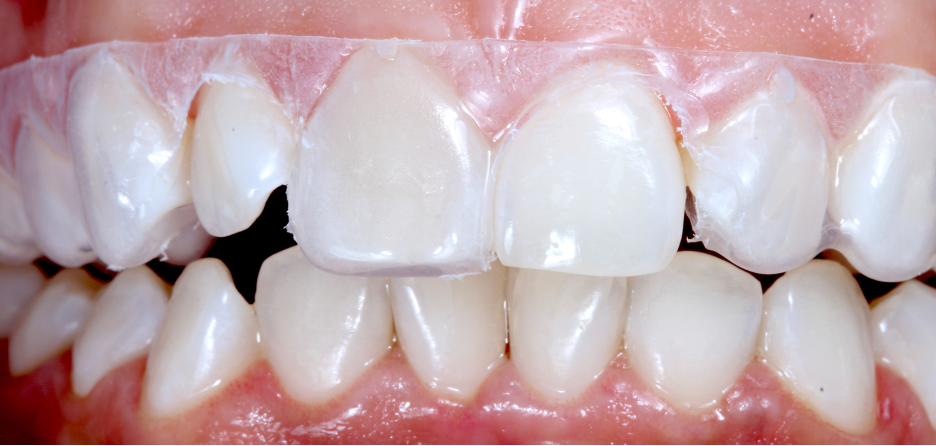 Patient wearing Opalescence PF take-home gel in her custom tray, only applying the whitening gel to one tooth.
Next, he says "I chose to use Opalescence Boost in-office whitening on her as well because of its powerful results in less time. I knew the in-office treatments would give us a nice jump-start on what was sure to be a challenging case."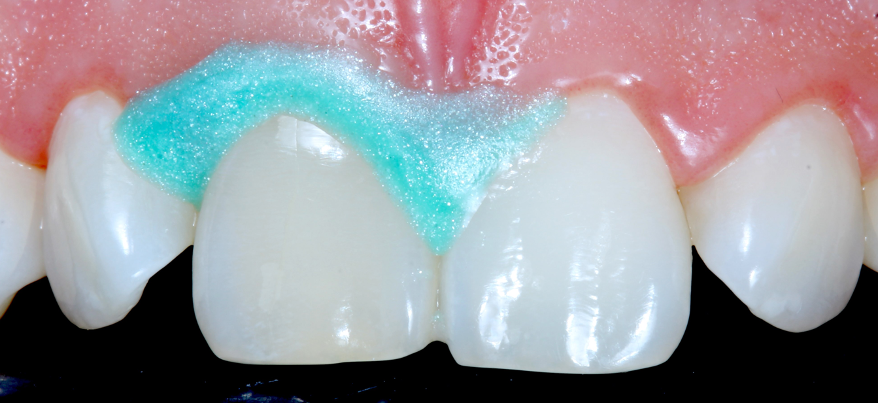 Applying Opalescence Boost in-office whitening to a single tooth.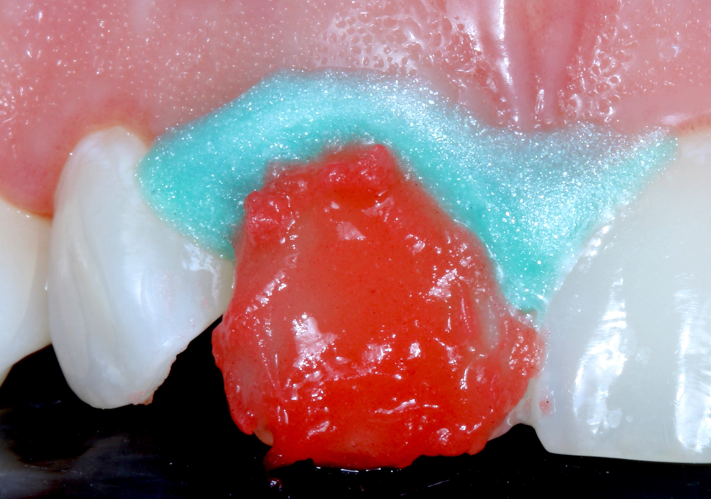 Opalescence Boost in-office whitening gel doing its work.
Like the previous case, Dr. Palo saw the patient every three weeks for in-office whitening treatments, and that, combined with nightly Opalescence PF whitening applications in her custom tray, eventually brightened the patient's front tooth to a shade that matched the rest of her smile.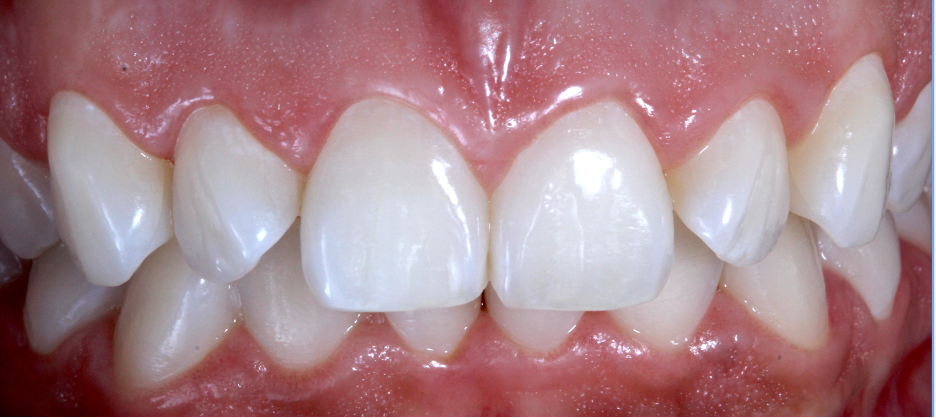 The patient's final results, with both front teeth finally at the same shade.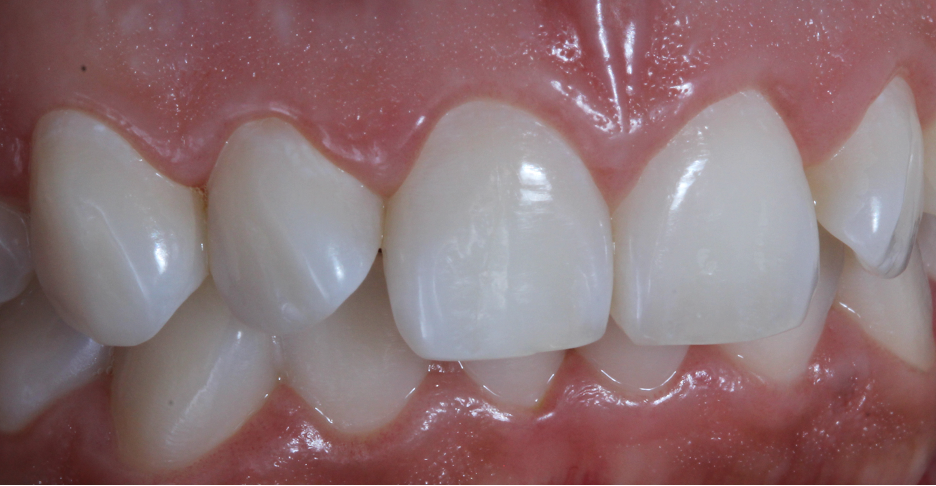 Another view of the final results, where both front teeth match, in terms of shade.
He explains, "While more concentrated whitening agents require less time for many stain types, we know that in some cases, lower concentrated whitening products used over a longer period of time give the patient a more favorable result because some stain molecules require prolonged and repeated exposure over a longer period of time to completely be broken down."
Dr. Palo adds, "Dentists need to realize that there are so many ways to approach teeth whitening, depending on the unique case they're looking at." 
He says he often uses Opalescence Boost whitening because, "Opalescence Boost in-office whitening tends to be very stable and pH controlled. This is important because if the pH of a whitening agent changes, the product becomes less dependable." He continues, "I also love the consistency of Opalescence Boost whitening gel. If you mix it well and according to the instructions, you can really trust it to do its job. I'm always confident that when I use it, I can depend on its outcome and efficacy. I also love that because of its controlled pH, it's never too acidic, and therefore, provides a safe teeth whitening product you can rely on." 
Opalescence Boost in-office syringe, where the formula is mixed prior to application.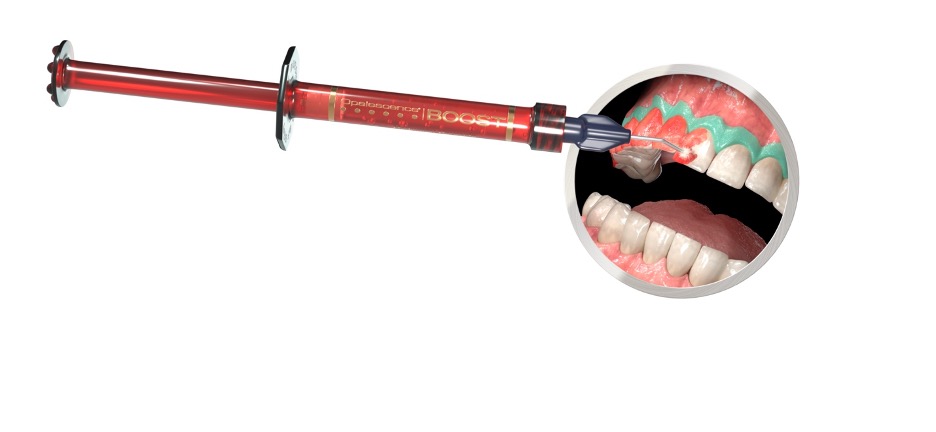 Photo depicting application process of Opalescence Boost in-office whitening gel.
Most importantly, Dr. Palo says he finds the greatest satisfaction in restoring the patient's confidence. "By strategizing how I'm going to approach the case, I'm confident that Opalescence teeth whitening system has all of the products I'm going to need to achieve dependable, predictable, results every time. And that's an amazing thing to be able to give to your patients." 
Opalescence Whitening Systems teeth whitening family of products.
Click here to learn more about or purchase Opalescence Boost in-office teeth whitening, and click here to learn more about or purchase Opalescence Go prefilled teeth whitening trays or Opalescence PF take-home teeth whitening system.