Millions of Americans are watching the explosive new Netflix documentary, Keep Sweet: Pray and Obey, exposing the infamous FLDS leader, Warren Jeffs, and the dangers of religious fundamentalism.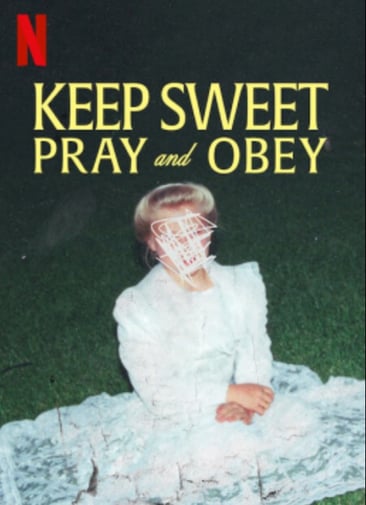 Netflix's new documentary, Keep Sweet Pray and Obey
Many Ultradent Products, Inc., and Opalescence™ teeth whitening customers may not know the fascinating role the company's founder and CEO Emeritus, Dr. Dan Fischer, played in the conviction of Jeffs.
In fact, not only did Dr. Fischer's powerful testimony in the U.S. Senate help convict the sect's pedophilic leader in the mid-2000s, but Fischer continues to passionately lend support to and lead relief efforts for many of Warren Jeffs' young victims through Ultradent's 501(c)(3) non-profit organization, The Diversity Foundation.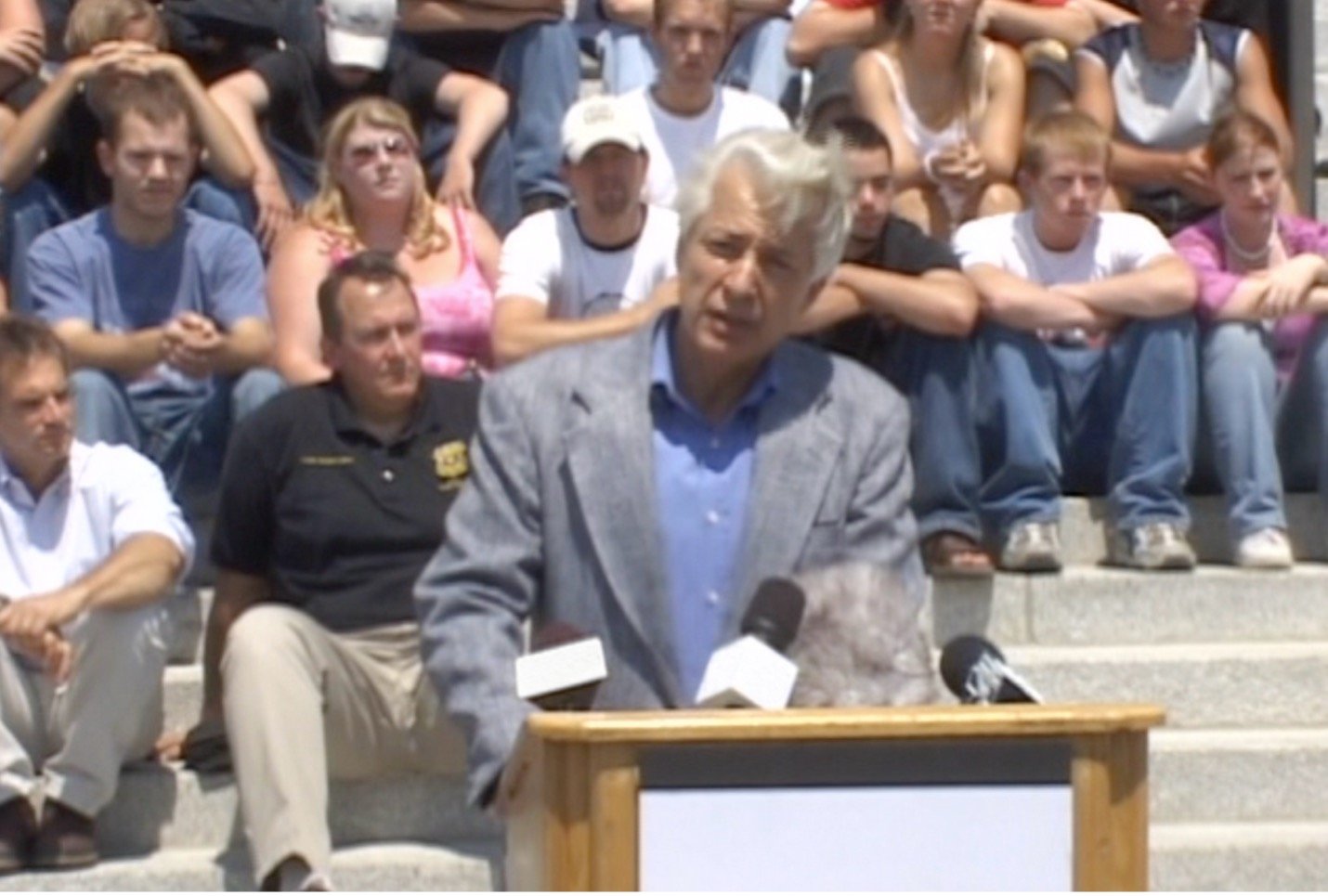 Ultradent's founder, Dr. Dan Fischer, surrounded by many of the FLDS "lost boys and girls," speaking out against Warren Jeffs on the steps of Utah Capitol on July 31, 2004
Netflix's Keep Sweet: Pray and Obey debuted over the weekend as the streaming platform's third most watched show in the U.S. This comes on the heels of the finale of the much-talked about Hulu show, Under the Banner of Heaven, based on John Krakauer's 2003 New York Times bestselling book by the same name. Both Keep Sweet and Banner demonstrate with unflinching boldness the almost inevitable tendency for control, rampant abuse, and in Banner's case, murder, to flourish within the often isolated and toxic bedrock of fundamentalism—something Ultradent's founder knows all too well.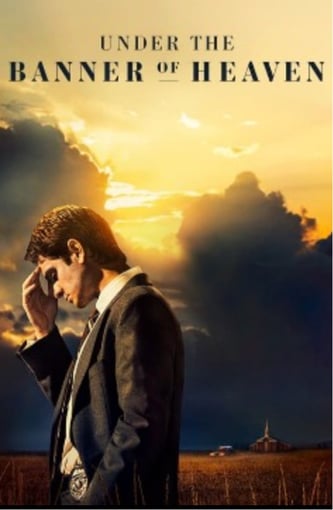 Hulu's Under the Banner of Heaven, starring Andrew Garfield
In Part Two of Netflix's Keep Sweet, the documentary recalls Dr. Fischer's courageous July 31, 2004, press conference, held on the steps of the Utah State Capitol. Dr. Fischer is shown speaking boldly in defense of the many young people (at the time, mostly young boys who were deemed 'The Lost Boys,' by much of Utah's media—a borrowed term from the boy-soldier crisis in Uganda) Jeffs unceremoniously kicked out of the FLDS community in massive numbers. Some 70 of these young people, including many girls, sit behind Fischer as he speaks to the media on the stately white steps. With these young people left with no education, no family, no food, and no home, Dr. Fischer orchestrated the press conference to send a strong message to Jeffs that he would no longer stand by and watch.
"Hundreds of boys, age 13 and above, have fled or been expelled from this society at the demand of its fanatical prophet, Warren Jeffs," Dr. Fischer says in archival footage of the groundbreaking press conference, where he went on to also condemn Warren Jeffs' long-whispered about illegal marriages to underage girls, as well as the unchecked epidemic of financial, physical, and sexual abuse taking place at all levels of the isolationist society at the hand of Jeffs.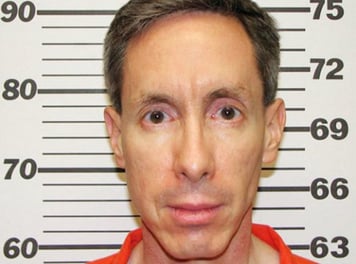 FLDS leader Warren Jeffs, who is currently serving a life sentence plus twenty years for two felony accounts sexual abuse of minors in a Texas prison.
Fischer's powerful advocacy and support continued in the years that followed, despite death threats and intense pressure from the FLDS community. Fischer submitted testimony detailing Jeffs' unrighteous dominion, exploitation, and perversion to the senate which contributed to convicting Jeffs. National media lauded Fischer and his unflinching crusade, calling him a "thorn in (the) sect's side."
Born and raised in the FLDS community, Dr. Dan Fischer got his first real exposure to the outside world when the group's prophet at the time, Leroy Johnson, having recognized Fischer's natural affinity for academics, engineering, and the trades, essentially commanded him to study for and apply to dental school, as the FLDS community desperately needed a dentist.
Looking back, Fischer calls the mandate "the best thing that ever happened to me," as his career, as well as rubbing shoulders and learning about so many other quality humans in the world and in the field served as a vehicle for reframing his perspective on the backwards and toxic society in which he grew up. Continuing, "The many experiences I had with quality non-FLDS members, hundreds of miles away from where I was raised helped me realize how many wonderful people there are out there. My career in yes, treating FLDS patients but also many non-FLDS patients changed the direction of my life."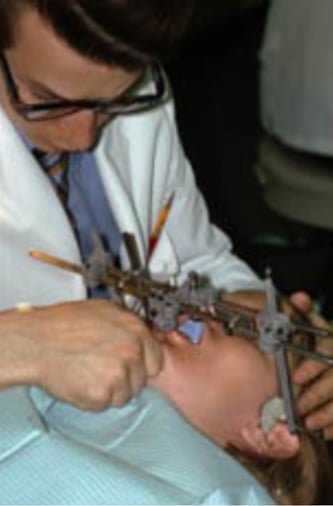 Dr. Fischer working on a patient while in dental school at Loma Linda University in the 1970's
After graduating in the top 1% of his class from Loma Linda School of Dentistry in Loma Linda, California, Dr. Dan Fischer returned to the Salt Lake valley and began practicing dentistry, attending to the FLDS community in the area, —as the group had not yet begun its mass exodus to the Colorado City/Short Creek area per the command of Warren Jeffs, who would take power over the group two decades later. However, Dr. Fischer also treated many non-FLDS patients, even at the beginning of his career.
Shortly after beginning his practice in the late 1970s, Dr. Fischer invented a groundbreaking dental product, Astringedent™ hemostatic, and founded Ultradent Products, Inc., a South Jordan-based international manufacturer of high-tech dental materials, devices, and instruments. Since its inception in 1978, Ultradent has grown to employ over 1,800 people, operating in over 130 countries worldwide today. This past year, Ultradent debuted in the national Top 10 on Fortune Magazine's annual list of "Best Places to Work in Manufacturing and Production"among industry giants like Dow, Stryker, and Graco, Inc.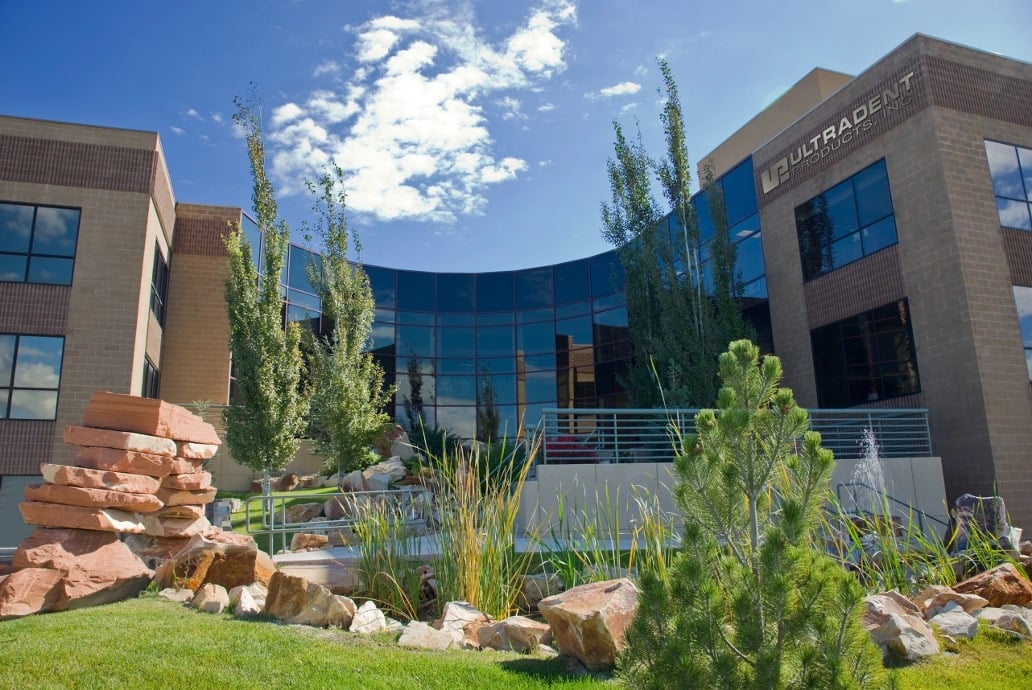 Ultradent Product's South Jordan global headquarters today.
As Ultradent grew and FLDS leadership came into the hands of the Jeffs family (first with Rulon Jeffs in the mid-1980s, followed by his son, Warren Jeffs, after Rulon's death in 2002), Dr. Dan Fischer, recognizing their gross ethical failures and abuse of power, left the FLDS and forsook polygamy, leaving the group with his second appointed wife, Leenie, with whom he just celebrated their 49th anniversary.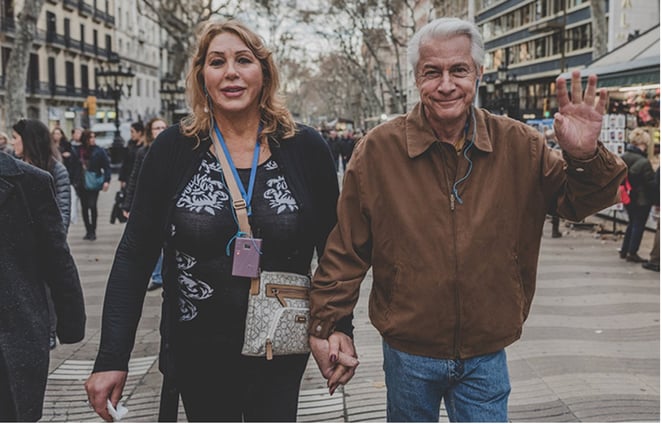 Dr. Dan Fischer and his wife of 49 years, Leenie Fischer.
Shortly after leaving, Dr. Fischer formed The Diversity Foundation in 2004, with the mission of helping young people who had escaped or been kicked out FLDS society to assimilate to the outside world by obtaining housing as well as high school and university educations.
One striking example of how badly an organization like The Diversity Foundation was and is needed, comes from Brenda Nicholson, a recent Diversity Foundation graduate who fled the FLDS community along with her family. She recalls, "At Alta Academy (a high school run by Warren Jeffs in Salt Lake), I remember filling out a form where I signed up for Algebra, Geometry, Trigonometry, and Calculus. When Warren Jeffs brought it back to me, he had crossed off Trig and Calculus and said, 'No girl needs that much math. Your job is to be a mother in Zion. You don't need to learn that much math.'"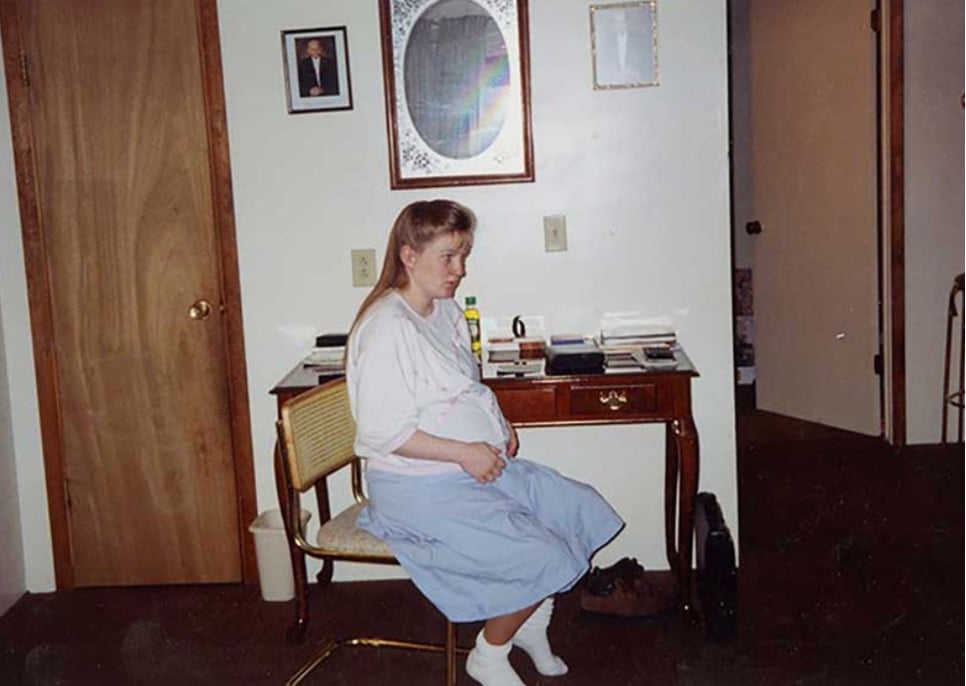 A young Brenda, pictured in Colorado City where she was expecting her first child before she escaped the FLDS society and gained an education through The Diversity Foundation.
Thanks to the help of The Diversity Foundation, Brenda now holds a bachelor's degree in psychology and lives what she calls an independent and happy life.
Dr. Fischer, along with Utradent's leadership, headed today by the company's current CEO and President, Dirk Jeffs (no relation to Warren Jeffs), still influence and guide the foundation—while it is fully run by a full-time social worker hired by the foundation, Shannon Price. It is currently helping financially support the higher education of 26 ex-FLDS students, with four of them earning bachelors or graduate-level college degrees last spring. Throughout the years, The Diversity Foundation has aided in the education of over 200+ students—many of whom have gone on to become skilled contractors, electricians, welders, teachers, nurses, lawyers, doctors, and dentists themselves. Dr. Fischer even hosted Christmas for large groups of "the lost boys and girls," when he first started the foundation, as many of them had no other family with which to celebrate.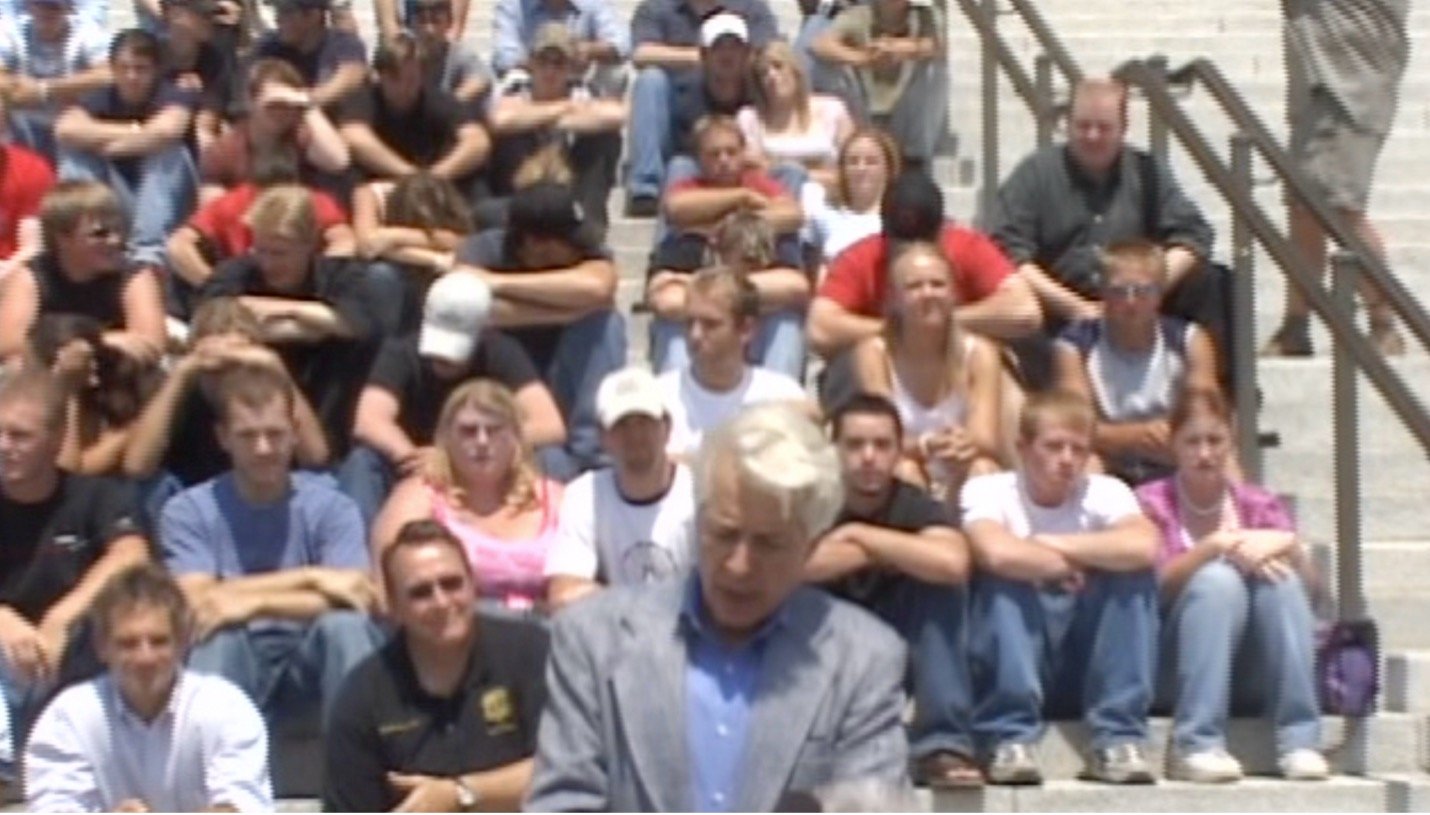 Approximately 70 young people who were kicked out of FLDS society join Dr. Fischer at a press conference in 2004, as shown on Netflix's Keep Sweet: Pray and Obey.
Of his work with The Diversity Foundation, Dr. Fischer says, "The older I've gotten, the more I've realized that material things bring little value. I'd rather see money be used for education, education, education! I love seeing driven young people get an education, and the FLDS and ex-FLDS have many driven and capable young people."
He continues, "That is a big part of the reason I formed The Diver​sity Foundation. It was initially formed to promote diversity among youth of all walks of life, but it's grown to focus on helping the hundreds of displaced youth of the FLDS communities of Colorado City and Hildale (Shortcreek) to gain higher education and become productive, contributing members of society, despite the traumas many of them have experienced." Adding, "Once again, I truly believe the most powerful tool to escape the FLDS and other predatory groups of the like is a solid education."
Dr. Fischer says he also feels a deeply personal connection to the many young people The Diversity Foundationhelps, year after year. "Continuing to support The Diversity Foundation, along with the help of our full-time social worker, Shannon Price, who runs the foundation from day to day, enriches my life in several ways. Many of these young people come from parents that I knew in my childhood, or are the grandchildren of people that I knew when growing up in the FLDS community. I know what kind of pain they've had to endure—never receiving a proper education or the tools necessary to make it in the real world. It's our goal to help them get the education and tools they need that they've missed out on. We hope it offers them some added help, support, and strength to be able to go out and contribute to society in positive and meaningful ways that we believe will enrich their lives and the lives of others."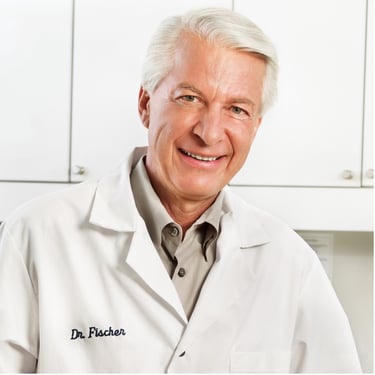 Dr. Dan Fischer, founder of Ultradent Products and The Diversity Foundation.
In addition to his recent appearance in Keep Sweet: Pray and Obey, Dr. Dan Fischer appears extensively in A&E's 2018 two-part special, Warren Jeffs: Prophet of Evil, which viewers can find on major streaming platforms, including Amazon, Apple+, and A&E Crime Central. He is also featured heavily in the New York Times bestselling book Escape: A Memoir, written by Carolyn Jessop, who fled to Dr. Fischer and his wife's home after fleeing Colorado City. Carolyn Jessop's harrowing story was later featured on The Oprah Winfrey Show and many other national news programs. Dr. Fischer has also been featured on a Dr. Phil special titled, "Inside the Cult: The Lost Boys," among other national shows, books, and documentaries.
To learn more about Dr. Dan Fischer, The Diversity Foundation, Ultradent Products, Inc., and how you can help support the many young people who continue to escape the FLDS community, please visit The Diversity Foundationand Ultradent.