Dr. Dan Fischer, founder and CEO of Ultradent Products, Inc., and creator of its flagship, industry-leading tooth whitening brand Opalescence Whitening Systems, can frequently be heard saying, "There is one human health that will always, always be more important than dental health, and that's mental health."
Upon hearing this, one might wonder what dentistry has to do with mental health and why the founder of an international dental company is talking about it.
Well, as it turns out, there are many mental health issues tied to dental health—including self-esteem, depression, anxiety, body-image issues, and more. These issues can come into play when one experiences dental pain, is missing teeth, or as is most often the case, feels embarrassment about the color of their teeth. Dental issues can affect one's confidence to smile, the desire to interact with others and make friends, the ability to speak confidently in an interview or work setting, and can eventually affect one's overall self-esteem, which often leads to anxiety and depression.
Throughout the years, it's been amazing to see the change in our patients using Opalescence whitening. This month, in celebration of Opalescence whitening's 29th anniversary, we compiled a few of our favorite stories from patients about how Opalescence whitening has changed their lives. Each story is different, and their lives were changed in different ways, but each story is incredibly moving, hopeful, and a testament to the life-altering power of having a confident, healthy smile.
My Opalescence Story: Anna Lozier
Back in 2016, Anna Lozier had her hands full. A single mom to a teenager and a college student, she also juggled her time between working as a full-time medical assistant and studying full-time to become a nurse. With her hectic schedule, she had a difficult time getting in for regular dental checkups over the years. She had stains on her teeth from drinking coffee regularly and smoking, though she had quit smoking four years earlier.
At the time, Anna said, "I noticed that my teeth looked extra yellow and I decided it was time to take action, so I made an appointment to see my dentist to discuss options for whitening my smile."
After assessing that her teeth were indeed healthy enough for whitening, Anna's dental hygienist presented her with several Opalescence whitening options, including Opalescence™ PF whitening, which is used at home in custom trays, an in-office Opalescence™ Boost™ whitening treatment, or Opalescence Go™ prefilled, take-home, disposable whitening trays.
Anna knew immediately that she wanted to use Opalescence Go whitening, as it allowed her to skip the step of having impressions made for custom trays, so she could take it home and start whitening right away. She adds, "I wanted something that was less expensive than in-office whitening, but that was equally effective, and Opalescence Go whitening was the answer."
To say that Anna liked her results would be an understatement. In fact, she frequently sent her dentist's office daily progress photos to show how quickly the stains on her teeth disappeared.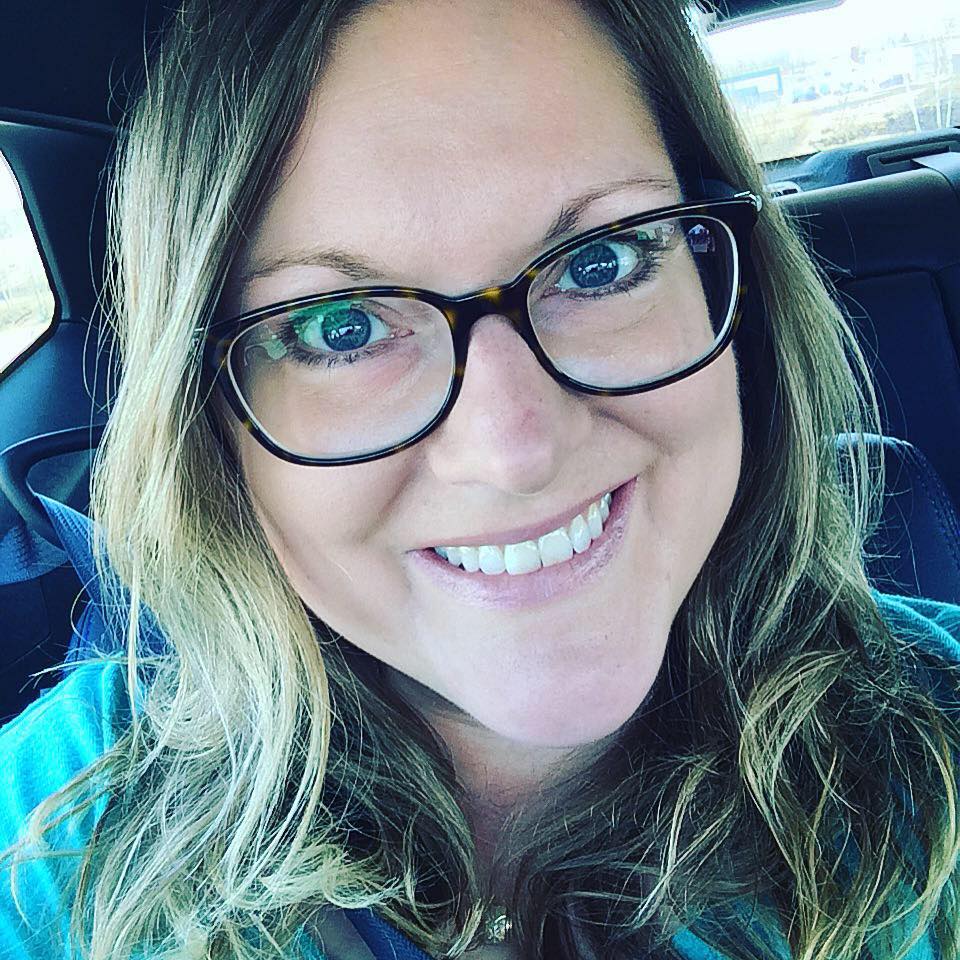 Anna Lozier, Opalescence Go Whitening Patient
Of the experience, Anna says, "Opalescence Go whitening is perfect for busy people! In fact, I would often wear my whitening trays in the morning at work and I was so pleased that I could talk with them in and hardly anyone even noticed. They were so comfortable!"
They were so comfortable in fact, that Anna wore her Opalescence Go 10% hydrogen peroxide whitening trays every day from the day she took them home from the dental office for ten days straight, until she'd used up her first box. "I experienced zero sensitivity throughout the entire process," she said.
Now Anna meets her own patients with a sparkling white smile, and said she constantly gets compliments from family and friends, which has in turn boosted her self-esteem. "It's definitely given me a more confident smile," she says…with a smile!
My Opalescence Story: JJ Harris
Shannon Pace Brinker still recalls in vivid detail the first time she met JJ Harris's mom, Leigha. Shannon, a CDA and president of the Academy of Chairside Assisting, often travels the country, and the world, lecturing on dentistry. During one of her stops in Salt Lake City, Utah, where she happened to be lecturing on Ultradent's prefilled, disposable Opalescence Go whitening trays, she remembers Leigha calling her name and making her way toward her through the crowded lecture hall at the end of her speech.
"Ms. Brinker," she said. "My name is Leigha Harris, and I'm a dental assistant. I want to show you something."
At first perplexed, Shannon watched as Leigha pulled out her phone and held it up so Shannon could see as she began scrolling through photos of her little boy, JJ. "Notice a pattern?" Leigha asked.
JJ's mother Leigh noticed he never smiled with his teeth, even in school photos, because he was self-conscious of their color.
Shannon did indeed notice an obvious pattern right away. JJ didn't smile. It was something Leigha had noticed for the past several years, telling Shannon, "I had noticed that JJ's teeth were significantly yellower than some of the other kids his age, and I wanted to give him the opportunity to change that, so when I heard about Opalescence Go whitening, I thought, 'This would be a great opportunity for JJ to whiten!'"
Shannon immediately sympathized. She recalls, "Think of having seven years of school pictures with no smile in them! I think back on my own kids and the sweet school pictures where they're grinning and missing a tooth. They're so fun to look back on! After seeing so many photos of JJ where he refused to smile, I asked Leigha, 'Is it really that bad? I can't see his teeth in these photos, but they really couldn't be THAT bad." And Leigha said, "Yes, they're really that bad…to him."
More photos of JJ refusing to show his teeth before he whitened. In fact, even his little brother began smiling without opening his mouth because of JJ's example.
Dr. Fischer often speaks about the importance that confidence in one's smile plays in a person's life—especially in the lives of young people. In fact, it's one of the reasons he invented Opalescence whitening. He has said, "Going through the teenage years can be tough on humans, and it's important that we as clinicians be sensitive to their needs."
Shannon, like Dr. Fischer, understood this very well. She said, "After Leigha assured me that JJ had gotten his six-month dental checkup and that his teeth were healthy, I immediately accepted the challenge. I talked to Leigha about each and every step she needed to follow for JJ to whiten his teeth with Opalescence Go whitening."
With that, Shannon sent Leigha on her way with an Opalescence Go whitening kit for her son JJ to try under her supervision.
Shannon says, "It wasn't but a short week before Leigha started sending me photos of how JJ's teeth looked and thanking me for letting her try the Opalescence Go whitening on JJ." She added, "It was so amazing to see him go from believing his teeth were ugly and not smiling to seeing him smiling and happy. It was so cute!" she remarks, tearing up.
After bleaching with Opalescence Go whitening, JJ began confidently showing his teeth when he smiled!
And it wasn't just JJ that benefitted. Leigha had noticed that JJ's younger brother was beginning to hide his teeth as well, so she began the same protocol with him after determining that his teeth were healthy enough to whiten with their dentist. And he soon began smiling with his mouth open and teeth showing too!
Dr. Fischer says, "We've found over the years that it can be life-changing when someone whitens their teeth. For sure, someone who is self-conscious of speaking or smiling because of the color of their teeth can simply whiten and make it a non-issue."
Then came the icing on the cake. "One day," Shannon said, "I got on my computer and there was an email from Leigha with a big school photo of JJ grinning from ear to ear and she just wrote, "Look what you've done!"
Of JJ's transformation, JJ's mom Leigha says, "I've not only noticed a huge change in his smile, but also in his personality. Over the past two or three years his school pictures were just closed-mouth smiles and this is first time I actually got a real smiling picture from school, so I think it's really changing his confidence." She continues, "Through this whole process, Shannon has been so supportive, caring, and has really followed through for my little family."
JJ's tooth shade before and after using Opalescence Go whitening—however, his confidence was the biggest change everyone noticed!
Shannon concludes, "This case and this cause is just so near and dear to my heart. I'm so grateful to Dr. Fischer and to Ultradent for making this product that really has changed JJ's life."
My Opalescence Story: Lara Wolford
As a very busy music and choir teacher, Lara Wolford of Piqua, Ohio, says she's always been aware of how her teeth look because she's always singing or teaching others to sing. However, she wasn't always very confident about people seeing her teeth—often feeling self-conscious about their color and wishing they were whiter.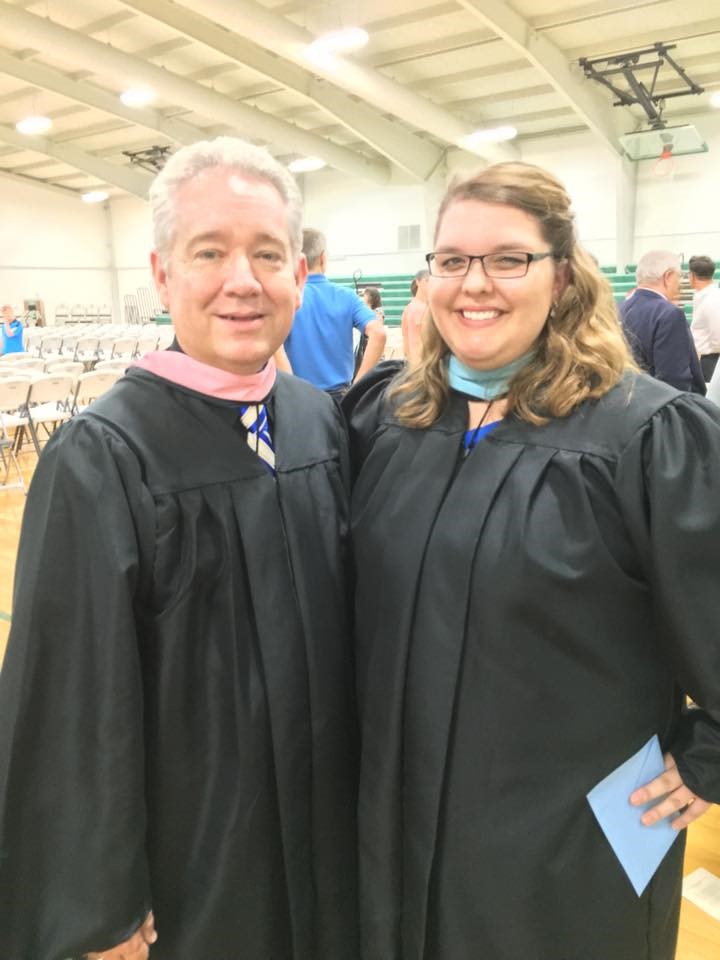 Lara Wolford at her college graduation, prior to whitening her teeth with Opalescence Go whitening.
But that's all changed now that she's discovered Opalescence Go tooth whitening. "Having a bright smile is a huge plus when you are in a career where people are looking at your mouth all the time. I teach over 800 students, and when I'm modeling how I want them to sing particular words or even singing along with them, it's nice to know that my smile looks fantastic and bright." She adds, "I also love that Opalescence whitening gel contains fluoride, because I know I'm doing something good for my teeth while I'm whitening."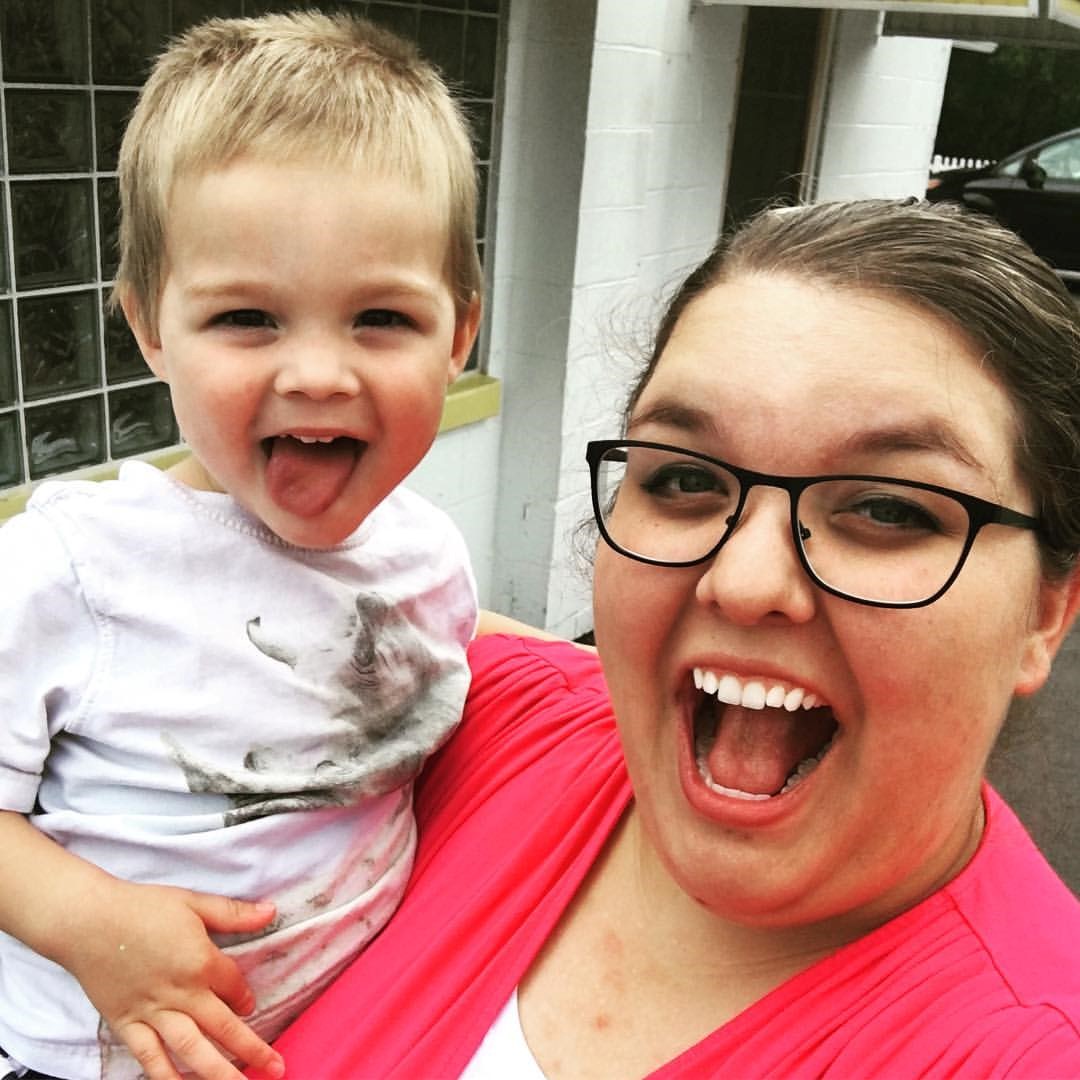 Lara Wolford showing off her confident smile after bleaching with Opalescence Go whitening.
Lara says that in addition to the confidence that her new brighter, whiter smile has given her, the reason she chose Opalescence Go whitening was because of her busy, often hectic lifestyle. "I gravitated toward Opalescence Go whitening when my dental hygienist told me about various teeth whitening options available because it was just so convenient. During the whitening process, I didn't have to mess with strips or wait to get custom trays made. It was just so easy to pop a tray of Opalescence Go whitening in my mouth and then go about my business." She continues, "I also loved how the results were practically instantaneous. Within the first few trays, my smile was already whiter. With my crazy schedule, that was a huge selling point and I'd recommend it to anyone who has a similar work schedule or busy lifestyle."
Lara calls her results "glorious," but says that the biggest change, in her own words, is that "my smile now matches my mood and energy, and it only makes me want to smile more."
Learn more about Opalescence whitening here!