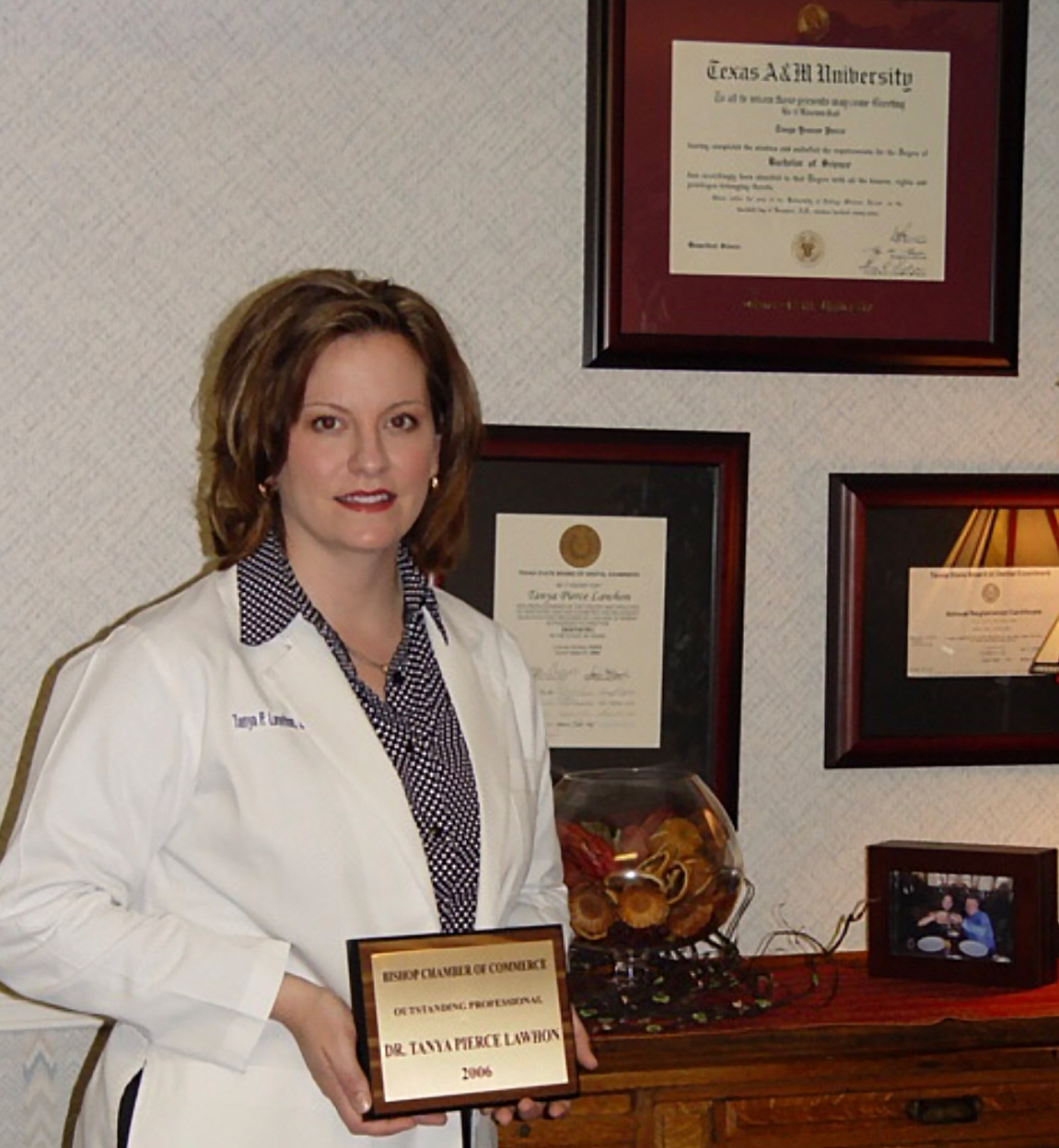 Dr. Tanya Lawhon, DDS, of Bishop, Texas
Dr. Tanya Lawhon
says it wasn't difficult for her to give Ultradent's new
Gemini® 810 + 980 diode laser
a try. "I love everything Ultradent makes," said Dr. Lawhon, who runs her own dentistry practice in Bishop, Texas. "I love their products, and on the rare occasion I do get something I'm not in love with I always give them my honest feedback on what I would change. I've never been afraid or shy to do that."
"I began attending the
Ultradent continuing education courses
in Cancún every January. When Ultradent introduced the Gemini laser a couple of years ago, I knew I had to try it. I loved how user-friendly and compact it was. I also loved that it was a diode, and I loved that it was portable. Plus, the electroluminescent display screen was gorgeous when it lit up." She chuckles, adding, "So I ended up buying two more, and I now have three Gemini lasers in my office. I have one laser for each hygienist to use and one more for me."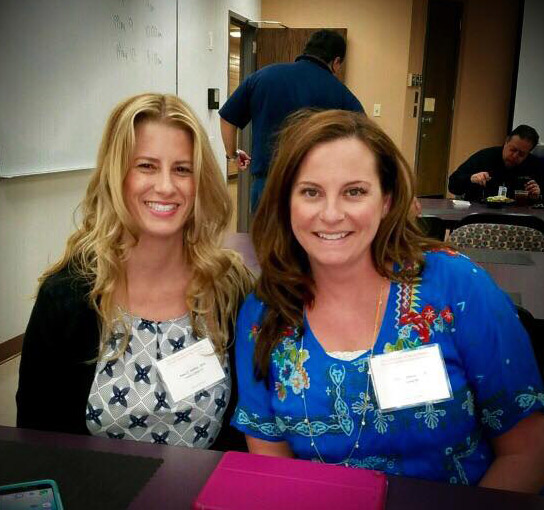 Dr. Lawhon attending a dental
continuing education course
Dr. Lawhon says implementing the Gemini laser into her practice has made a huge difference for her and her staff, and it's also had an impact on her patients.
"When a patient walks into the operatory and sees the laser's display light up, they always ask, 'Ohhhh what's that?'"
remarks Dr. Lawhon. "When my patients see the laser and learn what it does, I think it makes them appreciate that their dentist is taking care of them with the latest cutting-edge technology available."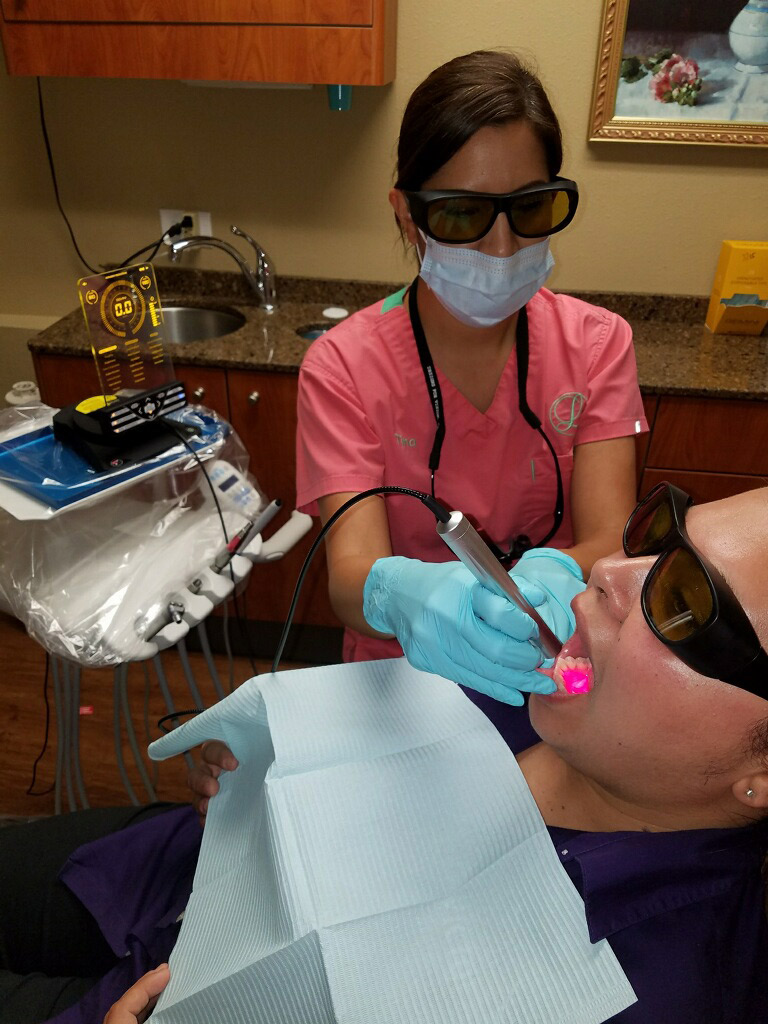 Tina Cavanaugh, RHD, uses the Gemini laser on a patient in one of Dr. Lawhon's operatories
And Dr. Lawhon certainly does take care of her patients. Dr. Lawhon and her staff use the Gemini laser for a plethora of procedures.
"I use the Gemini laser for troughing after I've done a crown preparation instead of using packing cord, and I also use it for frenectomies. I use it every day with crowns and bridges, and of course if a patient comes in and has a herpetic lesion, or a pizza burn, or soft tissue trauma, we use it on that too."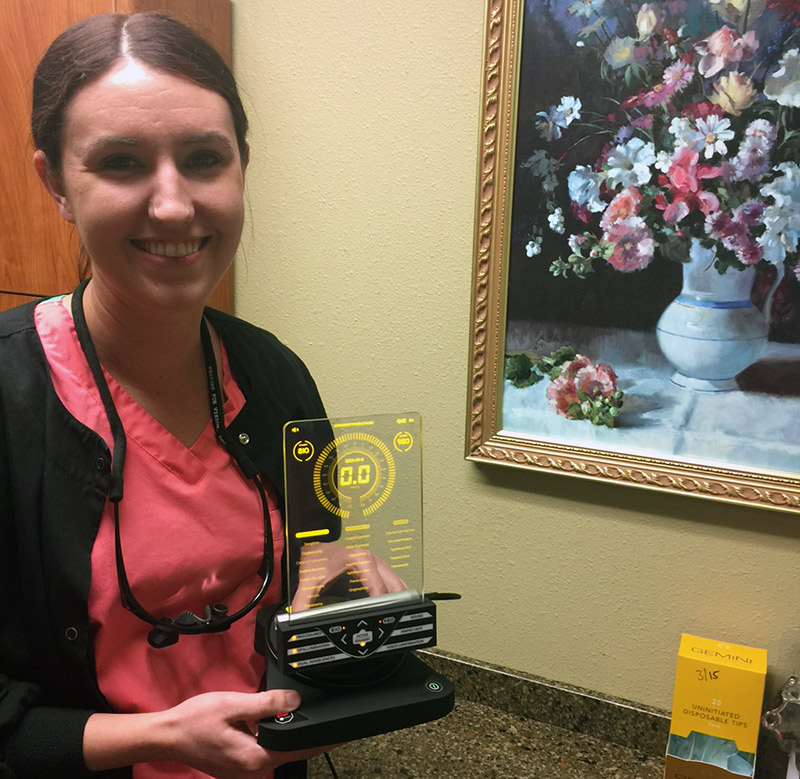 Ashley Ham, RDH, is a hygienist who works in
Dr. Lawhon's office and uses the Gemini laser regularly.
She goes on to add,
"We offer LBR [Laser Bacterial Reduction] to every single patient—young or old—who come through our hygiene side, just like we offer fluoride. We tell them all of the benefits that we believe come from having the treatment—it kills bacteria, helps decrease periodontal disease, helps to increase collagen, etc. We keep the cost relatively low, and almost all of our patients want to try it. We also treat their cold sores with the Gemini laser, and sometimes their insurance will cover the cost for them. They love that we offer those services."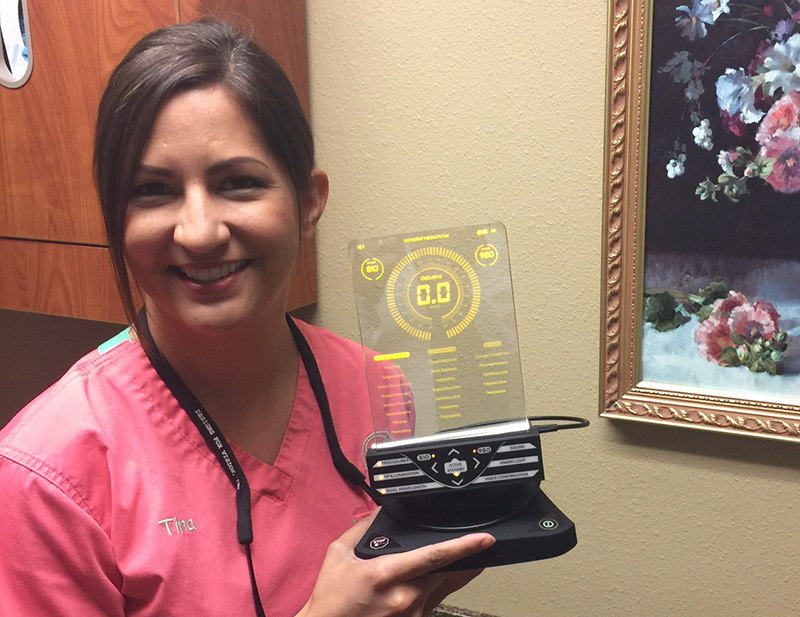 Tina Cavanaugh, RDH, always has one of the three Gemini lasers in
in Dr. Lawhon's office available to use.
But there's more. Dr. Lawhon says, "Also, if we have a patient that needs to have scaling and root planning because of periodontal disease, we talk to them about LAPT. That stands for Laser Assisted Periodontal Therapy. That is where we use the
Gemini laser
to get rid of necrotic tissue so the patient can get better reattachment. I also use the Gemini laser for gingival recontouring and crown lengthening. I also use the
Gemini laser
for orthodontics in my office—so if we need to expose a cuspid or a tooth, we use it for that. I can use it for a biopsy, too. There really are almost endless things you can do with it."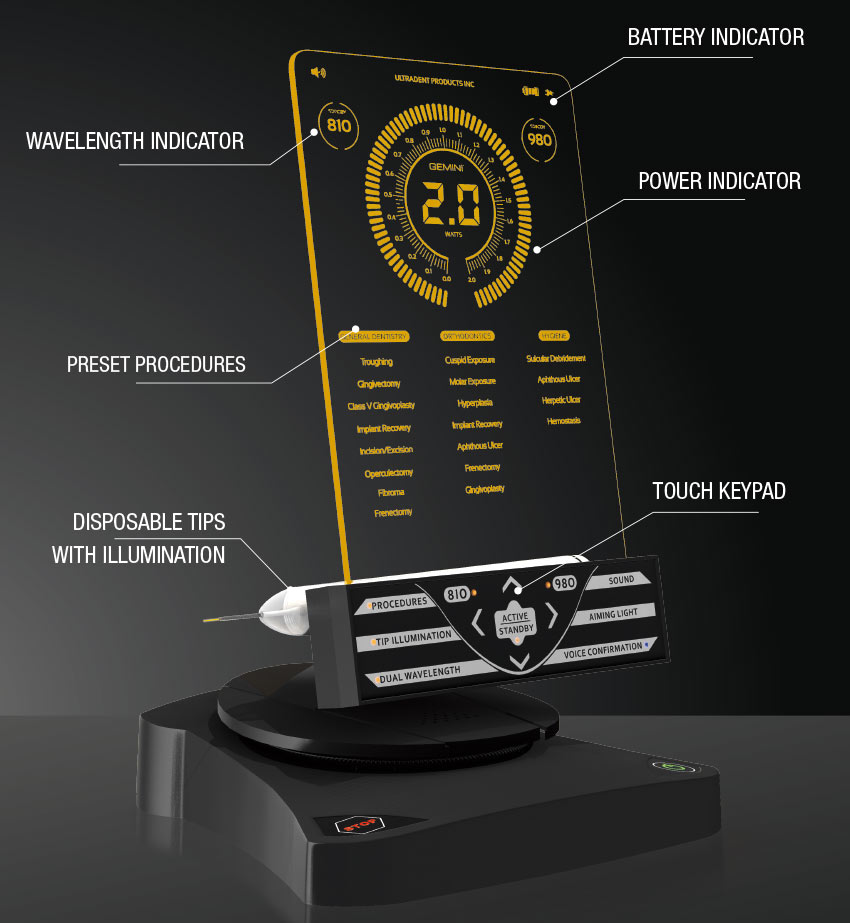 Gemini® 810 + 980 diode laser​
When asked if having the three
Gemini lasers
in her office has made a positive impact on her business, Dr. Lawhon answers, "We've definitely seen an increase in our bottom line because we work faster, more efficiently, and can offer more to our patients, procedure-wise, than we could before."
​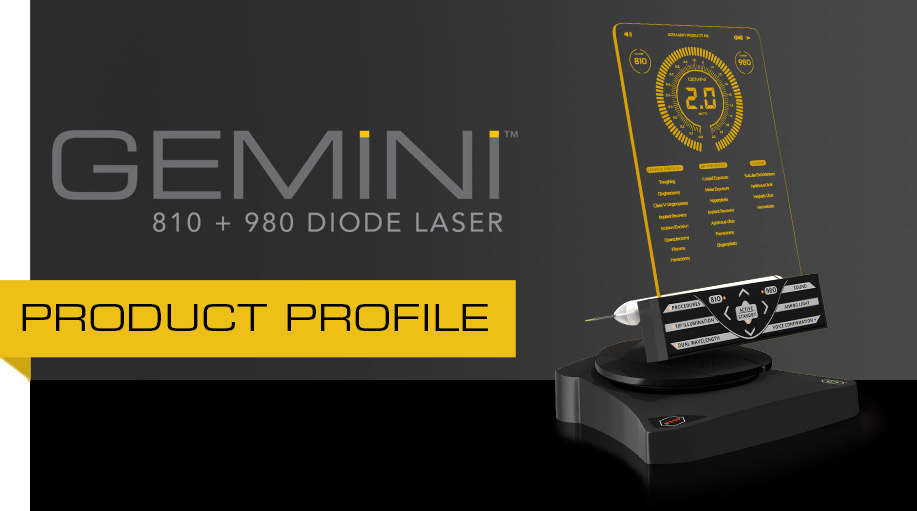 ​
​​
Gemini 810 + 980 Diode Laser Details:
The
Gemini 810 + 980 diode laser
is the first dual-wavelength soft tissue diode laser available in the United States. The unique dual wavelength technology combines the optimal melanin absorption of an 810 nanometer wavelength laser with the optimal water absorption of a 980 nanometer wavelength laser.
Unique Feature: No other laser on the market offers dual wavelengths, which allows the laser to offer 20 watts of peak super-pulsed power means faster, smoother cutting. It also features a beautiful electroluminescent display.


How Many Procedures Can it Perform?
The
Gemini laser's
simple user interface features 19 preset procedures to enhance ease of use, in addition to the many other procedures the clinician can perform with the laser.
What Else Makes it Handy? Tip illumination provides better visibility at surgical site.

​
​
​ ​
​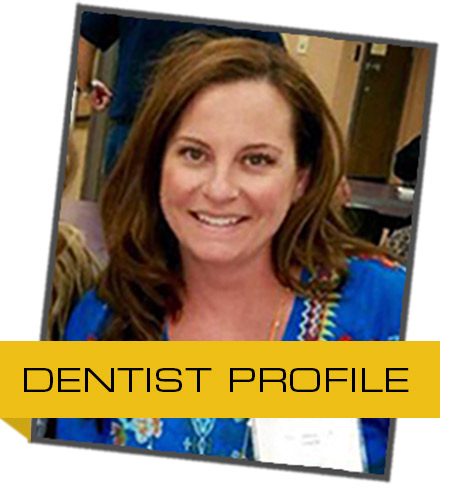 ​
​ ​​
Dentist:
Dr. Tanya Lawhon
Practice: Lawhon Dental, Bishop Texas


Why did you choose the Gemini Laser? I loved all of Ultradent's products and had gotten amazing results with them, so I trusted that their laser would be spectacular and I was right. I ended up ordering three.


What do you use Gemini for?
Troughing, frenectomies, laser assisted periodontal therapy, laser bacterial reduction, herpetic lesions, and more.

Advantages:
We've definitely seen an increase in our bottom line because we work faster, more efficiently, and can offer more to our patients, procedure-wise, than we could before.
Results: ​Easier, more streamlined, quicker procedures that are less invasive for the patient and more efficient for the dentist.​
​
​​
Learn more about the Gemini Laser »
​