Carol Jent and I rounded out 2014 with two fabulous and fun lectures that won't soon be forgotten.
The first lecture was in Oklahoma City where, once again, Carol Jent presented to the dental hygienists and attending staff that accompanied the clinicians in attendance. Denise Jennings and Nick Williams, two of our outstanding territory account managers (TAMS), addressed the sales needs. I was blown away by Nick's expertise and passion for turning clinicians on to Expertemp™. His deep knowledge and enthusiasm for the product has put him at the very top of the total company sales for ExperTemp. Thank you Nick, for your hard work in spreading the word about what a difference a fantastic product like ExperTemp can make in a dental office. You are a true professional!
One of my favorite things about traveling and lecturing is the opportunity to hear, firsthand, feedback and suggestions on our products from the doctors and staff in attendance. Rubbing shoulders with them and hearing their history with Ultradent is very meaningful to me.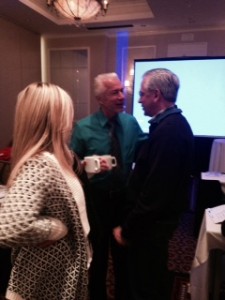 A few days ago, Erwin, Ultradent's executive vice-president, shared with a letter that Warren Buffet sends each year to the 80 plus CEOs of the various companies his group owns. To paraphrase, the letter said, "You can lose money, but don't ever lose even a shred of your reputation." This inspired and rang so true to me, as I hold Ultradent's reputation for quality and care above all else.
The Ultradent Summit, which took place here in South Jordan in November, ended 2014 very nicely. Our TAMS in attendance to support sales and education included Arleena Robertson, Jana St. Clair, Diane McFarland, Karen Phillips, Chamil Forbes, and Jay Frazier. What a team of champions! With Dr. Renato Leonardo and Dr. Carlos Ramos lecturing, the endodontic lectures served as a superb highlight. Dr. Hal Stewart of Texas gave a fantastic, educational, and enthusiastic lecture on our Edelweiss composite veneer system and the tremendous success and feedback he's had with it. It was a fabulous Summit to end a super year.
It already seems the stars are aligning to bring even more excitement and success for 2015…
Until next time, big hugs,
Dan