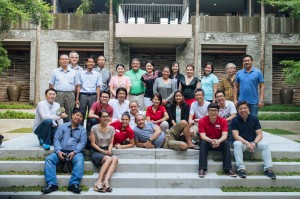 Just last month, numerous "key opinion leader" dentists (KOL'S) and industry professionals from Asia and the South Pacific gathered in the paradisiacal island of Bali for a weekend of learning, activities, and teambuilding exercises. "We wanted the experience to be not only a great opportunity to learn, but to have some fun too, so we incorporated a lot of activities that helped attendees take advantage of the beautiful location, including cycling through the island," said Josephine Siew, who attended and helped organize the summit.
With the last major KOL meeting held in Beijing in 2007, Siew says they felt the need for another gathering was necessary, in order to educate doctors about all of the new technologies and innovations from Ultradent in recent years.
Speakers at the event included Stephan Lampl of Edelweiss; Chris Chen, who lectured on bonding and VALO; and Angelo Lazaris and Ashleigh Speer, speaking on marking in the tooth whitening realm, among others. "For me, the best part of the meeting was finishing each and every lecture with a 'hands-on' exercise, which was so helpful and exciting. It also really helped cement what we had all just learned in our minds. It made each lecture so enjoyable from start to finish. We did hands-on sessions for everything from bonding lectures to photography lectures!" said Siew.
As mentioned, participants hailed everywhere from Taiwan, the Philippines, Japan, Australia, Indonesia, China, South Korea, Myanmar, and more—with a total of 26 clinicians and professions in attendance.
With the success of the year's meeting, Siew said she and other participants are already looking forward to the next.