"I'm a traveler and had been visiting Cambodia for about ten years and got to know quite a few people down there. My journey to Cambodia in 2006 left an indelible impression on me. I was deeply moved by the images of the extreme poverty and desperate circumstances in which many Cambodians live. Kindredhouse was born from an idea in 2007 on a return trip to Cambodia with my daughter, Riley Bassett. The idea was to establish a group of friends, family, and volunteers to try to make a difference in the lives of rural Cambodians. This organization is an extension of our shared love of culture and strong belief in service," says Erin West, of Draper, Utah.

With her background (a Master's degree in Public Health) and her daughter's experience in marketing, they founded

Kindredhouse

, a U.S. 501©(3) non-profit which aims to improve the lives of the people of Cambodia through health and education.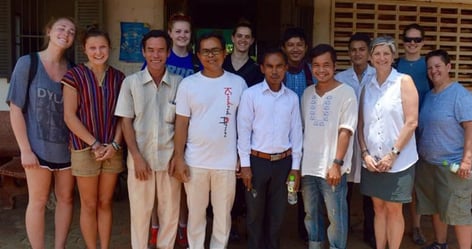 Kindredhouse volunteers, including
Erin West and Riley Bassett, stand in front
of Chansor Clinic in Cambodia
After one of their most recent trips, Erin said she noticed that many of the children had black, decaying teeth at the ages of only four and five years old.
Kindredhouse
launched a massive dental hygiene and education effort where they not only conducted tooth brushing and dental hygiene classes—sending home thousands of toothbrushes and toothpaste to those in attendance—but they also applied
Ultradent's Enamelast® fluoride varnish
to over six hundred children in just three days.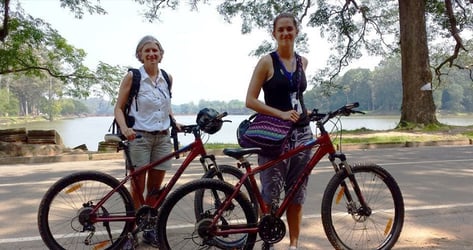 Erin West and her daughter, Riley Bassett,
the original founders of Kindredhouse
"We handed out flyers to people in the surrounding area for about three weeks leading up to our hygiene event, and the turnout was spectacular. These moms and dads are so eager to strengthen their own and their children's health, with the hopes that future generations won't have to go through what they've gone through. They just eat up everything we give them," Erin says.
"For example, we visited some of the homes of the people who attended our hygiene day and saw that they had gone home and tacked up the instructions for tooth brushing on their sinks. These are people who have outdoor wells and sinks, but still, they had hung up the instructions out there by their outdoor sinks. They're so dedicated and sweet and they and the children were so proud and excited about their new toothbrushes!"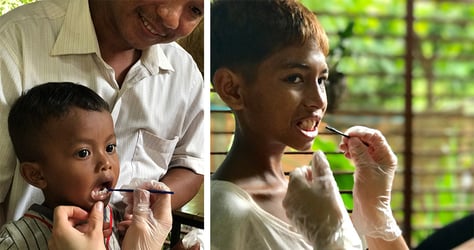 Boys receive Enamelast fluoride varnish from
public health interns and volunteers as part
of a dental hygiene initiative launch by the
non-profit organization in Cambodia

Erin continues, "I think this hygiene effort will be so empowering for them and it's going to make a huge difference for generations to come."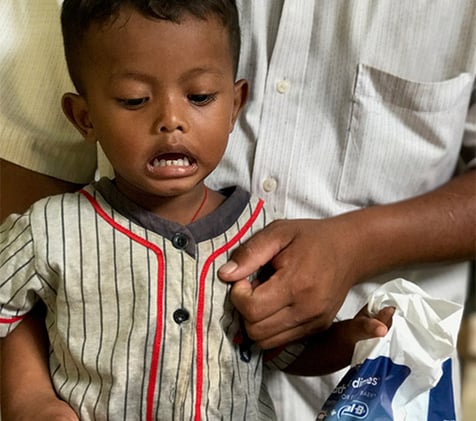 Cambodian boy takes home his dental hygiene
goodie bag, which includes a toothbrush
and toothpaste, after attending Kindredhouse's
recent dental hygiene event in
Siem Reap, Cambodia

In fact, Erin says their next fundraising effort will be to purchase a mobile dental clinic that they can park in Siem Reap throughout the year. Volunteer dentists and hygienists from the United States will be able to rent the clinic through Kindredhouse to perform more extensive dental procedures and provide more comprehensive care to the people of Cambodia that Erin has grown to love so much.
"I am so humbled and blessed to have the opportunity to serve these people. They have so little but are so happy."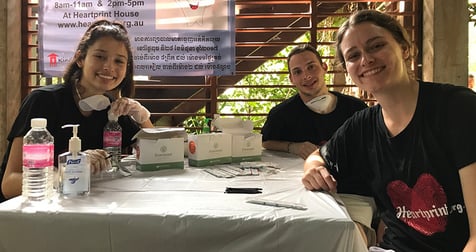 Kindredhouse volunteers and interns take a
break at the Enamelast fluoride varnish
table between varnish applications during their
dental hygiene event in late June, 2017
In addition to their recent dental hygiene efforts,
Kindredhouse
leads numerous health, nutrition, and education initiatives in Cambodia with their mission being to "change lives in Cambodia through health and education."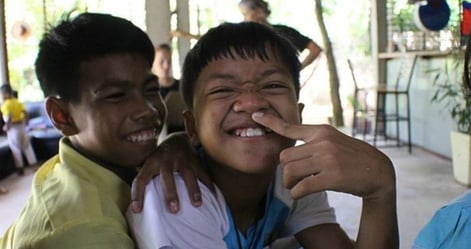 Two young Cambodian boys smile and goof
around at the organization's recent
dental hygiene event in the village
of Chansor, Cambodia
All
Kindredhouse's
volunteers and board of directors fund their own trips to Cambodia, including their own airfare, and they work in advance of the trip, soliciting donations for dental supplies and educational materials to donate to the children of Cambodia. She adds,