"It's physically taxing work because it's sort of a marathon to get as much done as you can with the time you have. But I always say, it's the most emotionally fulfilling work I've ever done," says Dr. Kevin E. Miller of his recent five-day humanitarian trip to the Dominic Republic to perform charity dental work through the Crown Council.
Dr. Miller loves his dental humanitarian work so much that this past trip in March was his third humanitarian mission, and it was a family affair. Each trip, he takes his wife, who is a registered nurse, and his two daughters along for the experience. There are even a couple of medical doctors on the team to offer a wide array of free health and dental services to people who couldn't otherwise afford the care.
It's easy to see why their work makes such a difference—the evidence is in the photos! "There was a young guy we did extensive work on who was probably in his 20s, and he was so happy with his results that he hung around with us for the rest of the week helping wherever he could with set up and chairs. It was almost like he wanted to repay us in some way. It was very touching and sweet," Miller says.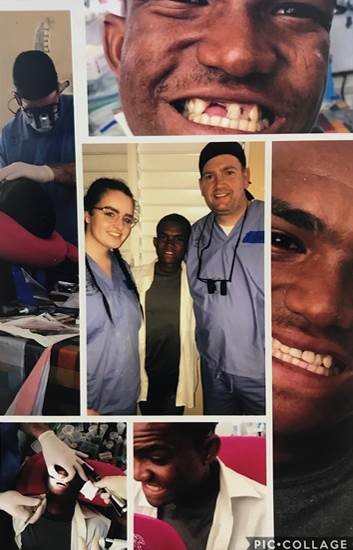 Before and after photos of a young man Dr. Miller worked on using Mosaic® composite during his humanitarian mission to the Dominican Republic.
There was also another young mother in her early 20s who had been in a traumatic car wreck and damaged her leg badly and broken some of her anterior teeth. On this woman, as well as the young man I mentioned previously, I created a direct bonded bridge. I then used Ultradent's
Mosaic® universal composite
to free-hand the teeth and the results were beautiful."

A young mother smiles after Dr. Miller reconstructed her smile using Mosaic composite during a recent dental humanitarian mission
.


He continues, "Most of the people we saw on this trip were fairly young and don't have the opportunity to get their teeth fixed or replace teeth they already have missing. That would mean going a lifetime missing teeth, so it's truly life-changing for them. I keep coming back because it makes me feel good to be able to make a difference to them."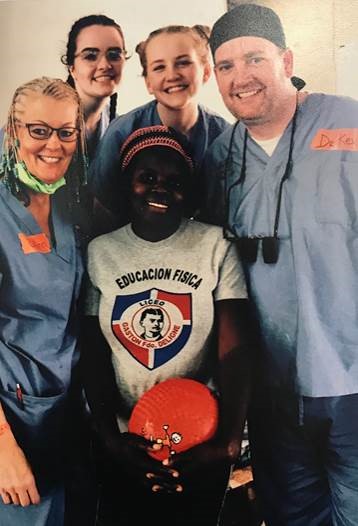 Dr. Miller and his staff smile with one of the many young people they provided free dental work to in the Dominican Republic.
Not only has he gotten his family and many on his office staff involved in the work (including two of his hygienists and two of his dental assistants), but
Dr. Miller
encourages young dental professionals to participate in dental humanitarian missions whenever and wherever they can. "I think it's an amazing thing we can do as professionals to give back.
The Crown Council
, who hosted the mission, plans many of these trips every year and they're a great, reliable organization to volunteer through. I would recommend their humanitarian trips to anyone looking to do some good."
Ultradent is proud to support the Crown Council through donated product for humanitarian trips like the one Dr. Miller participated in, as well as through their nationwide Smiles for Life program, which Ultradent supports by donating Opalescence® whitening to participating offices.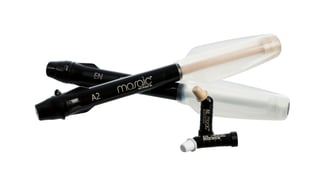 Dr. Miller and his team used Ultradent's Mosaic composite to reconstruct many of the smiles during their humanitarian mission with beautiful results.