"With all the people in the world that are in need, it's easy to feel like you're not making a difference," says Dr. Tim Brown, a family practice dentist out of Neenah, Wisconsin. Dr. Brown co-founded a humanitarian dental clinic in Hinche, Haiti, five years ago. He continually reminds himself and the volunteers who travel with him of a famous Mother Teresa quote in order to keep the volunteers' spirits up.

"I never look at the masses as my responsibility; I look at the individual. I can only love one person at a time—just one, one, one. So you begin. I began—I picked up one person. Maybe if I didn't pick up that one person, I wouldn't have picked up forty-two thousand. The same thing goes for you, the same thing in your family, the same thing in your church, your community. Just begin—one, one, one."




– Mother Teresa​

"I try to continually remind them," Dr. Brown says, "especially the new volunteers—don't distracted or discouraged. Whatever patient God put in your chair, focus on them and let's give them the very best care that we can. We can't save everyone's teeth, but we can treat the people we're able to see."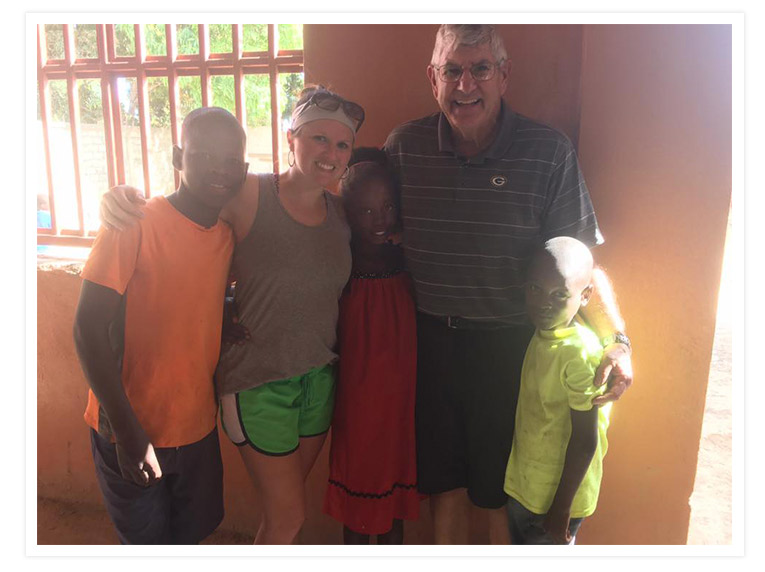 Dr. Tim Brown and Dr. Dawn Brown smile with Haitian Children.
It's that philosophy that motivates Dr. Brown to return to Hinche, Haiti at least three times a year with 16 or more volunteers to treat the parishioners, school children, and orphans of the city.
Dr. Brown co-founded the humanitarian clinic with his fellow dentist and daughter-in-law, Dr. Dawn Brown, and Lori Schneider, a receptionist from his practice in Wisconsin. His two sons, who are also dentists, often accompany him on the missions. In fact, it's become quite the family affair. "My grandson went along when he was 15 for the first time, and he learned to dental-assist," Dr. Brown said. "When he came back, he said,
'My life will never be the same.
I will always appreciate things from now on.'
Now that he's in college, he's a pre-dental student. I'm not surprised by that. I think it really made an impact on him."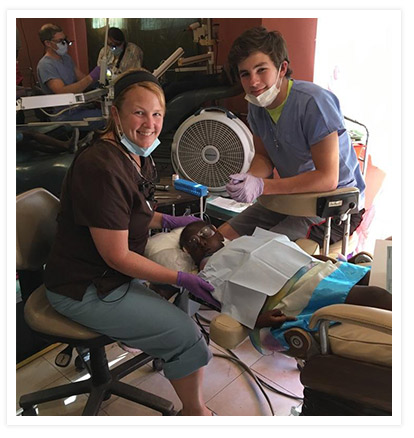 Dr. Dawn Brown and Carter Brown, Dr. Tim Brown's grandson,
who has been volunteering in Haiti since he was 15
In addition to family, Dr. Brown says he is joined by many pre-dental and dental students, as well as many dental assistants and hygienists.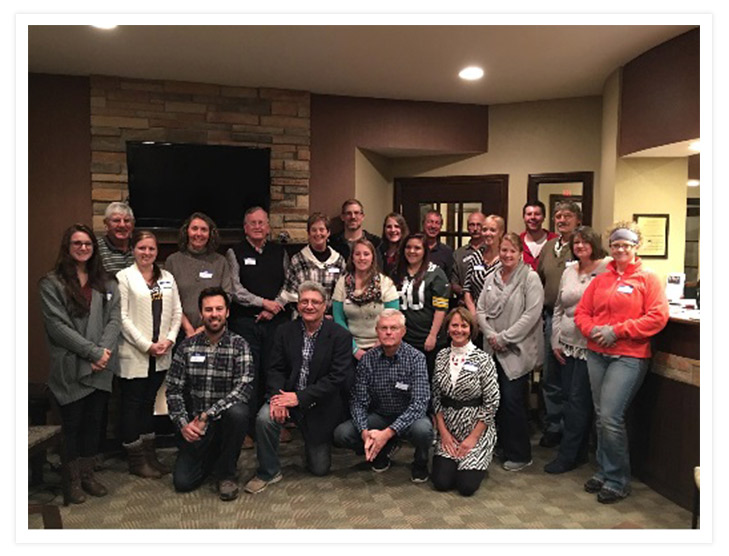 Volunteers for Haiti Humanitarian Clinic pose for a photo
Dr. Brown says that the initial goal when they founded the clinic was to get to the point where they were doing more restorations than extractions—a goal that they reached on their January trip of this year. "We try to do all-inclusive exams, which include fluoride varnish treatments and cleanings. Sometimes we'll go off-site and do fluoride varnish treatments at the schools and orphanages. Then, for the kids that need restorations and root-canals, we'll have them come to the clinic. No one loves to go to the dentist, and many of them have completely built-out mouths with fillings in almost every tooth, but we're offering them comprehensive care. We also have people visit the schools and orphanages when we're not there to do fluoride varnish treatments. We're seeing progress. We're seeing less decay, and our hygiene education, I believe, is making a difference in the amount of caries we see each time we return."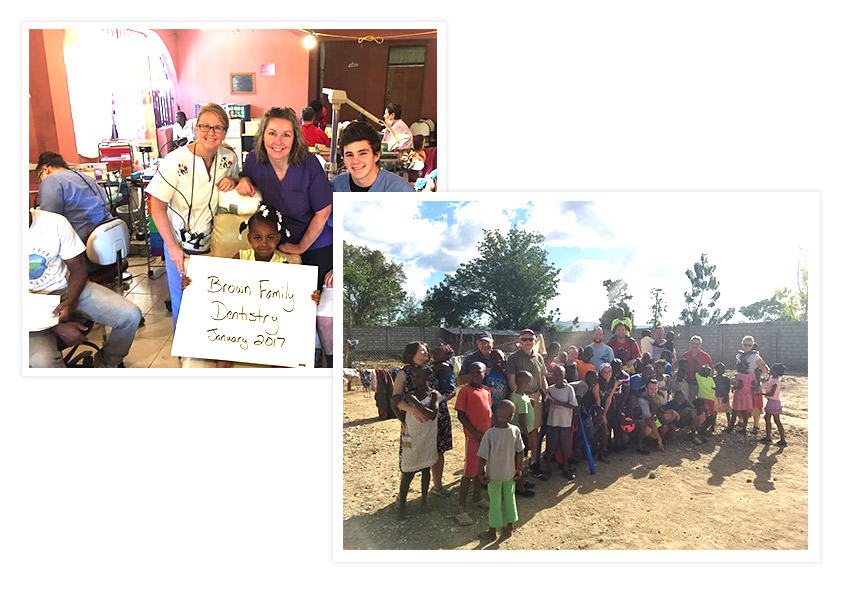 Left: A child in Haiti receives free dental care at the Brown Family Dentistry humanitarian clinic in Hinche, Haiti
Right: Treating children onsite at Pastor Lavaud's Orphanage in Hinche, Haiti
The level of care they provide, Dr. Brown believes, is due in part to the clinic they established from the beginning. "We have tile floors, no air-conditioning, and second-hand chairs, but we've grown to have nine chairs now and we keep them all in use at all times. When we established the clinic, it was very important to me to make sure that we had suction vacuums and air-compressors so that we would be able to do fillings. Many missionary groups that can only do extractions because they don't have access to those things, so we're very happy that we're able to provide that to the people of Haiti. I wanted to be able to do comprehensive dentistry and be able to save some teeth for these people."
Although the unemployment rate in Haiti is high and many of the citizens face a great deal of financial difficulty, Dr. Brown says the people are incredibly gracious, which makes the work he and his volunteers do even more humbling and rewarding.
"When you see the poverty for the first time, it can be very difficult. Some people have some emotional trouble with that," Dr. Brown says. "But we always express to our patients that although we are providing them with dental care, our abilities are no more important than theirs. We just happen to be skilled in dentistry, but those skills are no more valuable than those of teacher or a laborer or a vendor on the street. They're just as important."
"Without a doubt, it's my Christian faith that motivates me to go and do the work that we do. I have a strong belief in the Gospels, and I love in Matthew 25 where it says, 'For I was hungry and you gave me something to eat; I was thirsty and you gave me something to drink; I was a stranger and you invited me in.' Although I'm a practicing Catholic, our volunteers and patients in Haiti come from all different faiths. I just believe that if you're given gifts, it's your responsibility to give back."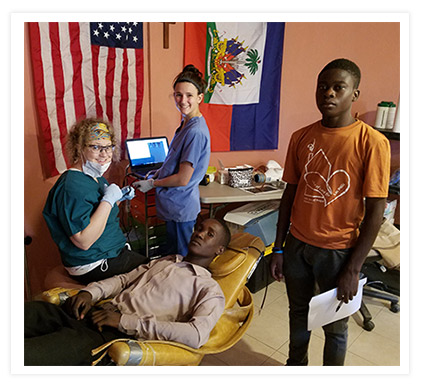 Patients at the humanitarian clinic in Haiti
Dr. Brown says that when he started the clinic, he came to
Ultradent
to ask for donated products and supplies, because he had been a life-long customer.
"Ultradent has given us everything we've ever asked for. On our last trip, our Ultradent rep, Suzanne Kamler, arranged very graciously for us to take three loaner
VALO Cordless curing lights
. Because we have such limited counter space, the lights and the syringes work perfectly. It was wonderful. It was a godsend. I have used other curing lights at our clinic before, but they've been really undependable. This time, we were actually able to do more restorations because the VALO lights are able to cure so quickly. It really helped us, and I thank Ultradent and Suzanna Kamler for that."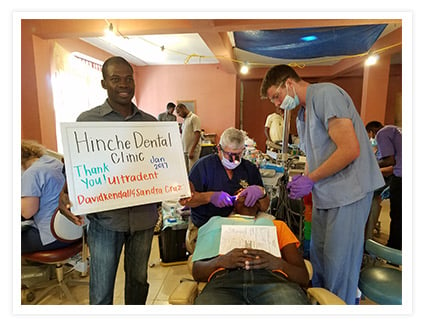 Dr. Tim Brown works on a patient at his Haiti
clinic using an Ultradent VALO curing light
​

In addition to his humanitarian work in Haiti, Dr. Tim Brown also founded the
Tri-Country Community Dental Clinic
, which serves individuals with limited income in Appleton, Wisconsin. The Tri-County Community Dental Clinic, which also uses Ultradent products, is run by 80 volunteer dentists and six dental students year-round.
Learn more about Ultradent's Humanitarian Efforts ​»