Opalescence® celebrates a very exciting anniversary in this month—25 years since Opalescence® PF, Ultradent's premier whitening line, first burst onto the market. Of the brand's sensational growth both nationally and internationally over the last 25 years, Dr. Fischer, president and CEO of Ultradent Products, Inc., says frankly, "It's beyond what I could have imagined."
Peter Allred, Ultradent's Technology Director over Formulations, came to work at Ultradent in 1991, just one year after the advent of Opalescence PF. He's quick to attribute not only Opalescence's growth, but the huge international whitening "craze" largely in part to Dr. Fischer. "Dr. Fischer is the originator of contemporary whitening as we know it—which has now gained worldwide acceptance. He is the person responsible for bringing it to the masses. Prior to sticky-viscous whitening products like Opalescence PF gel, yes, there was whitening, but it wasn't convenient. It was liquid that came in horrible tray systems—and the product would run down the patient's throat—it was just awful."

Dr. Fischer's motivation to find a whitening gel viscous enough to stay on the teeth came from a source closer than most would guess—his own 14-year-old daughter, Jaleena. At the time, she continually came to her dad, day after day, with the same plea—"Dad, what can we do to make my teeth whiter? How close are you to finding something that can make my teeth whiter?"


After months in the lab, Dr. Fischer finally perfected the first take-home gel of what has now become the foundation for the complete line of Opalescence tooth whitening products. He didn't rest until the gel had the sticky, viscous composition he wanted—the perfect composition for keeping the gel in place.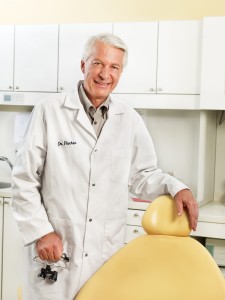 To celebrate this accomplishment, he brought it home to his first eager customer, Jaleena. That night, she slept with the new Opalescence PF gel in her custom trays and in the morning, woke up to a sparkling smile that had gone from an A3 shade to an A1!


That was 25 years ago this July. Since then, Opalescence has become the global leader in whitening, boasting a menu that includes Opalescence® Boost, Ultradent's 40% hydrogen peroxide in-office whitening treatment; Opalescence PF, an extensive line of take-home whitening gels that come in a variety of concentrations and flavors; and Opalescence Go®, Ultradent's ready-to-go, prefilled whitening treatment that comes in a tray that automatically molds to your mouth. Within these categories, Ultradent offers a variety of products and prices to fit every individual's lifestyle.


Ultimately, Dr. Fischer says that the immense growth of Opalescence has not only been surprising and beyond his wildest dreams, but it's also been an incredibly satisfying journey. Since the morning when he first witnessed the wonder in his daughter's eyes as she saw how quickly, painlessly, and easily she could whiten her teeth—so has been the case with thousands of other happy patients throughout the world. This rings true in a saying Dr. Fischer can often be heard quoting by Winston Churchill that goes, "We make a living by what we get, but we make a life by what we give."


Happy birthday, Opalescence!