The Gemini™ dual-wavelength diode laser can increase the efficiency of hygiene and dental procedures, boosting the health of patients and practice
EDITOR'S NOTE: This article was originally published by Dental Product Shopper, October 7, 2021, viewable here.
When patients hear the word "laser" spoken by their clinician, they may become understandably concerned if they have not previously encountered this technology. However, the versatile device can help provide virtually painless treatment for a wide range of indications.
For many dentists and hygienists, Ultradent's Gemini™ 810 + 980 dual-wavelength soft-tissue diode laser has served to make practicing easier and patients healthier. That's been the case for Katelin Johnson, RDH, who uses the laser for hygiene procedures at Your Smile Dental in Lindenhurst, NY.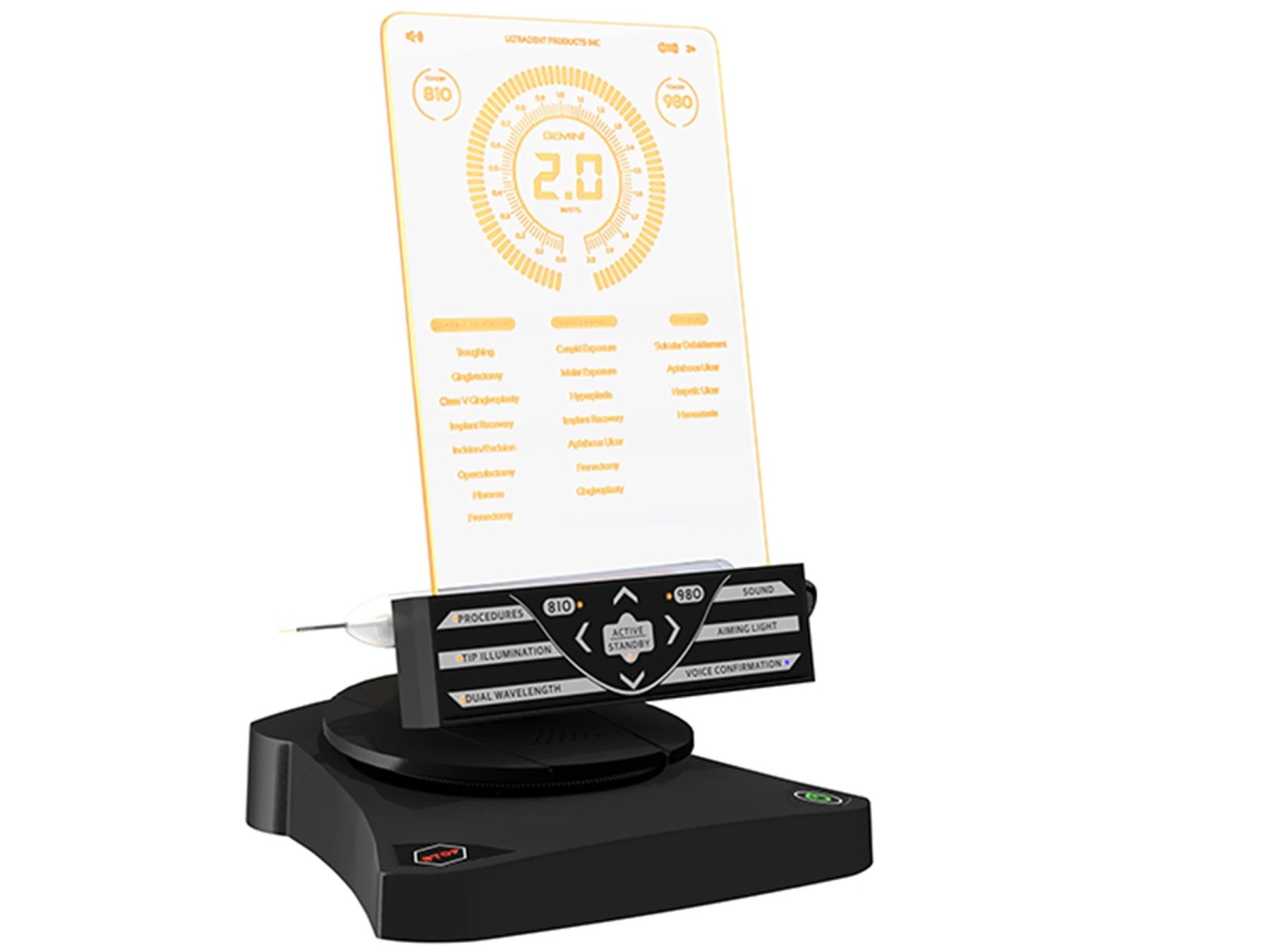 Having practiced with other lasers in the past— and being a fan of Ultradent products such as the Opalescence whitening family—Johnson jumped at the chance to adopt the Gemini laser, which she has found to be easy to use with immeasurable benefits for her patients' oral health. "This is my favorite brand," she said. "I use it every single day."
In many cases, she does need to reassure patients before using it. "Some patients are scared, but I assure them that no numbing is even required," she said. "The procedure is very fast and usually pain-free."
Dr. James Merrett and his team at Hollywood Park Dental in San Antonio, TX, have been using the Gemini laser for 3 years, so he has experience with alleviating patients' worries as well.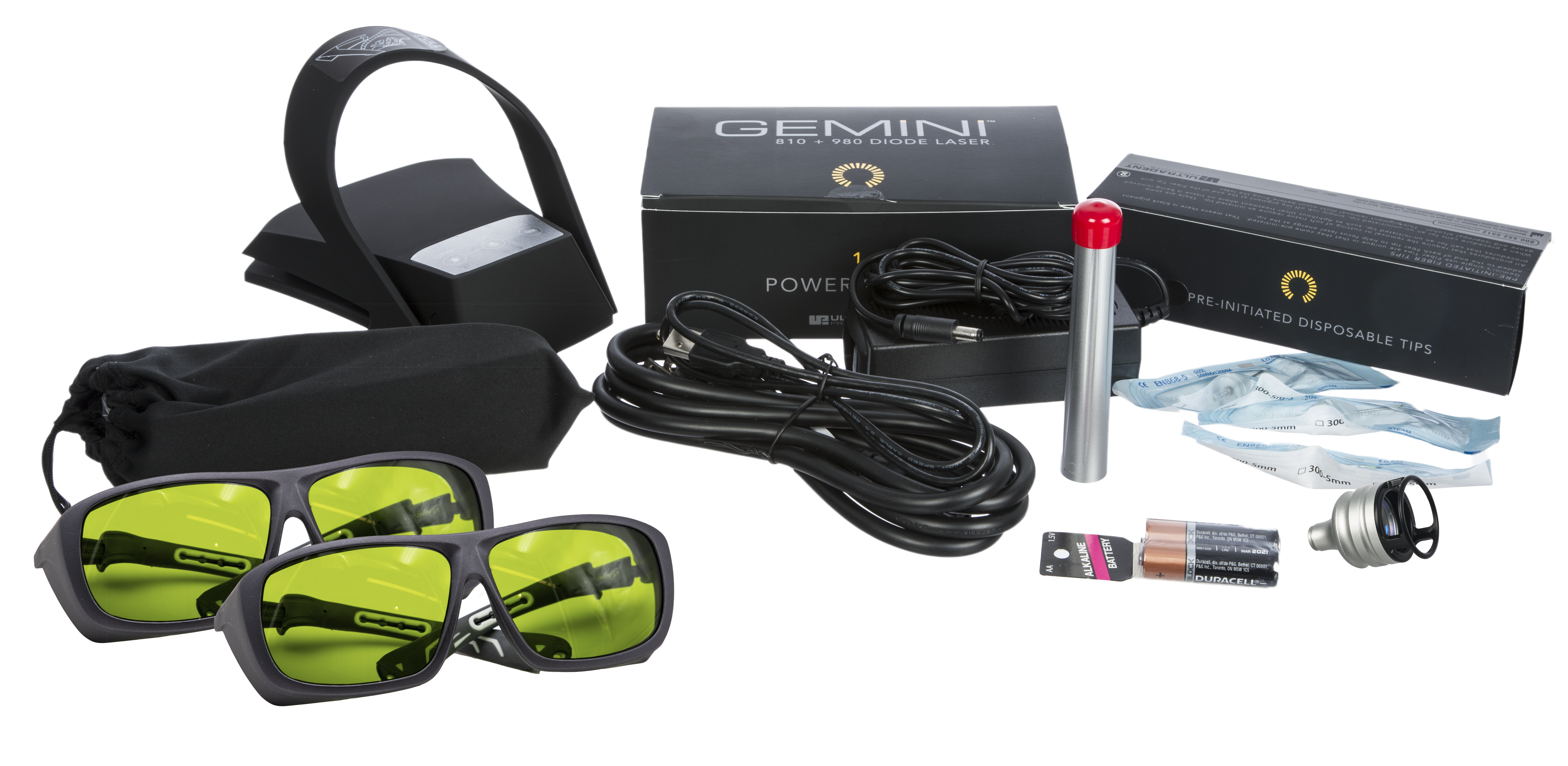 Accessories available with the Gemini laser.
"The usual questions are: Will it hurt? What can I expect after treatment?" shared Dr. Merrett. "I think most patients have a fear of pain. I explain that this is not like the movies and the laser does not shoot out or cut like a lightsaber."
Procedure Versatility
Johnson uses the Gemini laser for bacterial reduction, particularly on patients with gingivitis and periodontitis. She finds the procedure to be quite simple.
"All of the settings are already labeled, which makes the laser extremely easy to operate."

- Katelin Johnson, RDH
"Getting rid of hard-to-reach bacteria with a precise laser gives patients a head start on achieving health goals, including better breath," said Johnson. "Removing harmful disease-accelerating bacteria colonies quickens healing and slows the gum disease process."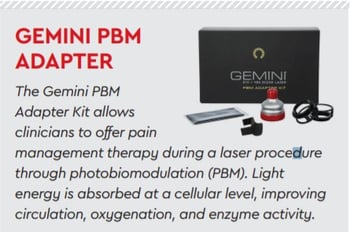 Having seen amazing results with patients who have special needs, who have undergone chemotherapy or have heart conditions or diabetes, Johnson underscored the benefits of laser bacterial reduction. "The subgingival environment is changed for 2 whole months, which motivates patients and helps them perfect their hygiene habits and understand how bacteria works," she said. "The bacteria do not become resistant to the treatment and there is very little chair time as well."
Johnson also treats cold sores and aphthous ulcers with the Gemini laser. "Educating patients on how the laser reduces bacteria and treats other issues makes them realize that there are more structures in the mouth to address than just the teeth themselves," she explained.
What Makes the Gemini Stand Out?
First impressions are everything, and Johnson believes the high-tech appearance of the Gemini laser is a conversation starter on its own. It consists of a screen made of glass with a stunning transparent electroluminescent display and a sleek base. "I am a big fan of the screen," noted Dr. Merrett, who uses the Gemini laser for troughing, gingivectomies, implant recovery, and frenectomies. "The esthetics of the machine are very impressive."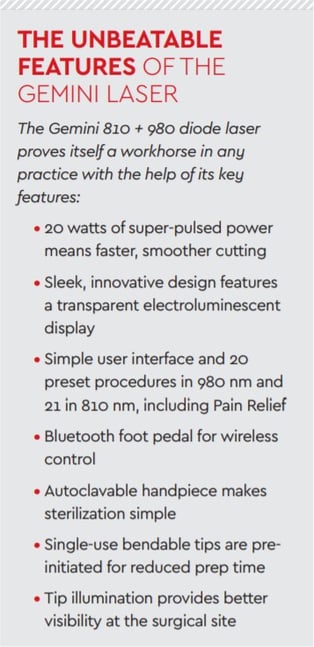 The laser has 20 preset procedures in the 980 and 21 in the 810 nm wavelength, including a Pain Relief setting. "All of the settings are already labeled, which makes the laser extremely easy to operate," Johnson noted.
Dr. Merrett also lauded the preset options. "I like that it's broken down into generaI dentistry, orthodontics, and hygiene," he said. "I also love the option of choosing dual wavelength or single wavelength."
For Johnson, the Gemini laser stands out over the lasers she used at her former practices for a number of reasons. "With previous lasers, I had to cut, peel, aim, and shape the laser between every patient, which was frustrating and time consuming," she said. "Luckily, the Gemini laser has single-use prepared tips, which eliminates this challenge."
The Gemini laser equipped with the PBM adapter.
Having a cordless Bluetooth pedal and the ability to recharge the laser has been a bonus for Johnson as well. It makes the technology portable so that clinicians can take it to the patient instead of being limited to one room for laser procedures.
A Surefire Practice Builder
While the laser can play a key role in a variety of procedures, it also can serve to boost revenue for the practice.
"Most people are impressed that we have a laser," said Dr. Merrett. "While there is an added cost for some procedures, we build the value of the laser to the patients, so they typically do not reject it due to cost."
Johnson said cost is an issue for some patients, but she does many procedures with the Gemini laser every day and it helped her build a successful hygiene department.
Training the Team
The most important factor to consider with any new product or piece of technology in your practice is proper training. "Practicing is essential, and I think practicing your technique on other things before you take it to the mouth is important," shared Dr. Merrett. "Two of my hygienists said that using the laser was very easy due to their use of the presets on the laser as a guide, as well as the hands-on training they received before seeing patients. They didn't have any challenges." No matter the procedure, the Gemini laser serves to provide a smooth and easy experience for the patient while boosting efficiency in the practice.