Editor's note: This blog was originally published by Dental Product Shopper on April 25, 2022. Read the original version here.
When Ultradent first introduced the Gemini™ 810 + 980 Diode Laser in 2015, the ground under the dentistry world noticeably shifted. As the world's first-ever dual-wavelength soft tissue diode laser, it was a game changer for dentists and their workflows. Now, get set for another game changer with the newly released Gemini EVO™, an innovative laser that follows in the footsteps of the original Gemini but is packed with new features, including a user-friendly Dashboard, built-in Wi-Fi connectivity, and 100-watt peak power—a significant increase over the 20-watt peak power of the Gemini 810 + 980.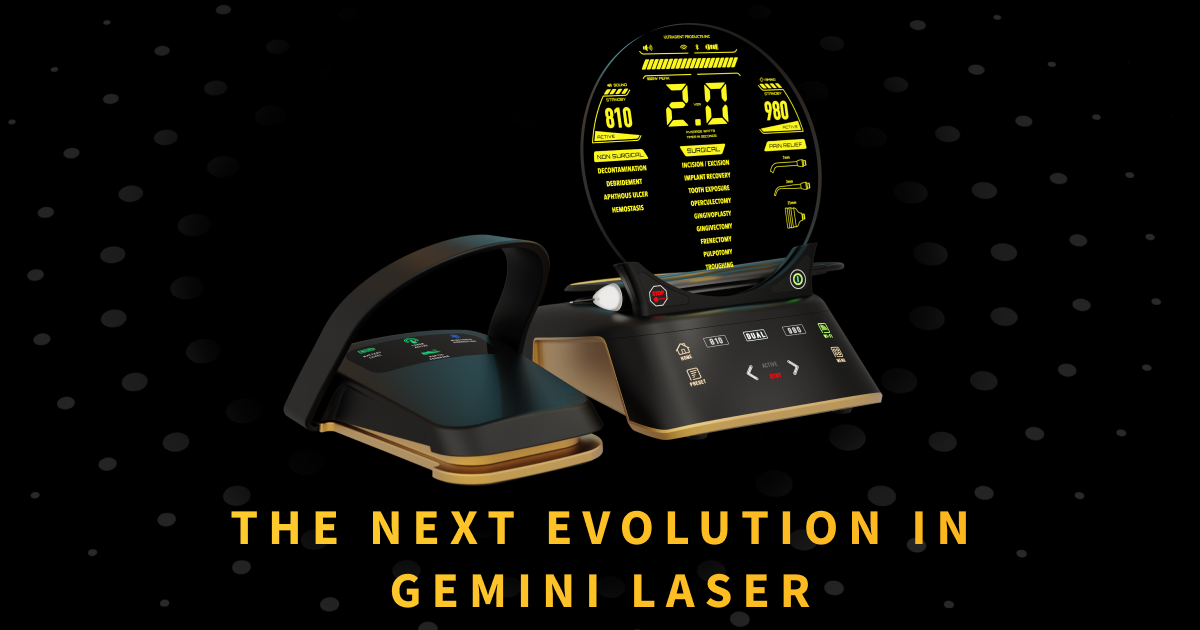 "The original Gemini 810 + 908 was—and still is— great," explained Ron Kaminer, DDS, in Hewlett, NY. As one of the country's first dentists to use dental lasers in his practice, Dr. Kaminer teaches laser dentistry to other dentists throughout the world, and believes the increased wattage available with the Gemini EVO laser "theoretically allows you to cut much faster at a lower wattage. This is a huge advantage because it minimizes any potential thermal damage," he continued.

Surgical And Non-Surgical Procedures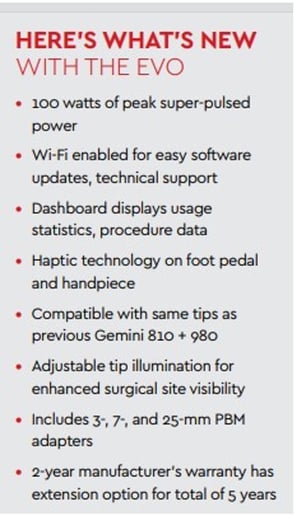 Ultradent's Gemini EVO diode laser can be used for non-surgi
cal procedures such as decontamination, debridement, hemostasis, and aphthous ulcers, as well as pain relief. The instrument is also designed for surgical procedures, including incision/excision, implant recovery, tooth exposure, operculectomy, gingivoplasty, gingivectomy, frenectomy, pulpotomy, and troughing.
"In my practice, we've used the EVO for just about everything!" Dr. Kaminer added. "It's also a frequent part of our hygiene treatment," he added. Since every hygienist in Dr. Kaminer's practice is laser certified, the EVO is often used in a variety of hygiene procedures, especially for control of periodontal disease.
"The hygienists use the Gemini EVO diode laser to kill bacteria, reduce inflammation, and promote healing, all of which are significant advantages for our perio patients," Dr. Kaminer said.
Faster, Cleaner Incisions
With 100 watts of peak super-pulsed power, clinicians will find faster cutting and clean incisions in soft tissue, with less damaging heat. The dual wavelengths of 810 nm and 980 nm can be used together or individually, which means dentists can access a total of 3 wavelength modes—a unique 3-in-1 design feature only available with the Gemini line of dental lasers. Clinicians can use the 810 nm wavelength for optimal coagulation, the 980 nm for optimal ablation, or the dual mode for a combination of the 2 wavelengths, a feature that adds to the laser's versatility.
"We also use the Gemini EVO diode laser for treating aphthous ulcers, troughing for crown and bridge, gingivectomies, and frenectomies," Dr. Kaminer continued.
"This is a fast-cutting state-of the-art laser…It's a home run for every practice."
—Ron Kaminer, DDS
Pain Management Therapy
Included in the kit are single-use bendable tips that are pre-initiated for reduced prep time. Compatible with the tips included in the original Gemini 810 + 980, the new Gemini EVO also features an adjustable tip illumination that provides better visibility at the surgical site, as well as 3 photobiomodulation (PBM) adapters in 3-, 7-, and 25-mm sizes, designed to cover everything from small treatment areas around the lips, localized spot treatments for aphthous and herpetic ulcers, and large spots such as the area around the TMJ. PBM therapy can manage pain during a procedure by using light energy to improve circulation, oxygenation, and enzyme activity.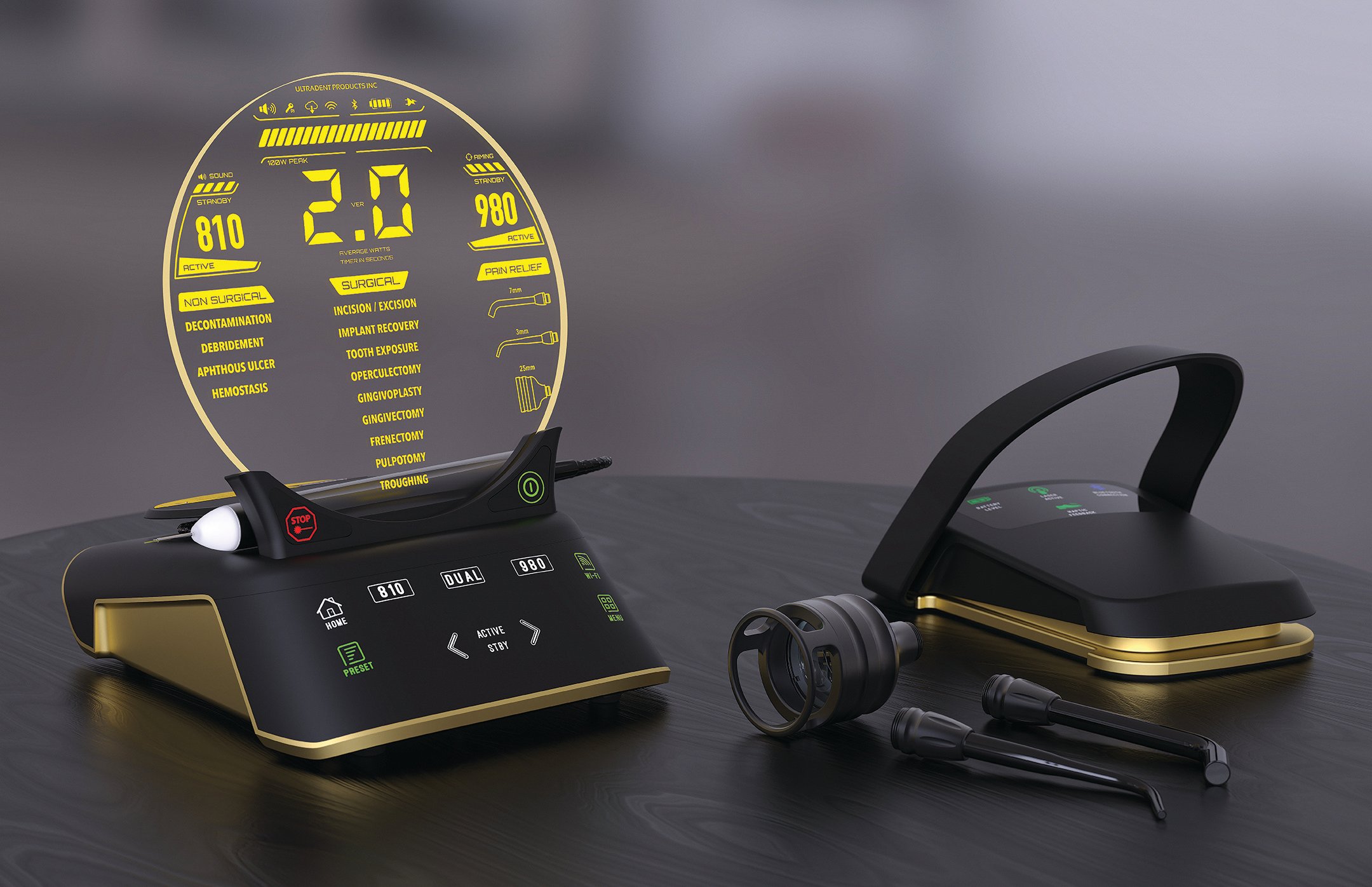 The Gemini EVO comes with three PBM tips, pictured here.
"These tips at the appropriate setting can be used to promote healing and lymphatic flow and can also reduce inflammation," said Dr. Kaminer. "They're also ideal for palliative treatment of TMJ pain."
Includes Haptic Technology
Clinicians can enable built-in haptic technology on the foot pedal for a tactile indicator that the laser is firing. This same haptic technology is also available on the handpiece during PBM procedures, which adds physical sensation for the patient during treatment.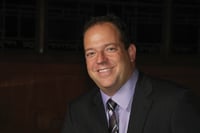 Dr. Ron Kaminer, DDS
Intuitively designed and easy to use, the Gemini EVO features 16 preset procedures divided into 3 categories that minimize potential user error and ensure efficient operation, as well as built-in Wi-Fi connectivity which enables fast, simple software updates and access to dedicated technical support. In addition, the Dashboard feature allows clinicians to track ROI, access usage statistics, view procedure reports, and see a host of other data points. New to lasers? Ultradent offers free online dental laser training with the purchase of a Gemini EVO laser.
"This is a fast-cutting state-of-the-art laser," Dr. Kaminer added. "You can plug in your fees into the Dashboard and easily see how much you have produced using the laser. It's a home run for every practice."