I just returned from Taipei, Taiwan, where we had a great meeting with our Asia-Pacific team. The meeting included the Asia-Pacific team manager, Jim Wilson, along with many of our distributors and numerous key opinion leader dentists from the area. It's a once-a-year, three-day event that we all look forward to, as it's a chance to get to know each other better, hear some wonderful lectures on the latest and greatest in Ultr​​adent products and procedures, and see another beautiful, interesting, and fascinating part of the world.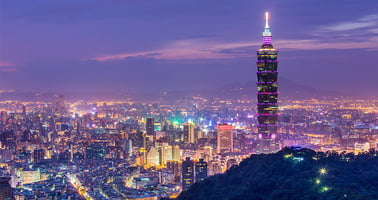 View of the cityscape
of Taipei, Taiwan
This particular annual event was organized in large part by our very own Ashleigh Speer and Josephine Siew, who deserve huge credit for how fabulously it all came together. They worked hard with their teams and got more than 40 doctors to attend, some of whom spoke at the event.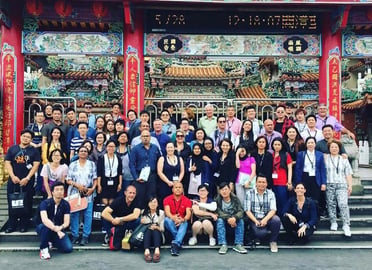 Attendees at this year's Ultradent meeting in
Taiwan enjoyed lectures, hands-on
demonstrations and fun team-building
activities throughout Taipei​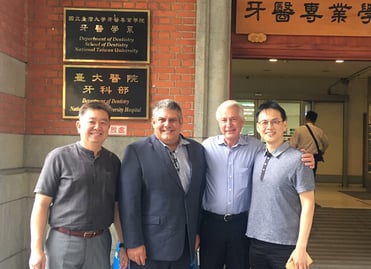 Dr. Fischer and Jim Wilson, Ultradent's
Asia-Pacific Team Manager, enjoyed spending
time with key opinion leaders in Taiwan​​
At the start of days one and two, I had the privilege of speaking to the doctors, team members, and distributors who were in attendance, after which the attendees listened to lectures from other KOLs in attendance. Our very own Steven Gerber provided hands-on training and lectures for the second half of each day. I have to say, my time with the team and the people who came to the event was totally enjoyable. It was really fun to share with them the history of Ultradent, and I just love what amazing and caring people they are. They bring with them that sense of respect that is so special about their culture.
Dr. Fischer loved immersing himself
with the people and the culture of Taiwan
After the meetings and lectures, we set off on a teambuilding adventure we called "The Great Race." For this activity, we organized into teams, even painting our faces and coming up with team chants, and competed in a race to different landmarks throughout Taipei.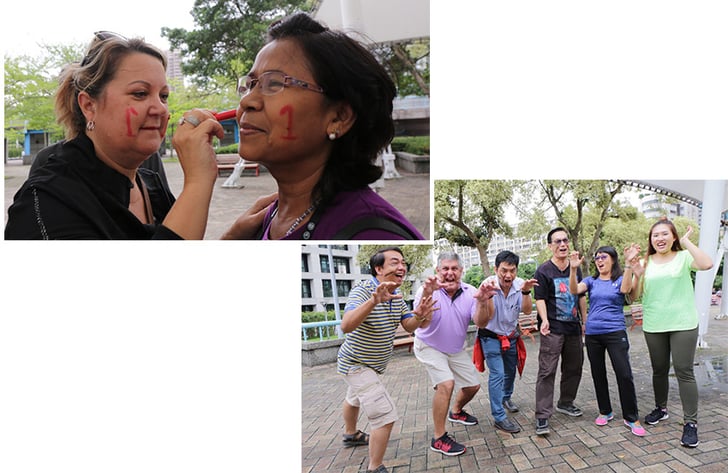 Top: Teams paint each other's faces in
preparation for "The Great Race" around Taipei
Bottom: Jim Wilson and his team practice their
team chant for "The Great Race
When we reached each landmark, we had to complete specific tasks—and the team that accumulated the most points by hitting landmarks and checking off the tasks was the overall winner. We saw more of Taipei​ that way than we ever could have otherwise! There was also an added element of humor and fun, as many of us didn't speak the language, so there was a great amount of gesturing and body language! Despite this, the people we encountered were nothing but sweet and helpful. We had a great time! ​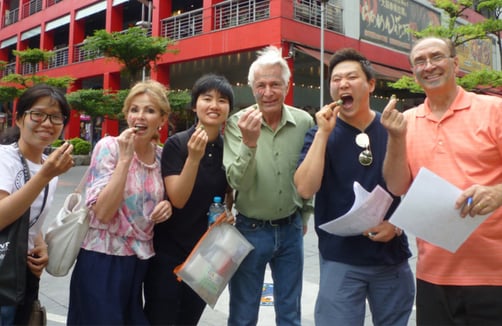 Dr. Fischer, Steve Gerber and their teammates
completed tasks at race checkpoints during
The Great Race in Taipei​
Overall, the meeting was a great success. It was such a pleasure to see our colleagues, who joined us from Myanmar, Brunei, Sri Lanka, Malaysia, Singapore, India, and beyond! I'm already looking forward to my next trip to the East and am grateful for the education, hospitality, and wonderful friendships and relationships Ultradent has fostered over the years with our many colleagues there.
Hugs,