There are few products that come closer to a dentist's heart than their composite. Right out of the gate, they notice how it handles, if it slumps, how it shapes, if it's a creamy or sticky texture, or if it drags. This week, we introduced our Mosaic™ universal composite and I'm incredibly excited because I truly believe that clinicians will connect with it and love it immediately.

Mosaic composite's ease of handling—how clinicians can sculpt it without it tearing, how they can create the supplemental grooves and anatomical contours without distorting or changing the shape of what they've already created—is an aspect that they're sure to be wowed by. In addition to that, clinicians will be excited that while Mosaic composite is thixotropic (thanks to its nanohybrid technology), it doesn't slump and it's going to enable the clinician to develop subtle hills and valleys for anterior restorations. The handling is just unsurpassed.




When it comes to shade, our research and development team put in a major effort to make it perfect.

Mosaic

composite is very intuitive in its shading in that the progression from shade to shade is more linear. It features equal incremental darkening as it deepens from shade to shade and vice-versa. Also, the stand-alone enamel shades impart their influence on the underlying dentin shades, making it the first composite of its kind to have a shade guide that incorporates the enamel shade with how it will appear when it's adhered to the underlying dentin. Clinicians can use the root part of the shade guide to determine what the dentin shades are if they just want to measure dentin, or they can use the integral enamel shade on the coronal aspect to get a closer idea of the final outcome. If the final product turns out to be slightly darker, albeit the right hue and chroma, they can simply adjust it to a lighter enamel shade should they need it to be a little brighter and vice-versa, should they need to reduce the value. Dentists will also see that the fluorescence is equivalent to that of the natural tooth, so at every parameter, the ability to match mineral mother dentin and mineral mother enamel is tops. So, in addition to the handling, the shading and color technology that Mosaic composite possesses is also unbeatable.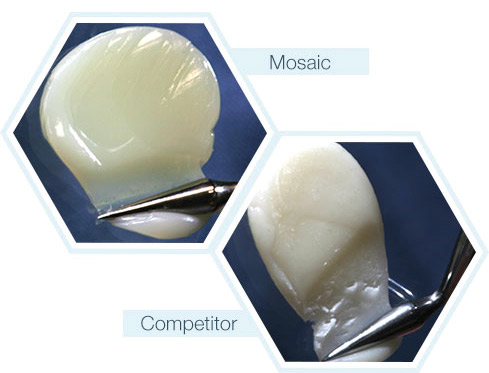 Mosaic composite is able to "feather" to a thin edge without crumbling or tearing. This is highly valuable in adapting the composite to the margins of the restoration and building marginal ridges.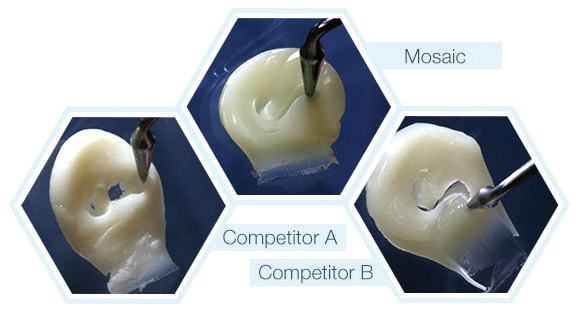 ​
Fantastic control and sculptability is provided by the creamy consistency of Mosaic composite. This facilitates natural anatomy to be sculpted without worrying about fine details slumping and fading as you touch and manipulate other areas of the restoration.​
When clinicians use
Mosaic
universal composite under the operatory light, they're going to find that they have a longer working time, in that it's not as sensitive as other composites on the market to the light. It's incredibly user-friendly, and it helps them to achieve a nice result more quickly and easily.
The next benefit to Mosaic universal composite it that dentists will see that after it is polymerized and polished, it possesses a fabulous luster unlike any other composite they've used, thanks to its nanohybrid technology. In fact, not only is its initial luster gorgeous, but Mosaic universal composite will retain its luster for an exquisitely long time. Too often, composite dulls quickly due to toothbrush abrasion and food abrasion. Not so with Mosaic composite.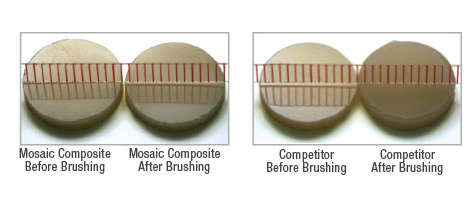 Relative to how
Mosaic
composite holds up, there's simply no other composite on the market that will outperform it for wear. It features remarkable hardness, flexural strength, and toughness. It's just a solid, sound, strong, and beautiful composite all-around. I'm thrilled with it and I hope you are too!