Editor's note: This blog was written by Ultradent President & CEO Dirk Jeffs as part of the From the Desk of Dirk Jeffs series.
I still remember it well.
It was game five of the NBA Finals between the Utah Jazz and the Chicago Bulls. With reports of Bulls star Michael Jordan having the flu and clocking a 103 degree fever in the locker room before the game, this lifelong Jazz fan thought we had it in the bag.
Most people, including myself, didn't even expect Jordan to play that night.
Fighting weakness and exhaustion, all watched in complete awe (and for Jazz fans, exasperation) as Jordan went on to have the game of his life—scoring 38 points, getting seven rebounds and five assists—all while visibly trying to hold his balance.
As much as I disliked seeing the Jazz lose that night, the sheer tyranny of will and determination I saw play out in one man still impacts and inspires me to this very day.
It calls to mind perhaps one of my favorite quotes of all time:
"It is not the critic who counts; not the man who points out how the strong man stumbles, or where the doer of deeds could have done them better. The credit belongs to the man who is actually in the arena, whose face is marred by dust and sweat and blood; who strives valiantly; who errs, who comes short again and again, because there is no effort without error and shortcoming; but who does actually strive to do the deeds; who knows great enthusiasms, the great devotions; who spends himself in a worthy cause; who at the best knows in the end the triumph of high achievement, and who at the worst, if he fails, at least fails while daring greatly, so that his place shall never be with those cold and timid souls who neither know victory nor defeat." -Theodore Roosevelt
To put it plainly, I've never seen anything crazier than watching Michael Jordan play that night. They say hindsight is 20/20, but without knowing the outcome (and chancing a huge failure/ personal embarrassment by deciding to play), I witnessed, along with the rest of the world, what I can only describe to this day as undeniable greatness unfolding before my very eyes.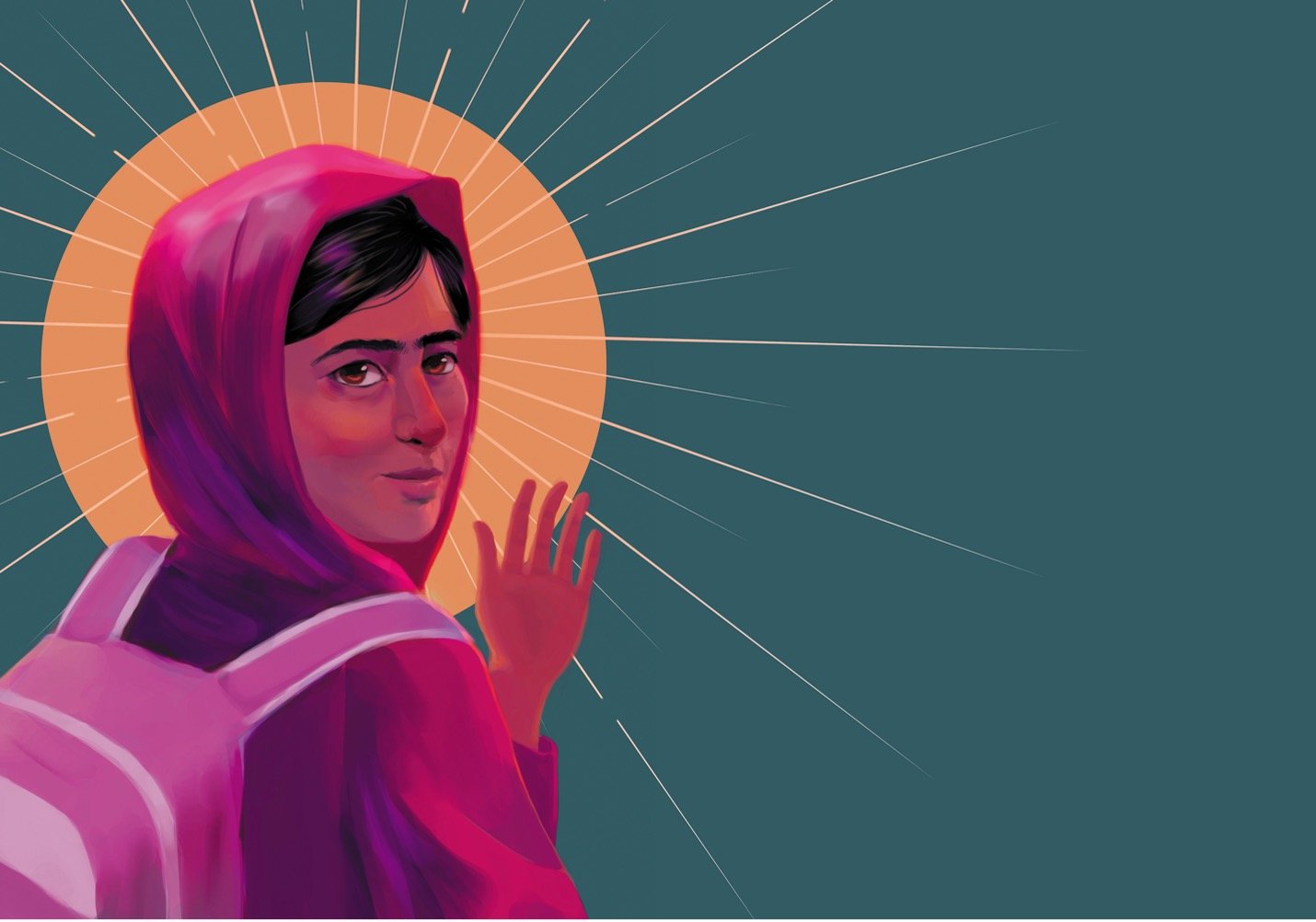 Artistic Representation of Malala Yousafzai
A few years ago, Malala Yousafzai gave the keynote at the annual American Dental Association meeting. As a child in Pakistan, Malala fearlessly spoke out against the Taliban's ban on girls going to school—posting blogs, and even appearing in an interview on the BBC. In a cowardly attempt to silence this 15-year-old girl, the Taliban attacked Malala's school bus and she survived a gunshot to the head—solidifying her place in history alongside legendary figures like Abraham Lincoln, Martin Luther King, and Nelson Mandela, as a beacon of courage. Each of them risked everything, including harsh criticism and ultimately their very lives, on behalf of their convictions.
Though the decisions I make and the words I speak pose nowhere near the risk these heroes have faced, I glean inspiration from their bold and unflinching willingness to "dare greatly" and do the right thing, damn the consequences.
As the leader of a company of nearly 2,000 people across the globe—each of whose lives I care deeply about—I'm aware that the decisions I make on behalf of Ultradent impact each of them in different ways. I don't take balancing the wellbeing of the company and the people that make us who we are lightly, and I often feel the weight and criticism that some of those decisions carry in a deep and real way.
For example, we recently went from what, for many, was a fully remote workplace back to a hybrid schedule. Of course, reactions and feedback ranged from enthusiastic and positive to sharply opposed—and I can appreciate the reasoning and feelings behind both.

Despite the fact that the general "remote work" debate remains a hot topic on LinkedIn, Reddit, and other social platforms, I strongly believe that for us, the hybrid approach offers the best of both worlds when it comes to striking the delicate balance between employee satisfaction and our business's needs. That may look different for another company with a different culture and goals. I don't believe there's a wrong or right answer that universally applies.
Nevertheless, I want to take a moment to re-affirm my gratitude and care for each one of our colleagues for staying the course, often pivoting on a dime, and for their remarkable resilience throughout the challenges of the past three years when Covid-19 rocked the world.
I'm humbled by the trust our people have placed in our leadership team to guide them through it, and for the support they continue to offer us when it comes to these issues—both big and small.
Perhaps most importantly, I'm reminded through experiences like this that it's because of, not despite our peoples' diversity of background, thought, and varying life experiences—that we'll continue to adapt and succeed, no matter the storm.
I'm grateful.