​"Recognizing the need is the primary condition for design."
"Creativity is sort of a well that you have to draw from constantly and if you don't fill the well, you'll begin drawing from poisoned waters. You constantly have to be looking for inspiration so that you don't get stuck doing the same things over and over," says JD Melville, a graphic designer at Ultradent Products, Inc​., specializing in printed materials such as packaging, pamphlets, flyers, and hand-outs.
Ultradent has become well-known over the years for its vertical business model. The company not only houses its own research and development team, but it also manufactures its products in-house, and even has an entire marketing and communications team that designs packaging, ad campaigns, marketing materials, writes the company's marketing copy, and prints and distributes those materials from Ultradent's in-house print shop.
As a key player on Ultradent's marketing communications team, JD says his love for graphic design began with a broader love for art. A renaissance man of sorts, JD says, "I grew up loving art. I did and continue to do everything from drawing to oil painting to fine art. I also love singing, acting, and performing." In fact, JD still showcases much of his personal work.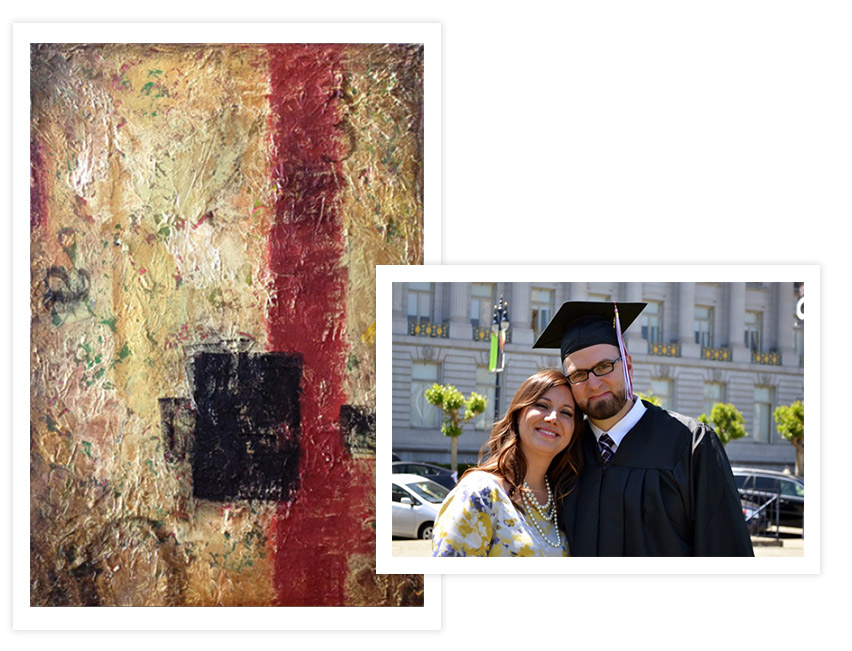 Left: One of JD's fine art pieces as showcased on his website
Right: JD and his wife, Megan, celebrate his graduation from the Academy of Art University in San Francisco

​

An accomplished artist, JD graduated with a degree in Advertising with an emphasis in Art Direction from the Academy of Art University in San Francisco.

With his extensive background, one might think coming to work at a dental manufacturing and supply company might prove dull for an artist like JD, but he gushes that his experience has in fact, been quite the opposite.

"One of the coolest things about working here at Ultradent—well—our department, the way it's set up—they really put a lot of stock on innovation and in trying new things. So many times in companies, that freedom of expression and encouragement to try new things isn't there. We're able to really let our imaginations take hold and get creative where perhaps at a different workplace, that wouldn't happen."

The best part is, thanks to his extensive training in not only art, but in marketing and advertising, JD says he finds satisfaction is putting those skills to work here at Ultradent. "What I look to do in my job is to put strategy and content behind our designs. It's good to look pretty, but if it doesn't do its job, then what's the point? Then it's just art. We're huge here at Ultradent about truth and ethics in advertising, and when your product is amazing, our job is just to connect the right audience with our incredible products.​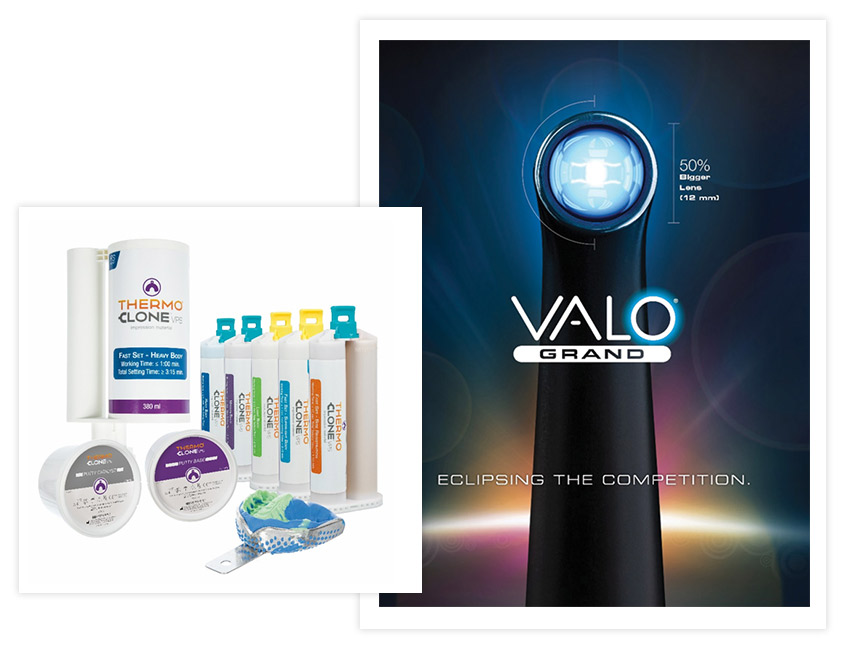 He continues, "The other wonderful thing about the fact that Ultradent is such a vertical company is that we have an in-house print shop. It's actually pretty large and has amazing capabilities. Having this in-house allows us to try things and mock things up and experiment with packaging and then scrap them-- then be able to start over again if we don't like the finished product. If we were having to outsource that, it would take much longer and it would be extremely expensive. Often times, our packaging is beautiful and cutting-edge because we're allowed to take those kinds of risks. I love that about our culture and about how our company is set up."


As an artist, he calls Ultradent the perfect fit, adding, "I love working here. It's really quite cool and fulfilling for the artistic side of me. Also, we have so many brands and hero-brands and things are always changing and we're always introducing new products so it keeps me interested. The fact that people, especially graphic designers, stay here for a long time is remarkable. In fact, there are two designers in my department that have been here for 21 and 23 years. Usually, graphic designers are known for hopping from company to company because they get bored. That isn't the case here."


Part of the reason for that, he believes, goes back to Dr. Fischer, Ultradent's founder and CEO. JD says, "Dr. Fischer is one of the most caring people I've ever met. For example, I was walking down the hall the other day and we passed each other briefly and he came back over to my desk because he didn't get to say hi in the hall, so after he finished talking with who he was on his way to talk to, he walked clear back over to my desk to pat me on the back, say hi, and see how I was doing. He's just so caring, warm, smart, and so interested in what we're doing. He's created this company to be what it is today."


Additionally, he says,​ "The core values of this company are really quite incredible too. They're not just words on a wall like at other places—they are something that people live and talk about and that Dr. Fischer embodies perfectly. I credit him with the unique, incredible culture we have here at Ultradent. He's just so genuine."
In fact, JD recounts a childhood story that came full-circle upon him coming to work at Ultradent.
"When I was a kid, I told my mom I wanted to be the kind of artist that draws pictures that doctors learn from."
Full circle he has indeed, come.
When JD isn't putting his incredible creativity, design, art, and advertising knowledge to work at Ultradent, he enjoys spending time with his wife, Megan, and running the business they own together,
Sweet William Design
, an interior design and floral design shop. They have one daughter, Felicity.
​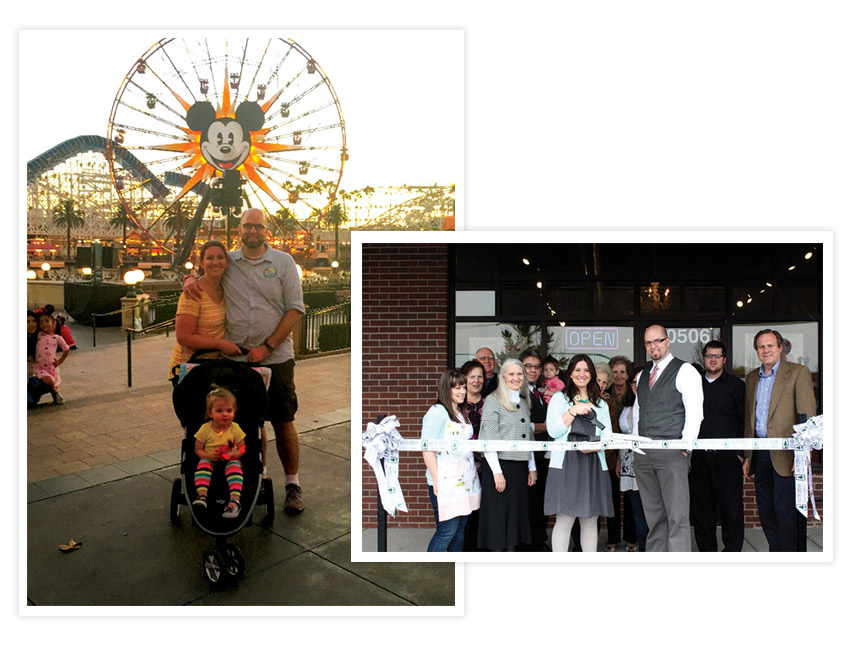 Left: JD, his wife Megan, and their daughter Felicity at Disney's California Adventure
Right: JD and Megan celebrate the opening of Sweet William Design
JD and his Ultradent co-worker and friend, David Landeen, also host a tri-weekly Youtube show that centers around design, art, marketing, advertising and business called "
The Adhocracy Show
​." Make sure and check it out.
JD and David hosting The Adhocracy Show, their Youtube series

​