What's your name?

Angela Wells

What do you do here at Ultradent and how long have you been working here?​

Team lead in the whitening manufacturing department, and I've been with Ultradent for almost two years.

What did you do before you came to Ultradent?

I worked as a foreman at a bakery for nine years. Then I sort of "retired" for a while—and I say now that being a stay-at-home mom is the hardest job ever. I have such great appreciation for people who do that. It's amazing. I did that for about a year and a half before I came to work here at Ultradent.

Tell me about what your days are like here.

I supervise my team to make sure we get the job done. I have about six different areas I watch over and have to be aware of, so it keeps me busy, which is good!

What do you like about working at Ultradent?

I love the people. That is the most amazing thing about Ultradent. The culture here that Dr. Fischer has created is astonishing. It's so rich here. I enjoy coming to work every single day. I love working with the people. They are everything. It makes the biggest difference. There have been days the last couple of years where things in life were hard and my team would always say to me, "Come in to work tomorrow, we'll make you laugh, we'll make you happy," and they do! Work is my relief from the hard things in life sometimes! It's just wonderful.

How many people do you have on your team?

Between the two shifts that I supervise, I have about 30 people on my team.

Tell me about the photo you took that is featured on March's Facebook cover photo

It was taken up Big Cottonwood Canyon at Lake Blanche and it was just so beautiful that day. The orange rock next to the gorgeous foliage is breathtaking. I discovered hiking six years ago and I've lived in Utah most of my life and I keep asking myself, "How did I not do this before?" It's insane! It's the most rewarding thing ever. Hiking rejuvenates me and it makes me feel like I can conquer the world. I remember the day I took this photo, as I was walking along, you could see the aspen leaves that had fallen and all the perfect, huge ice crystals that were the shape of the leaves all along the trail. It was really cool. Then, finally when I got up to the lake, it was just inspiring. I love being outdoors and being in nature here in Utah.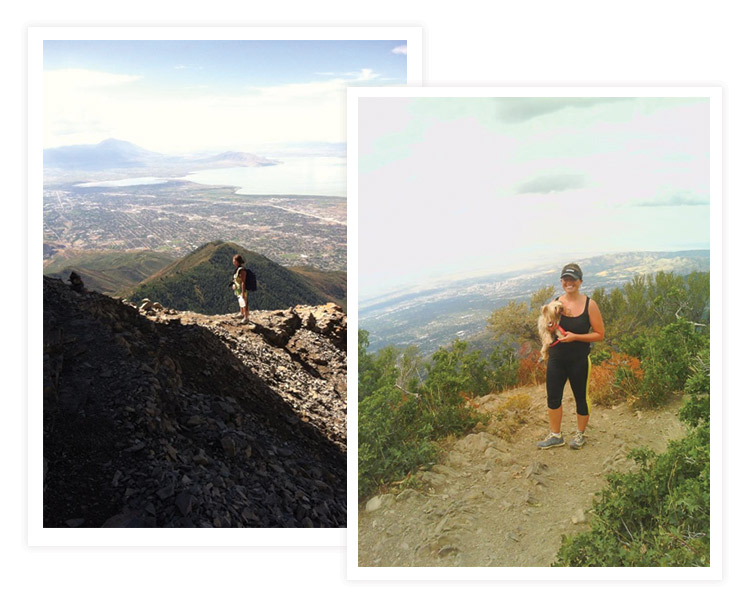 Left: Angela Wells at the top of Mt. Timpanogos in UtahRight: Angela Wells hiking at Grandeur Peak in Millcreek Canyon, Utah

How often do you get out and hike?

I go a couple of times a week in the summer, but I recently took my daughter snowshoeing for the first time. I wanted to be the one to take her because I wanted to make sure she had a good experience because I want to teach her that there is so much you can take from the mountains and the beauty. It's all the simple, little things. She had so much fun, which is really good.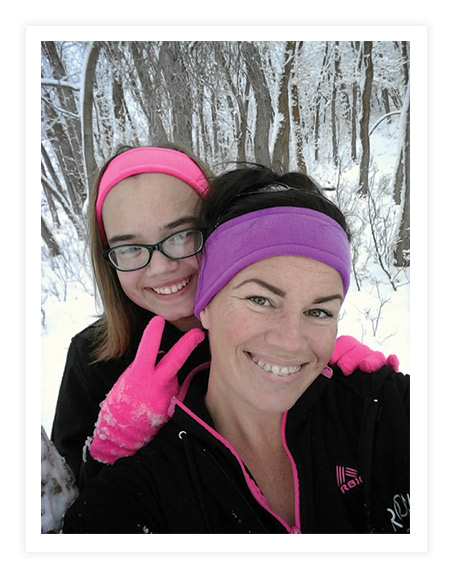 ​
Angela Wells and her daughter

How many kids do you have?

I have two kids. My son turns 16 next week and my daughter is 14.

What else do you love to do outside of work?

I love to read. Brandon Sanderson is one of my favorite authors right now so I enjoy his work. I've gained a lot of wisdom in the last couple of years because life has thrown me some curve balls—but one thing I've learned is that words are super important and super powerful. They can really build people up or they can be very destructive and I've taken that lesson and brought it to the way I manage and work with my teams. I try to choose my words very carefully because I understand the importance of them. I love seeing the way people respond to positive words. That's why I enjoy being a leader. I enjoy motivating people and watching them grow.
Learn more about Ultra​​dent »