You may recognize Dr. Joshua Austin's name from his long-running column that appears every month in Dental Economics Magazine, "Pearls for Your Practice."
By reading the column it's easy to tell that Dr. Austin not only loves dentistry, but that he's passionate about finding the very best products, tips, and tricks and sharing them with the world.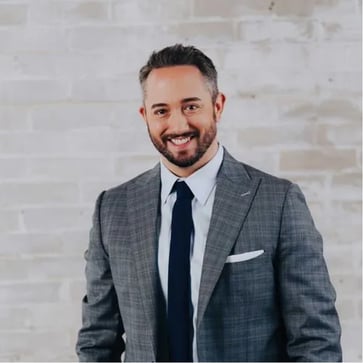 Joshua Austin, DDS- Dentist, and Author of 'Pearls for Your Practice' in Dental Economics Magazine.
We ran into Dr. Austin at this year's (2023) Chicago MidWinter Dental Meeting and got to chat with him about some of the favorite products that he's discovered throughout his many years of trying Ultradent products (and our competitors' products), what his favorites are, and how he creates beautiful, esthetic dentistry (his passion), every single day in the operatory at his practice (Dr. Joshua Austin, DDS, in San Antonio, Texas), with every patient he sees.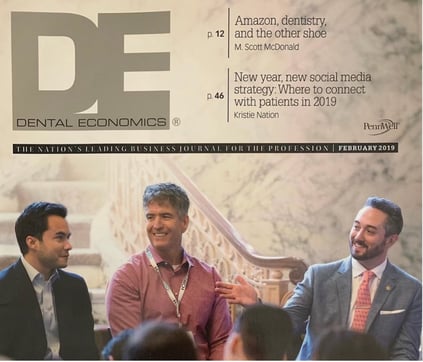 Dr. Austin (right) featured on the cover of Dental Economics Magazine.
ShaLyse Walker (Ultradent): I know you've been writing your 'Pearls' columns for several years—testing out products from companies all over the world. Do any of Ultradent's products stand out in your mind as the best in their category? Do you have any favorite Ultradent products that you've gone on to consistently use in your practice throughout the years?
Dr. Joshua Austin, DDS: First of all, I use the Gemini dual-wavelength laser in my practice a LOT. I use it for soft tissue troughing, and anytime I have a deep margin around a crown prep, there's just nothing better and easier than the Gemini laser for getting that tissue out of the way in a relatively painless way for the patient while producing the least amount of blood. It's one of those routine products I use on the daily in my practice, and in addition to its function, it just LOOKS really cool. It's a fun thing to have on your operatory table because it's so technologically advanced and the design is beautiful. That being said, I've yet to convert over to the newest version of the Gemini laser, the Gemini EVO laser, because I love the first one so much, but I'm sure I'll love the Gemini EVO laser too when I get around to test driving it!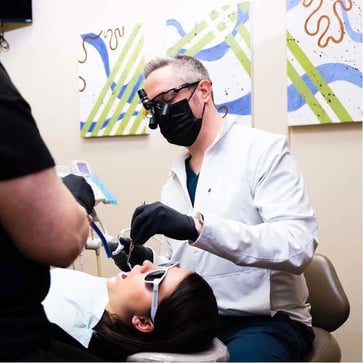 Dr. Joshua Austin working with a patient at his practice.
SW: Do any other Ultradent products you've tested throughout the years come to mind? I know you've given us many good reviews in your Dental Economics column, and we're so grateful—but do any other products shoot to the top of your list that you consider 'the best of the best'?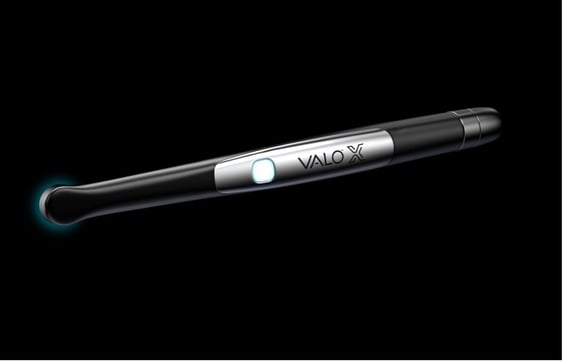 JA: Yes! I love the VALO X curing light I didn't think this was possible, but it's even an improvement over VALO's last iteration, which was the VALO Grand light. Like I said, I loved the VALO Grand, but with the VALO X light, there are improvements I never imagined could make my life and work that much easier, and it's pretty cool. For example, I think my favorite thing about the new VALO X curing light is that you can switch between the modes, thanks to its built-in accelerometer, really seamlessly. It's almost like a Harry Potter Wand. With a simple swish or a flick, the VALO X light will change from high power mode, to low power mode, to regular mode, or to transillumination mode so I can use it while keeping my attention on the patient without having to fumble with buttons and take your eyes off the work. I can keep my attention on their isolation and making sure they don't move. It's really intuitive and a great work horse light.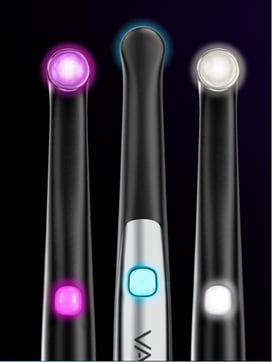 VALO X ™ Curing Light.
SW: What curing light would you tell someone that's just graduated from dental school to get for their first job in dentistry?
JA: I always tell people that are just getting out of school that they should invest in one GREAT curing light that they can take from operatory to operatory, instead of having crummy lights in every operatory. Almost all of dentistry is focused on mastering the adhesive aspect of things, and a good curing light is the key to getting that right—so make sure to invest in a good one, wisely. In my opinion, the VALO X curing light is one of the best, if not the best choice a new, or even an established dentist could make when purchasing a curing light. Plus, like I said earlier, it's like the Harry Potter magical wand for my practice, which is fun—and I know a lot of dentists that have said the same thing. Not to mention the fact that it has all of the things you need in a light—high power, high output, a broad spectrum of cure, and for me, it's GOTTA be durable. The VALO X light is all of those things!
SW: What area of dentistry are you most passionate about?
JA: I love esthetics. I love taking someone with front teeth that are worn or in bad shape, doing some clear aligner orthodontics, moving them back to where they should be, and then restoring them minimally invasively. I love making provisionals, I love that challenge.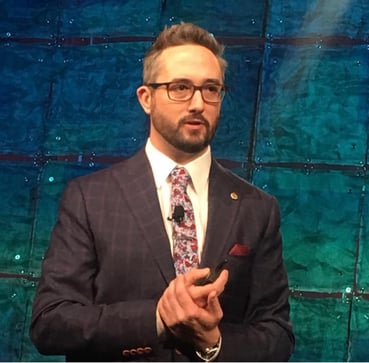 Dr. Joshua Austin (DDS) lecturing at one of the many courses he teaches throughout the country.
SW: What's the first Ultradent product you ever used?
JA: It had to have been Ultra-Etch in dental school, and I remember learning the Vit-l-escence composite system from Dr. Nassir Barghi, who still teaches there. We also used ViscoStat™ hemostatic a lot in school, which I loved, as well Ultrapak™ cord, both of which are still great.
I also remember that my dental class was the first one that got to use LED curing lights, and ours were the first generation VALO curing lights. They were incredible. I feel like we got to learn on VALO lights versus whatever they had been using before. LED curing lights—especially the VALO light, changed the game for dentistry.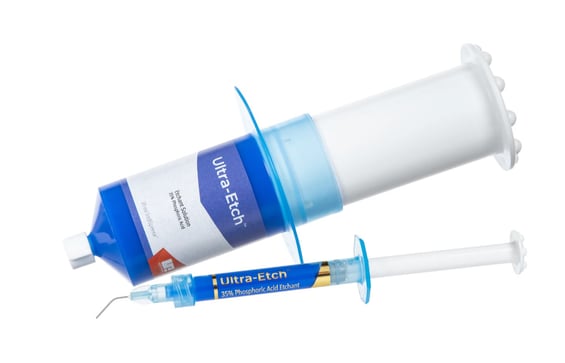 Ultra-Etch™ etchant, one of the first Ultradent products Dr. Austin used in dental school.
To learn more about Dr. Joshua Austin, and some of the other Ultradent products Dr. Austin has reviewed, don't miss his monthly "Pearls For Your Practice" column in Dental Economics. Dr. Austin practices in San Antonio, Texas. You can follow him on social at @joshuaaustindds on Instagram.
Don't miss some of the other "Pearls" Dr. Austin has written about other Ultradent products at the links below:
*Harry Potter and Harry Potter merchandise are trademarks of third parties. Neither Ultradent Products Inc., nor any of its employees, nor any of the clinicians mentioned in this article, are affiliated with, endorsed, or sponsored by the owners of these trademarks.