Three words come to mind when describing world renowned dentist and lecturer Dr. John Graeber: progressive, passionate, and expert.
In fact, he's so passionate about moving dentistry forward he's become a laser connoisseur throughout the years—looking to make everyday procedures more comfortable through modern technology. He uses soft tissue diode lasers in his office—where patients often travel from various parts of the country for their dental care—and thanks to his signature "soft touch" he's earned a reputation for an approach he calls not just "minimally invasive," but "micro-invasive."
That's why it's an extreme honor that Dr. Graeber has declared Ultradent's Gemini 810 + 980 Diode Laser his "favorite on the market today." We sat down to learn a little bit more about why he loves using it in his practice on a daily basis. That is, when he's not lecturing or teaching. (Find out more about how you can attend one of his incredible events here).
Here are a few of the reasons Dr. John Graeber loves the Gemini laser:
Fast Cutting
"The Gemini laser is the fastest cutting diode laser I've ever used, period."
The Gemini laser features 20 watts of peak power.
Thanks to the Gemini laser's fast, super-pulsed cutting ability patients experience less charring, less tissue pulling, and minimal tissue tagging.
Dual Wavelengths
The Gemini laser features two wavelengths (810 nm and 980 nm) that can be used separately or in combination.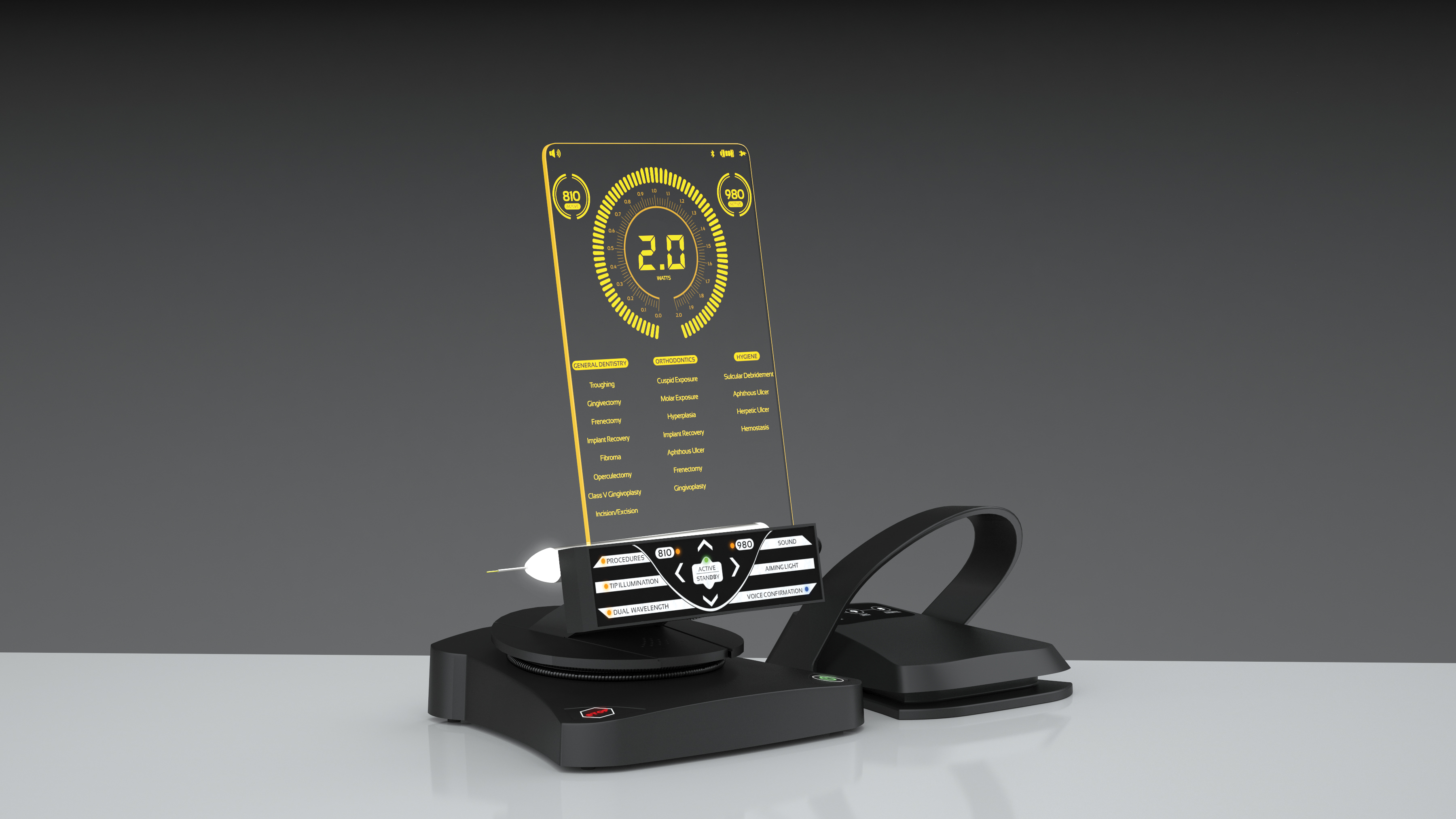 Dr. Graeber says that "the ability to use attributes of both wavelengths in different clinical situations is unmatched. For example, I use the 810 nm wavelength for coagulation and decontamination. I use the 980 nm wavelength for fast cutting on normal tissue, among a variety of other procedures I perform using both wavelengths. There's just nothing else like it on the market."
Interface Design
The Gemini laser's LED interface sits at the right angle and provides optimum visibility with a gorgeous appearance.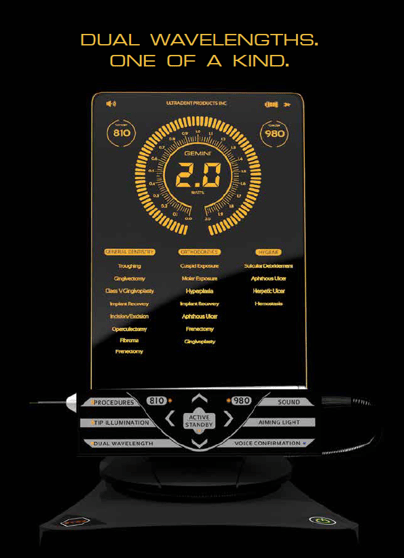 "I love the incredible design on the interface of the Gemini laser," Dr. Graeber remarked. "When it's sitting on the counter of my operatory, even my patients are blown away when they see it. It's spectacular. But more specifically, there are two very important things about the Gemini laser's interface. One, the size of the display, and two, the angle of the display to a seated dentist. The Gemini laser is probably one of the very few diode lasers on the market you can clearly see and read out of the side of your eye when you are sitting in your operatory, working on a patient. That's the kind of attention to detail put into its design—catering to the working dentist—that I appreciate. I also love that the whole thing is battery powered with a cordless foot pedal. It's all just so modern, convenient, and well thought out."
Illuminated Pre-Initiated Tip
"The lovely LED internal illumination at the tip of the laser is so helpful when working in all areas of the mouth. That, along with the light weight of the handpiece, permits unparalleled precision when I'm working—which is incredibly important. I also love that the tips are pre-initiated because it makes my work more efficient, and allows me to provide my patients with consistent results."
Dr. Graeber ended our discussion by saying, "Every feature on the Gemini laser has been thought out and scrutinized and carefully designed with the clinician in mind. That's why it's my favorite. Anyone who is serious about using a soft tissue laser in their practice will love this device."
Click here to learn more about or purchase the Gemini 810 + 980 Diode Laser.
Click here to sign up for one of Dr. John Graeber's CE courses, coming soon to a city near you.