There's a wave of innovation traveling our globe as social distancing wedges our physical interactions. We're uncovering contemporary avenues to detour around the isolation paved by COVID-19. Dentists are responding to the strenuous circumstances of cashflow slowdowns with creative adaptations of their services, like incorporating teledentistry.
Dr. Susan McMahon, DMD, AAACD is mitigating the financial strain on her practice [and providing much needed payroll for her staff] by offering a break to patients who are willing to pay off outstanding bills.
"...that resonated with a lot people. 15 thousand dollars' worth of people, in a very short time."
As with the majority of the country, Pennsylvania shut down all non-emergency dental procedures. Generating revenue while services can't be performed seems like an oxymoron, but Dr. McMahon found a way to circumvent this by studying her accounts. She found offering a 20 percent discount to patients with outstanding balances generated an immediate cashflow.
"We started calling them and offering them a deal to pay us over the phone immediately," Dr. McMahon says. "We just wanted to be honest with our patients [ . . . ] we told them we're concerned about the finances for the practice for the next few weeks and months, and we wanted to do something proactive about it [ . . . ] We collected about 15 thousand dollars, so it really helped our cashflow in just a day and a half or so of phone calls."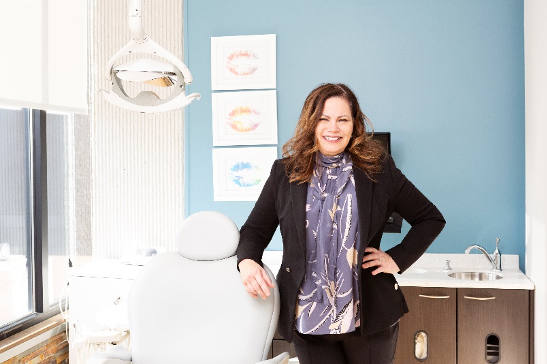 Dr. Susan McMahon in her Pittsburgh office
While millions of Americans are battling layoffs and furloughs, there's still a massive chunk of the population that's receiving paychecks and Dr. McMahon says many were receptive to clearing their bill with a hefty discount."
This approach sacrifices future funds, but Dr. McMahon says the need for revenue now outweighs to loss down the road. "You have to weigh it. Is losing 20% of the income worth having the money now?" says McMahon, adding that the financial security for her practice right now was worth some cash long-term.
All quotes from Dr. McMahon originated from the above conversation with Ultradent's Hartley Lojik.
"I think the key to it was doing the math ahead of time," McMahon says. "So my front desk had all of their reports ready. They'd done all the [math] so they were able to say, for instance, 'you have a five thousand dollar balance and we're able to offer you 20 percent off, so if you pay us today you only owe four thousand.' And that resonated with a lot people. 15 thousand dollars' worth of people, in a very short time."