Editor's Note: This blog was authored by Dr. Brett Richins, a full-time practicing dentist in the Salt Lake City, Utah, area. Dr. Richins also works part-time as a member of Ultradent's in-house clinical team.
As dentists, we are constantly faced with restorative challenges related to variations in anatomy, misaligned or missing teeth, and/or extensive missing tooth structure. There are countless solutions and tools available to help us achieve predictable and exceptional results for our patients. There are times when selecting the best matrix system for a specific situation will make restoring a tooth much easier and will help us achieve our best possible outcomes. Two of the main categories we can choose from as restorative dentists are circumferential bands (like the Omni-Matrix™ retainer and matrix band) and sectional matrix systems (like the Triodent® system). Criteria for selecting the best system for a specific case can include size of the restoration, location and number of surfaces being restored, presence of adjacent teeth, accessibility, alignment of teeth, long-term plan for the tooth, and personal preference.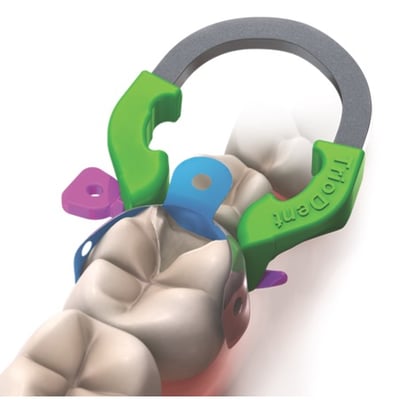 Triodent V3 Ring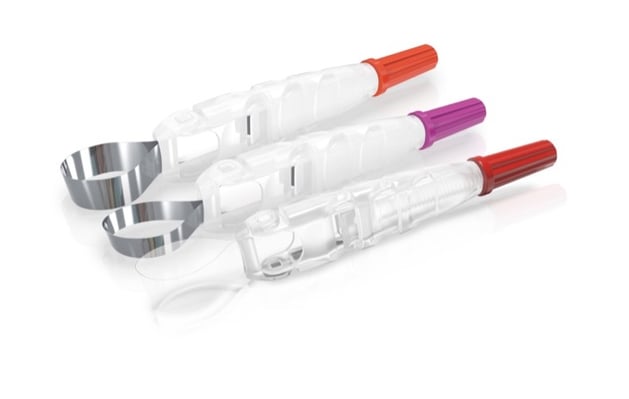 Omni-Matrix Disposable Retainer and Matrix
Most of us have a go-to process and have become comfortable with a specific system. I have personally learned over the years that there are times when my tendency to always reach for the same tools can make my job more difficult than it needs to be. Sectional matrix bands have become a staple in many dental offices because of the ability for dentists to quickly and efficiently achieve excellent contours, ideal contacts, and well-adapted margins.
There is a learning curve when using a new system, and it is common to want to stick strictly to what we know. When I became comfortable with sectional matrix systems, I unintentionally left circumferential bands behind and never looked back, until I learned about Omni-Matrix bands. There are many situations where I personally have found circumferential bands to be superior and I have changed my approach when starting a restoration. Now, the first thing I do is look at the case holistically and decide what type of matrix system I feel will work best.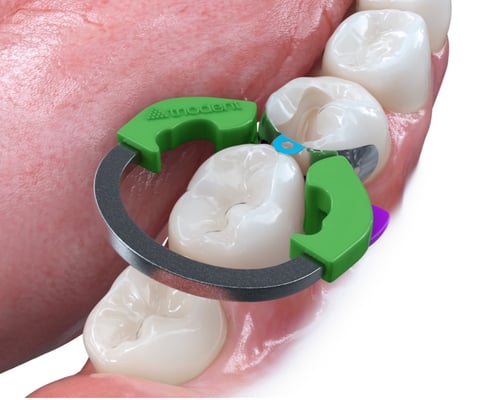 3D rendering of a Triodent band.
Sectional matrix systems are my personal go-to when doing a typical Class II restoration with well-aligned adjacent teeth and no missing cusps or extensive missing tooth structure. With a well-designed sectional matrix system, these types of typical cases can be a fast, predictable way to achieve ideal outcomes. However, if we don't have circumferential bands as one of the tools in our toolbox, it is easy to find ourselves in a frustrating situation that could be avoided.
I personally have some common situations where a circumferential band will be my go-to solution. One of the most common reasons I will prefer a circumferential band is when there is no adjacent tooth or when I am restoring the buccal or lingual surface of a tooth. As a young dentist that was excited about sectional bands and had tunnel vision, I would often find myself rebuilding these teeth "freehand" without any matrix system. A circumferential band can help me quickly and easily place a restoration and keep it confined to the intended area.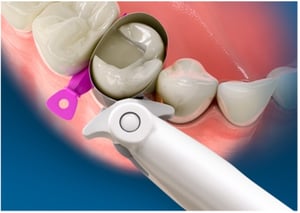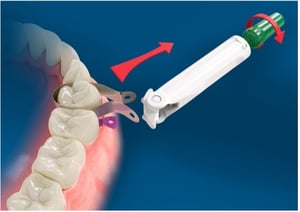 Seating an Omni-Matrix Disposable Retainer. Removing an Omni-Matrix Disposable Retainer.
Another situation in which a circumferential band can be helpful is when the patient has a missing cusp. This is a situation that often can be done with a sectional matrix, but it may result in an under-contoured restoration if there is not adequate tooth structure to support the ring. Pediatrics can also be a great indication for a circumferential band, as placing a sectional band on a primary tooth can often be difficult and the contours are not as critical. Whereas, a circumferential band will usually be more stable on a primary tooth and can be more efficient when restoring an MOD.
About Dr. Richins:
After earning his bachelor's degree in biomedical engineering from the University of Utah in 2008, Dr. Richins received his doctorate from the University of Pittsburgh School of Dental Medicine in 2012. He is a member of the Academy of General Dentistry, the American Dental Association, and the Utah Dental Association. He continues to pursue his education and frequently attends advanced courses that cover topics such as Endodontics, Implantology, Cosmetic Dentistry, Oral Pathology, TMJ, Sleep Apnea, and much more. He has also done humanitarian dentistry in underserved areas of Jamaica, Vanuatu, and Appalachia. In addition to practicing dentistry, Dr. Richins spends one day a week working as a Clinical Advisor for Ultradent Products. Ultradent has been developing and manufacturing the highest quality dental products for over 40 years. Dr. Richins's role at Ultradent allows him to be involved in testing and developing the latest dental products.