Editor's Note: This blog was written by Mark Pettit, DDS. Dr. Pettit practices in Salt Lake City, Utah, while also working in Ultradent's Clinical Department.
Just the other day, a woman came into my Salt Lake City, Utah, office wanting to whiten her teeth. She had an older, dark, unesthetic PFM crown in the front of her smile. Her sister was getting married in a few weeks and she wanted to whiten her teeth prior to the big day so she could feel confident in photos.
We whitened her teeth (which turned out great), but the dark PFM crown looked even darker now and was a big distraction.
Replacing the PFM crown was always part of the treatment plan, but we did not have time to have the crown remade and seated prior to the wedding. Using Thermo Clone™ VPS Clear Bite bite registration material, we replaced the old crown with a Bleach White shade provisional crown made with ExperTemp™ temporary crown and bridge material1. We made two. One for the lab to see for communication and one to wear for the wedding. It only took minutes for each one.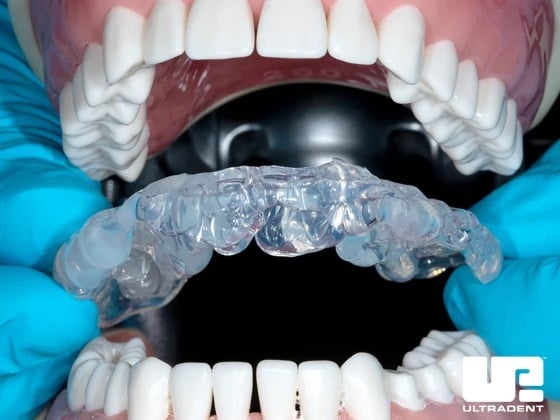 Clear application for bite registration.
.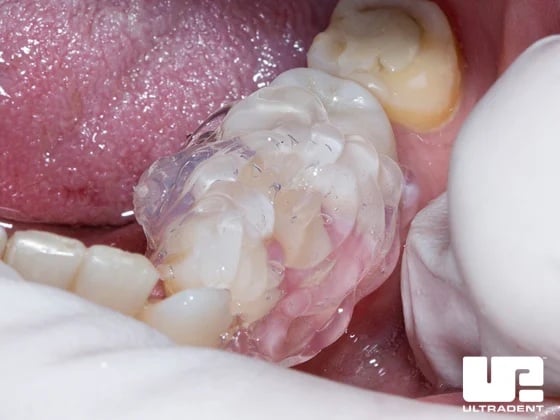 Clear application for crown and bridge provisional templates.
Clear Bite material is one of those new products that I did not know I needed until I tried it. For those of us doing indirect restorations, we know the struggles of fabricating a good temporary or provisional restoration for a patient while a lab makes the final restoration. It is especially challenging when the patient comes in with a side of the tooth missing—now, we need to figure out how to make the temporary crown look like a whole tooth, not a broken tooth.
The key to a great provisional crown is the matrix used to create the crown. I have used alginate impressions in the past. They are inexpensive and create nice crowns, but they can only be used one time. If your patient loses the provisional crown between appointments, you are left without a quick solution to remake the provisional crown.
I used to use a thermoplastic matrix material to create the form for a provisional crown. This was a fair reproduction of the tooth and I could disinfect it for reuse between appointments for the same patient, but the shape and anatomy were never that great. Traditional PVS materials solve this, but they are much more expensive and setting times can be more than three minutes—that's just too long. Clear Bite material addresses this perfectly. It has the accuracy of PVS impression material because it is PVS. It is fast, 45 seconds or less in the mouth, and it is neither too stiff like regular bite registration materials nor too flexible. Being clear makes it easier to seat the matrix back over the teeth correctly.
A light-cured composite resin can be used to customize the provisional crown in the anterior and cure right through the clear matrix. If your patient loses their provisional crown, you can remake it in just a matter of minutes. It will not destroy your schedule. Efficiency is so important.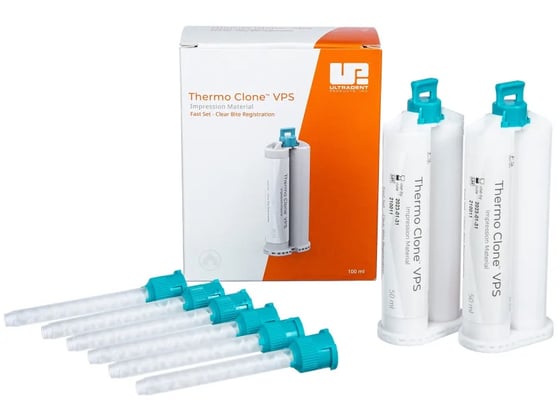 You can express the Clear Bite material directly over the teeth or if you prefer, use a small quadrant tray to support the material. I like this for posterior teeth as it keeps the tongue out of the way better.
Some tips:
When the tooth has a missing cusp or even side of a broken tooth, free hand replace the missing area by placing some flow resin over the area and cure before you make the Clear Bite matrix impression. This means that your final provisional will look more like a tooth than a broken tooth.

If you prefer not to use flow resin, you can also take a blade and trim out the missing area in the Clear Bite material in just seconds and again you have a provisional crown that does not look like the corner is missing.

I find that if I have a patient with cold tender teeth in a quadrant that I am not working in (not numb) that I can cover the teeth with the Clear Bite material and teeth are insulated from cold air/water from our HVE suction or handpiece.

It can be thin and much more retentive than adapting wax over cold sensitive teeth.

If your lab does not provide this, then use the Thermo Clone impression matrix to transfer a wax up design from models to the patient. Let them see their new smile right away, and this also gives you a chance to check function, phonetics, and other subtle things not possible in a wax up alone.
Take the time to be sure your provisional or temporary crowns are on the level as your final restorations. Your patients will genuinely appreciate it, much like my patient with the dark, unesthetic PFM crown who came to see me ahead of her sister's wedding. She wore the provisional made with Clear Bite material/ExperTemp temporary crown and bridge material for the wedding. The Clear Bite material let us make a crown that was much more esthetic as a provisional crown than the old PFM. She commented later that she started to show teeth in the photos which she was not doing before.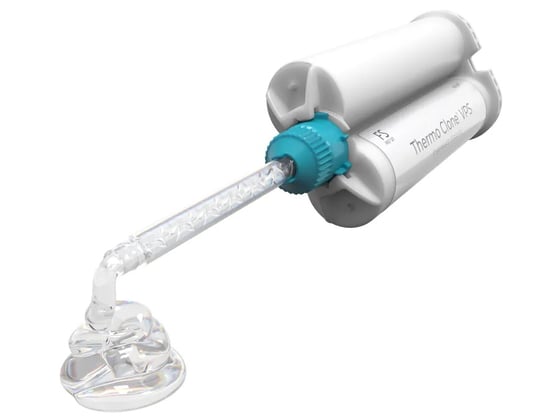 Imagine that, a simple, well-designed provisional (temporary) crown improved someone's smile enough that they had confidence to flash that enhanced smile for family wedding photos. That is a game changer. We can—and should—do that for our patients.
ExperTemp temporary crown and bridge material is a premium bis-acryl composite provisional material that is ideally matched with Clear Bite material. There are six shades available, it is strong, easy to trim, easy to polish and very esthetic. The two just work together so well.