"The first thing I thought when I got into my accident was, 'Oh no, I can't be a dentist anymore.'"
Dr. Eric Harris was in a severe motorcycle crash in 2009 between Ashton and Tetonia Idaho, during a Crown Council "Smiles for Life" benefit ride (a foundation which Ultradent supports with the donation of its whitening product, Opalescence Go™ whitening).
"On the last day of the ride, I fell asleep on my motorcycle going 80 mph. I broke my back in three places, broke both of my hands and arms—particularly my right hand, my operating hand— which was crushed. To say the least, it knocked me right out of practice. To this day, I have 19 screws in my operating hand."
Dr. Harris was used to "putting the pedal to the
metal," metaphorically speaking. In the ten years prior to his accident, he had completed his undergrad work necessary for admittance into the University of the Pacific's Arthur A. Dugoni School of Dentistry—a prestigious three-year dental school. He graduated, had a family, and went into full-time practice in Arizona. He had gotten used to a fast-paced, hectic life, and it didn't show any signs of stopping.
"Looking back, I see my accident as a sign that I needed to slow down. At the time, it seemed like a horrible situation to be in. But now, I look at it as a blessing in disguise."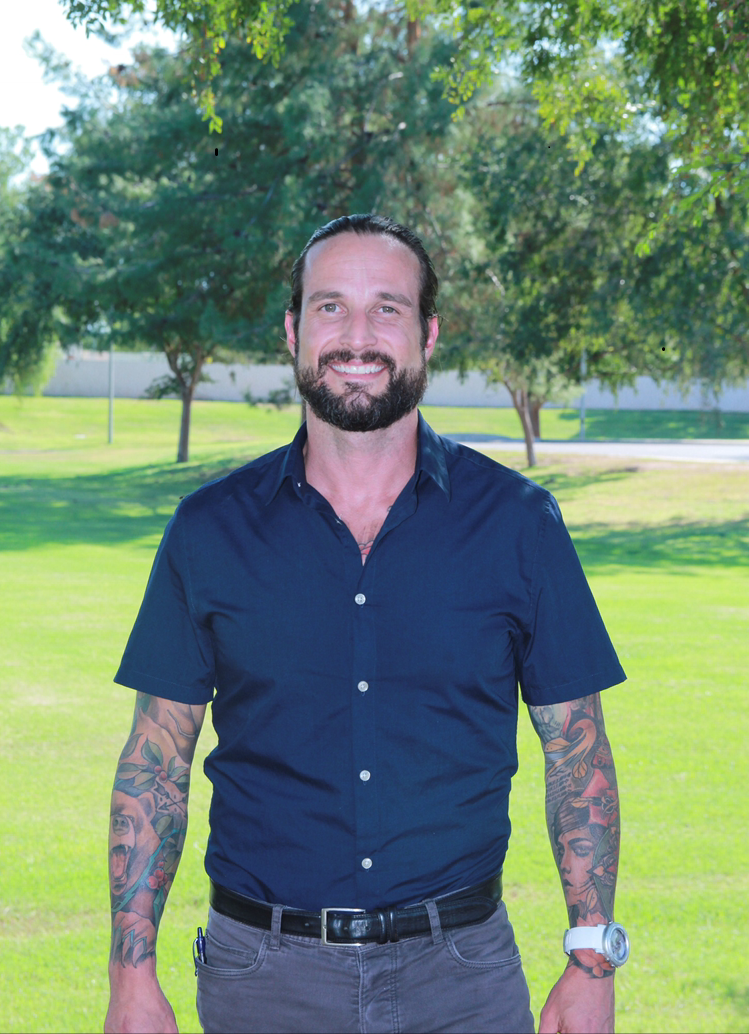 Dr. Eric Harris, pictured well into his recovery after his devastating motorcycle accident.
As Dr. Harris began the long process of recovery, he took a teaching job at the Arizona School of Dentistry and Oral Health. Slowly regaining his strength day by day, in 2012 he felt strong enough to join The Crown Council—a prestigious alliance of dentists around the world, on one of their dental humanitarian missions to the Dominican Republic to set up a temporary dental clinic and provide free care for the duration of the trip. Dr. Harris says, "[had] a great time and while I was there, I met a Dominican dentist by the name of Dr. Johnathan Diaz Nicolas, who taught at the university down there and whose mother was the dean of the dental school. Since I had just started teaching, I proposed bringing a group of my dental school students down to the Dominican Republic, to set up a humanitarian clinic. They could get some real-life experience and treat some of these people that really needed it in conjunction with Dr. Nicolas Diaz's dental students from the D.R. That's how we co-founded Bright Island Outreach."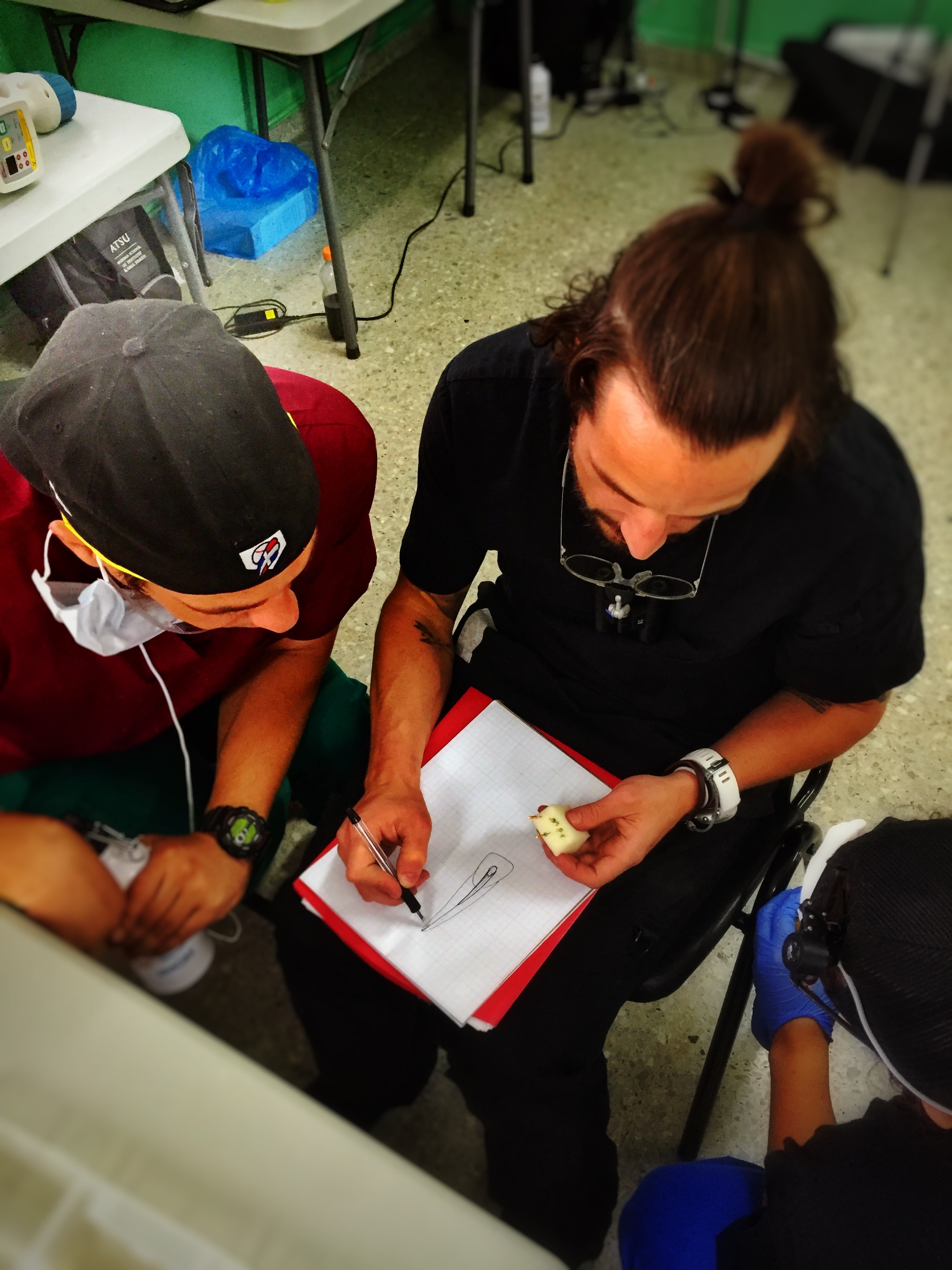 Dr. Eric Harris mentors a dental student volunteer during a Bright Island Outreach trip.
Today, Bright Island Outreach—a 501(c)(3) charitable non-profit—hosts up to six or more dental humanitarian trips to various parts of the Dominican Republic every year. They take between 30–40 volunteers (many of which are current dental students in the United States and Canada) and 15–20 dental students from the Dominican Republic.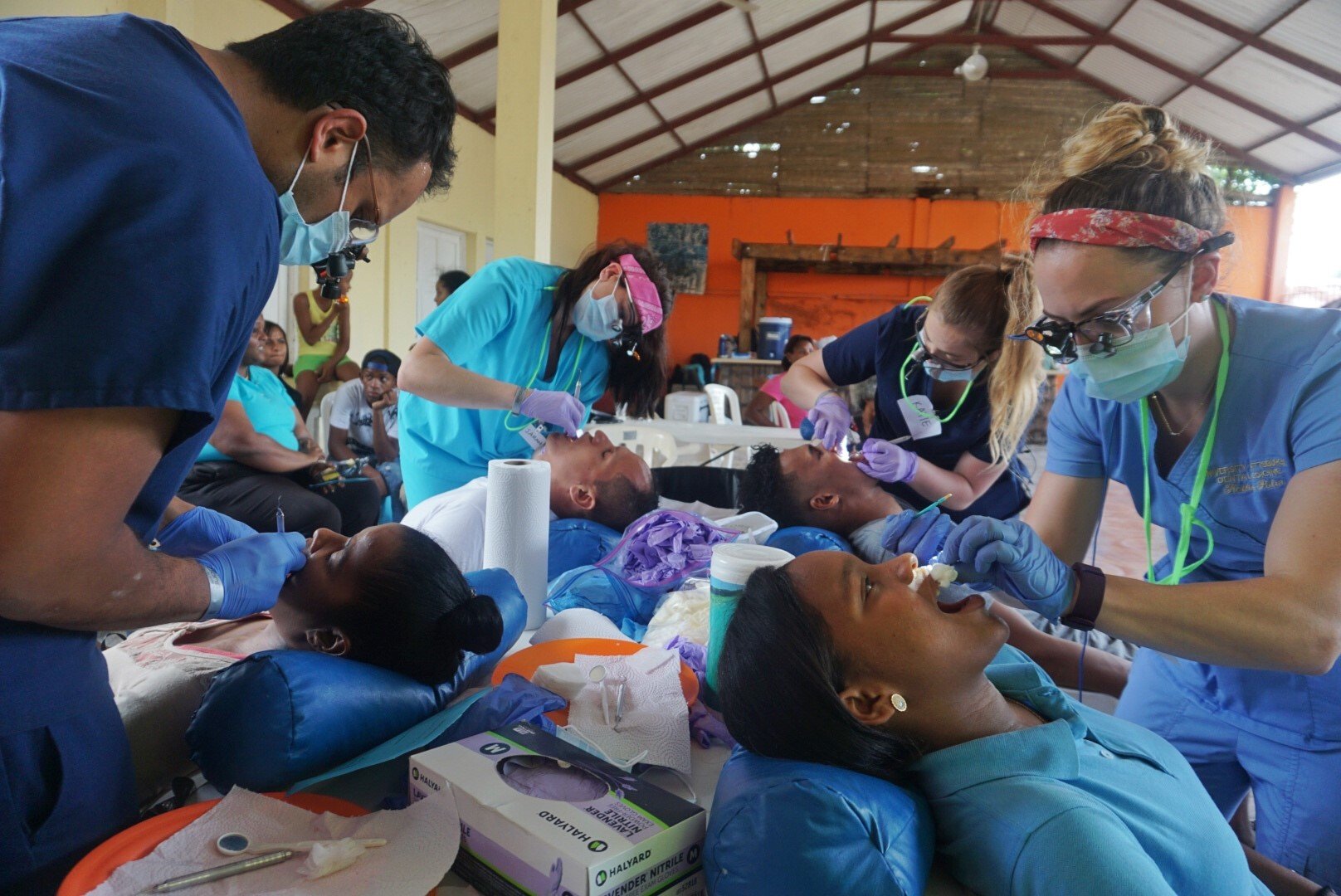 A Bright Island Outreach portable clinic in the Dominican Republic.
"For each trip, we schedule three full days of clinic time (the clinic is 100% portable), not including breakdown and set-up. During those three clinic days, we try and see about 125 patients a day. We also send groups of volunteers to surrounding elementary schools who take them toothpaste, toothbrushes, and do a little dental hygiene presentation. They teach them how to properly brush and floss and while we're there, we put fluoride varnish on the kids' teeth," says Dr. Harris.
Since Bright Island Outreach's inception in 2013, they've cared for over 6,000 people in the Dominican Republic and continue with each trip, striving to make a meaningful impact there.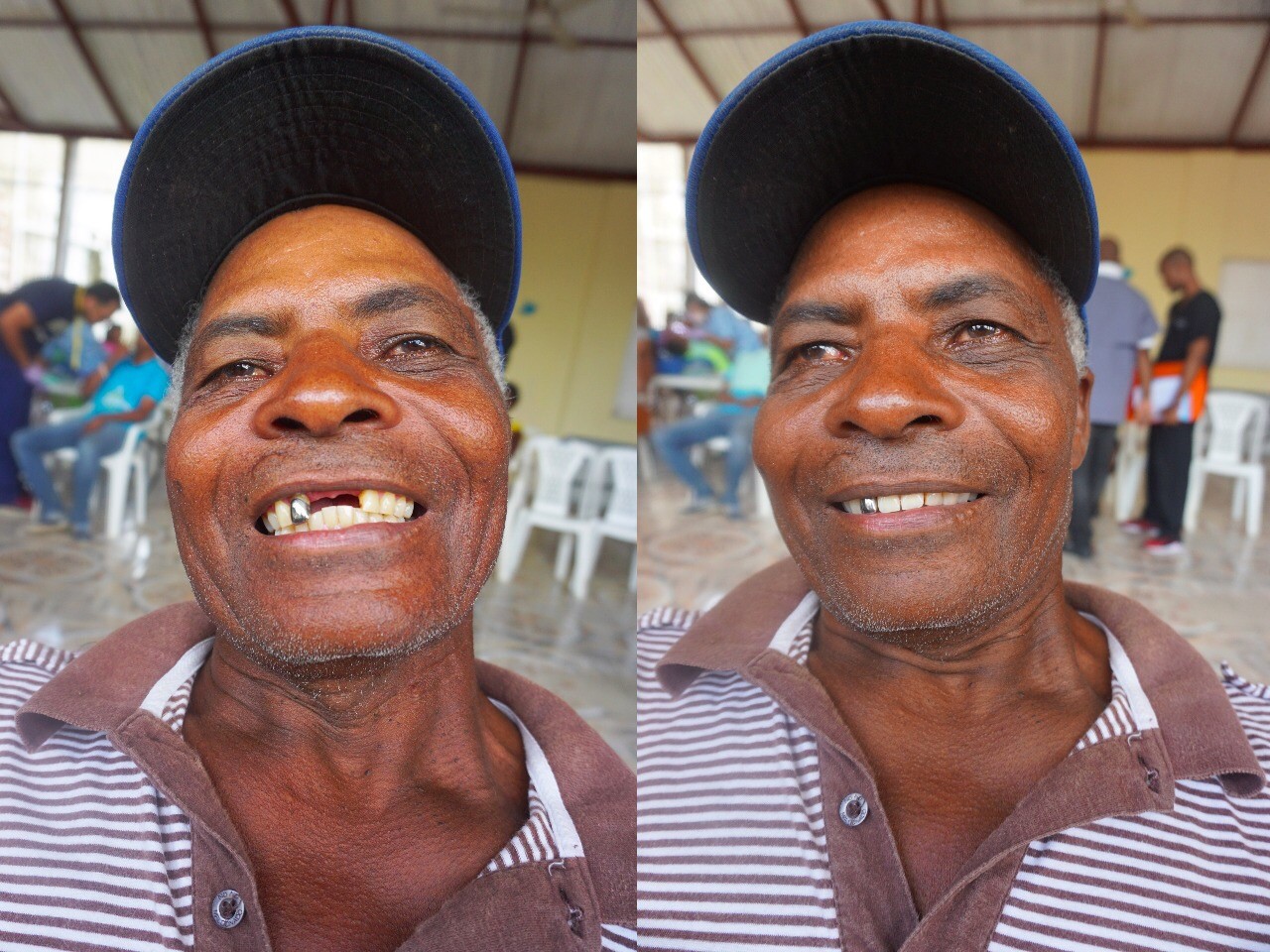 Dominican man before and after receiving dental care from a Bright Island clinic.
He adds, "We go to the northern part of the island twice a year, the southern part twice a year, and the western part twice a year so that if we're treating someone and they need a follow-up or something fixed, we'll be there six months later to treat them."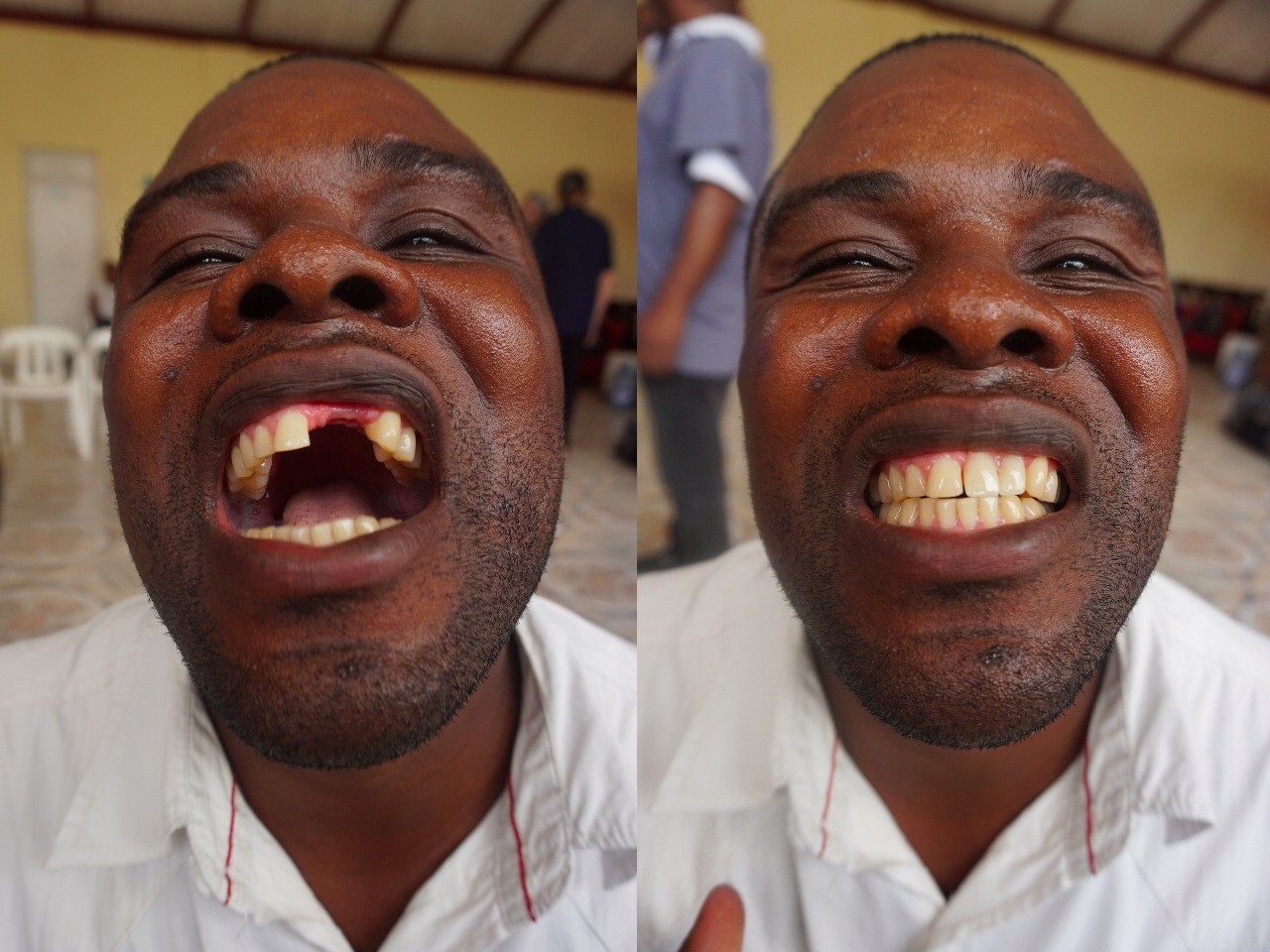 Dominican man gets his front teeth restored by Bright Island Outreach volunteers.
In a country that thrives on tourism, where locals work at hotels and resorts, dental care (like the full-mouth reconstructions that Bright Island Outreach provides) truly changes lives and enables locals to get jobs and support their families. With missing or rotting teeth, they wouldn't be able to work in not only the tourism industry, but most other professional settings as well. Dr. Harris adds, "Sometimes, fixing their teeth simply means they'll be able to get the basic nutrition that they need."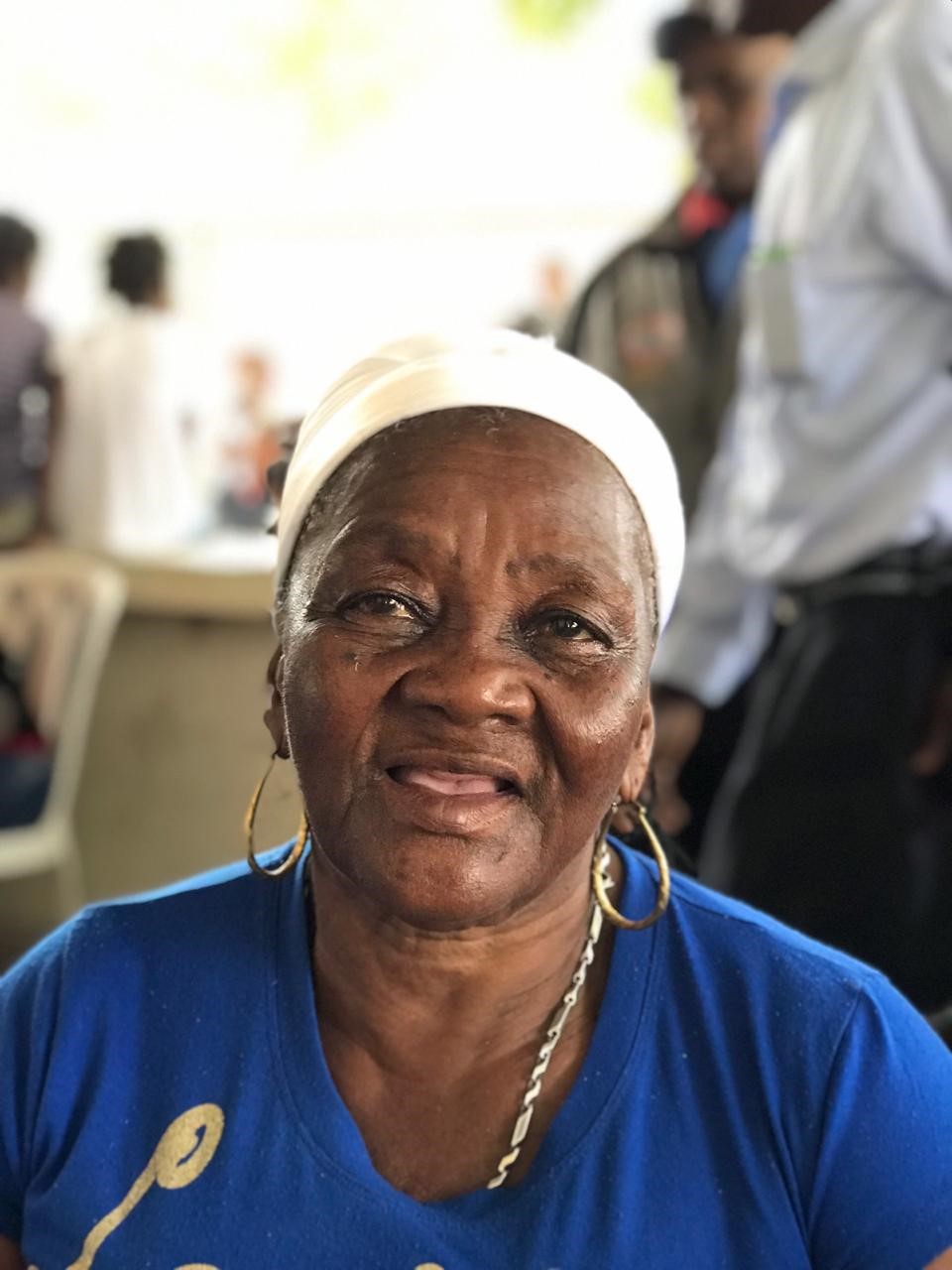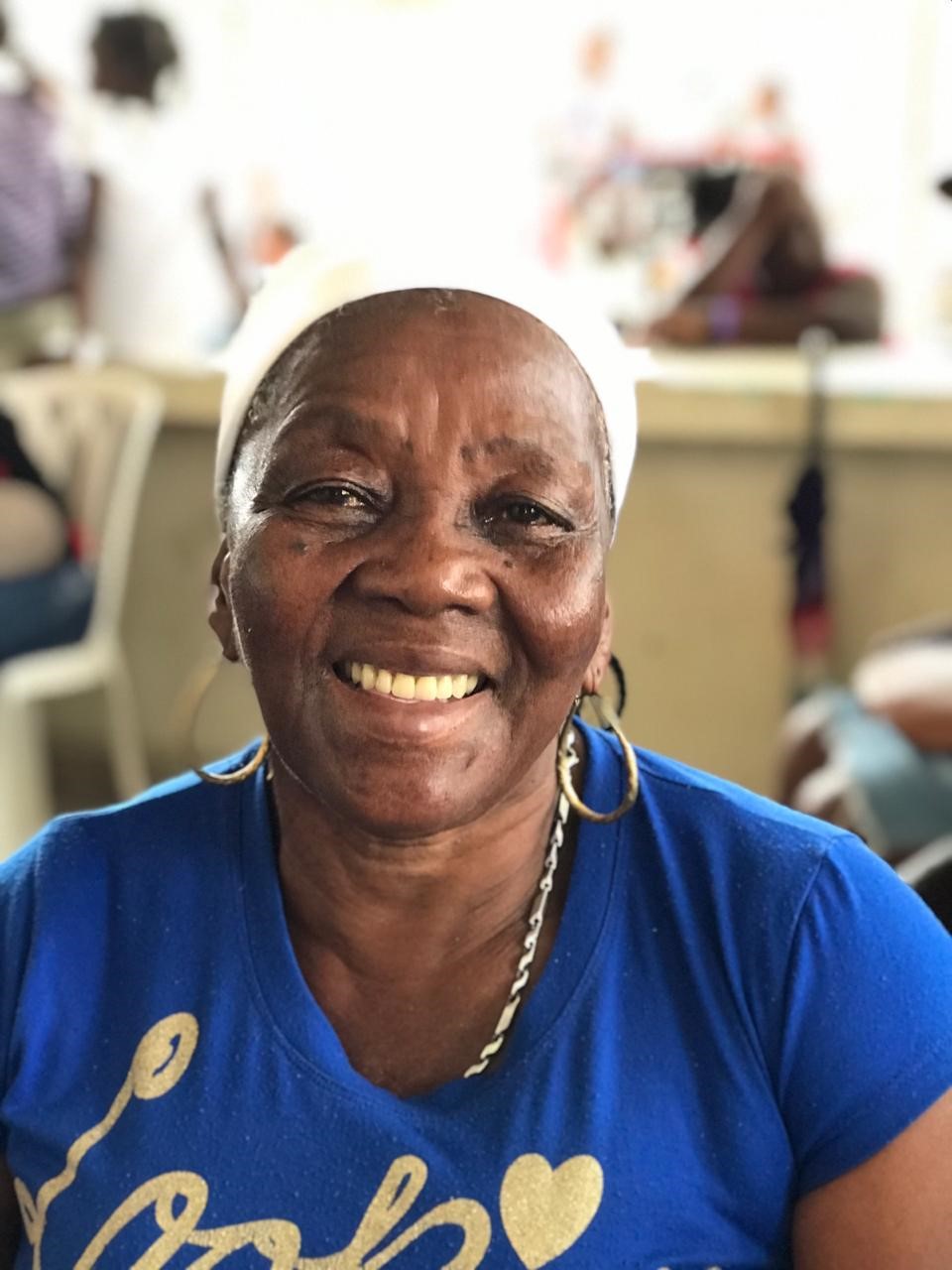 Dominican woman gets full-mouth reconstruction courtesy of Bright Island Outreach volunteers, enabling her to get basic nutrition, improve job prospects, and boosting her confidence.
Bright Island Outreach isn't just changing the lives of the Dominicans it serves. Says Dr. Harris, "The work we do in the D.R. has changed my life immensely. I'm just grateful I was able to turn a terrible situation (my accident) into a career that is fulfilling and that is making a difference in the world.
"I absolutely love providing dental care and help to the people down there. In many cases, I've gotten to know them through the years and watch many of the kids we've treated grow up and become teenagers and even adults. I even follow a few of them on Instagram, like a young kid that is now a teenage rapper in the Dominican Republic. It's really fun."
Additionally, the development opportunities that Bright Island Outreach provides young dental students is a fulfilling aspect of Dr. Harris' job. "It's really satisfying to see the dental students we take down with us on a volunteer basis get to actually put into practice what they're learning in school, and help people while they're at it. It's such a thrill for them, and it's been amazing to watch those young students go on to be very well respected dentists, prosthodontists, endodontists, and orthodontists that have their roots in Bright Island Outreach. Their successes are just amazing to see."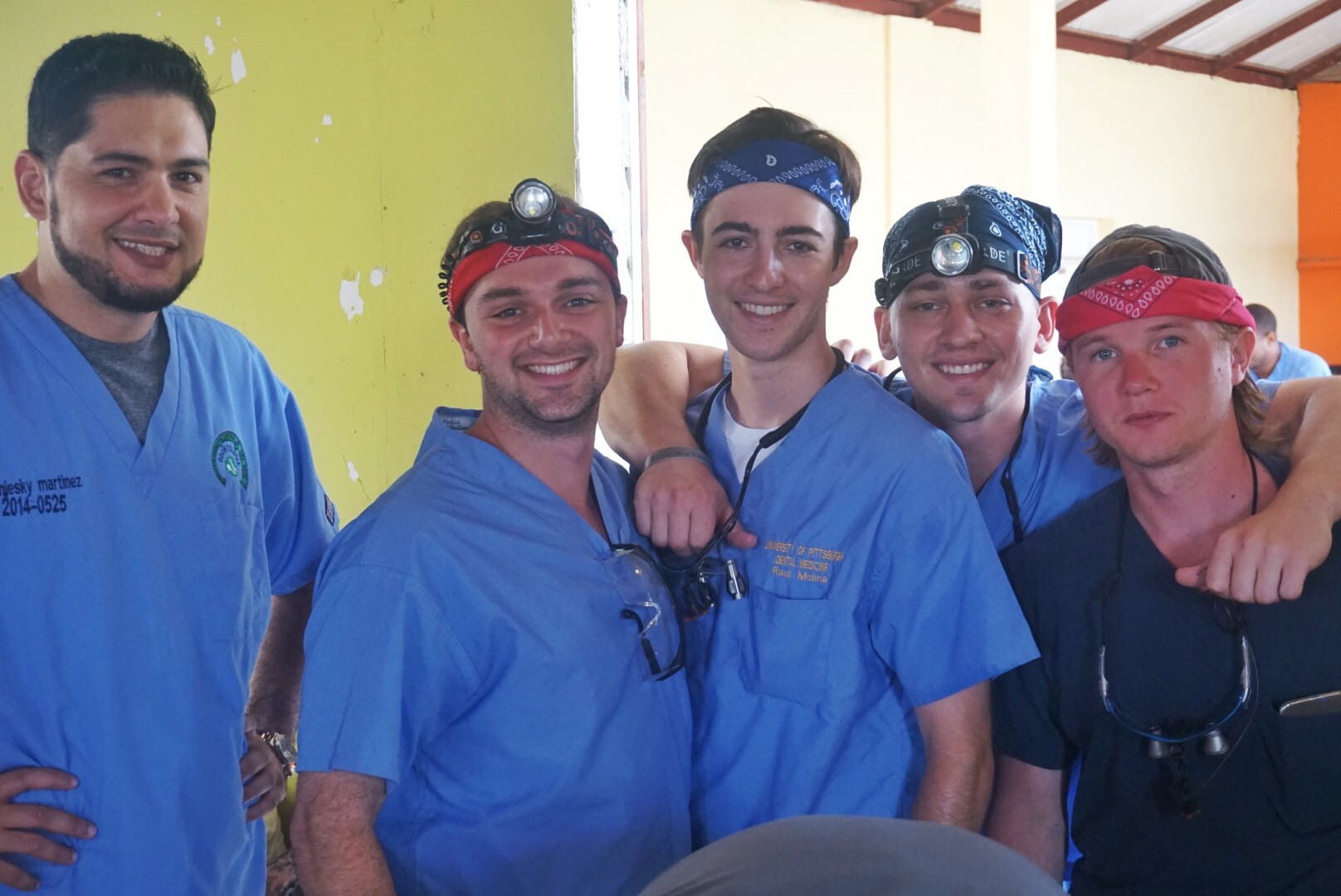 Bright Island Outreach volunteers are often dental students like those pictured above who go on to become successful practicing clinicians.
He adds, "Bright Island Outreach continues growing and we couldn't do what we do without the support of businesses like Ultradent that generously donate product and supplies, as well as the support of dental schools, organizations, and individuals that donate their time and money to make it possible.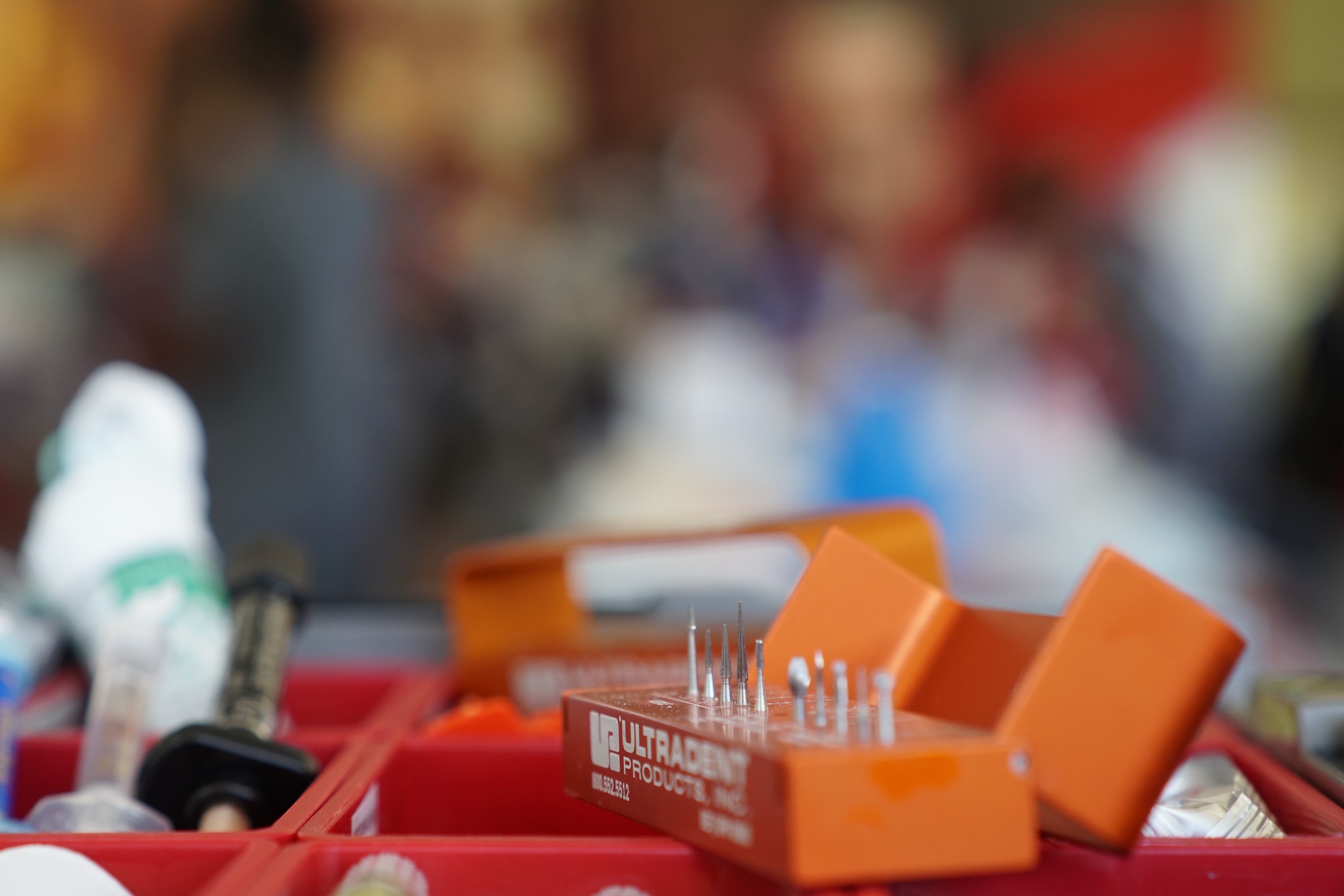 Ultradent's Jiffy™ Polishing System being used in a Bright Island Outreach clinic.
"We have no political or religious agenda and nothing to tell. We just use our resources and skills to serve a community in need, to travel with purpose, and to give back. Our motto at Bright Island Outreach is, 'Do more, be more, vive mas'."
Having started this journey with a broken back, broken arms, and two broken hands, it's clear that Dr. Harris is living by those words every day.
Click here to learn more about, support, or volunteer with Bright Island Outreach.
To learn more about Ultradent's humanitarian program, The Heart of Ultradent, and to follow us on Facebook, click here. If you'd like Ultradent to support your upcoming humanitarian endeavor, click here.