On Thursday, May 24, we gathered to celebrate the 25th work anniversary of one of Ultradent's finest, most loyal employees, David Kendall—known to most as simply, "Dave."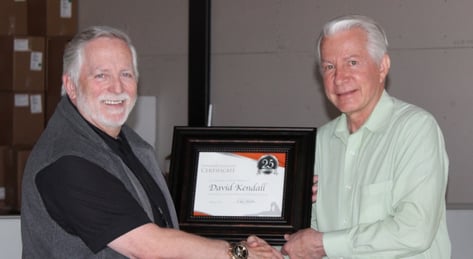 David Kendall receiving "25 Years of Service"
Award from Dr. Fischer


Throughout his years at Ultradent, Dave has made himself indispensable for his expertise, knowledge, integrity, care, hard work, and innovation in each and every one of the many roles he has played. Some of these are roles he created himself because he saw a need and stepped up to fill that need. That is the embodiment of innovation!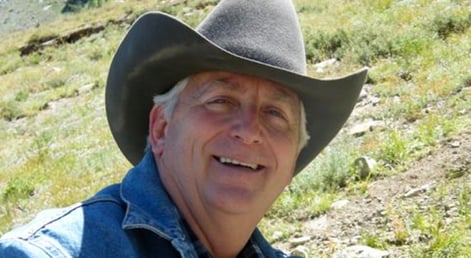 David Kendall



Prior to coming to Ultradent, Dave Kendall served for 20 honorable years in the U.S. Air Force. I firmly believe that the skills and qualities he gained from his service to our country have contributed to making him the employee that he has proved to be in every capacity and job we've asked him to do—and there are many!

Starting as a temporary employee, Dave Kendall began as a Data Entry Specialist. (Yes, you read that right. Ultradent's beloved Dave Kendall started out as a temp!) From there, we promoted him to Kitting Department Supervisor where he proved himself to the level that we ultimately promoted him to Manufacturing Manager over all of Manufacturing. After that, he went on to establish the Government Sales Department, which has grown to be a very robust part of our business today. From that position, Dave went on to serve as the Marketing and Product Coordinator, then as a Product Manager, and later a Customer Service Sales Rep. He has also filled the roles of Dental Lab Supervisor, Customer Service Technical Specialist, Inside Sales Team Leader, and Customer Service Product Specialist. Dave then went on to create the Equipment Concerns Department, the Humanitarian Department, and the Product Concerns Department, each of which he managed as well. In addition to all of this, he's often asked to provide tours because of his in-depth product knowledge and history with the company. Presently, Dave now oversees our Customer Satisfaction Team as the Senior Customer Satisfaction Manager, while still giving tours and helping in many of the positions he's previously held. Dave Kendall is the living definition of never saying "that's not my job." He's a problem solver. He's a doer. He not only talks our Core Values, he lives them! I don't know what we'd do without him.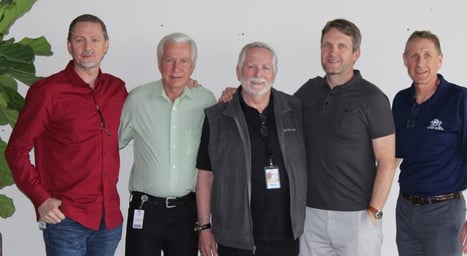 Ultradent executives Erwin Fischer,
Dr. Dan Fischer, Dirk Jeffs, and
Mark Brinkerhoff celebrate
with David Kendall




Something many people might not know about Dave is that he's also a gifted writer and poet. In fact, at his 25th anniversary celebration he shared a poem he wrote about his time and experiences here at Ultradent that I immediately knew I wanted to share with the rest of the company.

What I love most about the poem is the positive attitude Dave exemplifies throughout the many changes that he's experienced with the company. He's taken them all in stride, and through this has truly become an expert and an essential part of our Ultradent family.

I cannot say enough how valuable a person like David Kendall is in growing a successful business with happy employees. Thank you, Dave, for your selfless and tireless service to Ultradent's vision and success.

With his permission, here is the poem, written by Dave himself, that he shared with us at his celebration. I'm honored to share it with you.


Wow! Twenty-five years have gone by!

Where did the time go so fast?

I guess it's true what they say about life,

Time flies when you're having a blast.



I remember so well the day I applied

And started working for Ultradent

The two professions I liked the least

Changed the direction my life went.



I started out as a temporary

Not sure if that was what I wanted to do,

But as I worked at Ultradent

The more my love of the family grew.



The Ultradent family who worked back then

Those many long years ago,

Also enjoyed their labors and peers

And the company continued to grow.



The reason for my change of heart

Was the opportunity to wear their shoes,

And walk in the paths they had tread

And experience their lives and their views.



A once in a lifetime opportunity for me

To be a part of a company new,

To share in doing good for others

What better work could we possibly do?



To rub shoulders with Dr. Fischer

And his family and all their kin,

They inherited their father's love of work

And were willing to bring strangers in.



We all work together as a family now

Some stay and others go their way,

We rely on our skills and love of work

And we still work for better days.



The work we accomplish together

Where ever in the world we meet,

Blesses the lives of not only us

But the lives of all those we greet.



But now my time has finally come

When I celebrate my time with you,

I will treasure these special moments

When we get a chance to stop for a few.



Thank you all for sharing your lives,

Your experiences, and your skills.

Thank you all for being such friends

And I pray you always will.



I hope in the few years left ahead

I can still contribute the best part of me,

And continue to share in the care we give

And give you the best I can be.



I have received the best from all of you

And these years have been grand for me,

How much more fun can we possibly have?



I guess we'll have to wait and see.

I only have one regret here at Ultradent,

That I don't have twenty-five more to give,

But my life has been well spent.

–David Kendall

Sincerely,