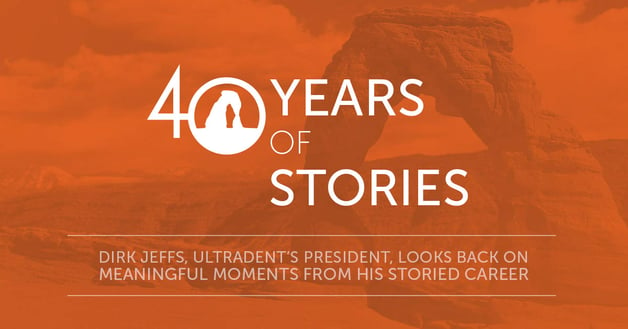 ​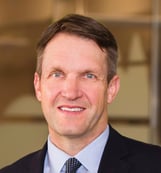 Dirk Jeffs
President of Ultradent
22 Years at Ultradent
After being here at
Ultradent
for 22 years, I can tell you one thing. I never in my wildest dreams thought I'd ever work at a company this long. In fact, when I started here at 29 years old, I had worked for three years at my first job, and one year at my second job after college. I was exploring my options and career passions, and thought Ultradent might be a stepping stone in that path…but I'm getting ahead of myself.
Let's back up to the job I worked before coming to Ultradent. It was at an electronics company, and I made a great friend there—a colleague—by the name of Steve Gerber. Well, soon enough, Steve had left to go work for Ultradent, and since he had become someone I had grown to trust a great deal, when he called me to tell me what a dynamic, growing company it was, raving about what a great guy the
founder and CEO
was, I was interested. Luckily, Ultradent was looking for someone to manage their international sales, which fit my background perfectly, so I applied on the advice of Steve.
I'll never forget my first interview with
Dr. Fischer
. He happened to be in Las Vegas for a dental convention, and I met him in the pool area of one of the hotels on the strip to discuss the job opportunity. In our conversation, Dr. Fischer's energetic, enthusiastic, and visionary focus immediately struck me. Without having ever stepped a foot in Ultradent's headquarters before, I knew just from learning about the company through its leader, Dr. Fischer, that I wanted to be a part of it. I got this sense of authenticity and integrity from him that made me feel like Ultradent was, without a doubt, the place for me. In fact, during that interview, Dr. Fischer noticed that I had stayed for short periods of time at my previous jobs (three years and one year, respectively,) and he told me that if I came to work at Ultradent, I would need to commit to staying until I turned 35. There's a quote I've since heard Dr. Fischer share by Johan Wolfgang von Goethe that says, "At the moment of commitment, the entire universe conspires to assist you." I believe that's what happened that day…and needless to say, I made it to 35! I believe there is power in fully committing to a company, a project, a competition, etc., and when you do, that's when the magic happens!
Two weeks after I landed the job,
Dr. Fischer
invited me to accompany him on a trip to Poland and Israel, where he was scheduled to lecture. Quite honestly, I felt a bit nervous heading out on a ten-day trip with the CEO, but Dan (Dr. Fischer) was so easy to talk and relate to that he put me at ease very quickly.
On the morning of the first lecture in Warsaw, Poland, the room quickly filled up with dentists eager to learn from Dan. There were probably close to 300 people there! Just prior to the start of the lecture, Dr. Fischer asked me to go with him to the bathroom. In the bathroom he shared with me that he was going to draw his own blood for the doctors to that he could squirt it on a white plate to demonstrate how quickly and effectively Ultradent's first product,
Astringedent® hemostatic
, could coagulate the blood. He then asked me to use my hands to squeeze his upper arm so he could more easily draw his own blood. I am a bit squeamish when it comes to blood, but I did as I was told! I squeezed his upper arm tightly, and looked away as Dr. Fischer drew the blood he needed for the demonstration. At first, I was a bit traumatized by this surprise scenario, but realized that it was all worth it when I witnessed how impressed the audience of dentists were with Dr. Fischer's creative way of showing his product's effectiveness!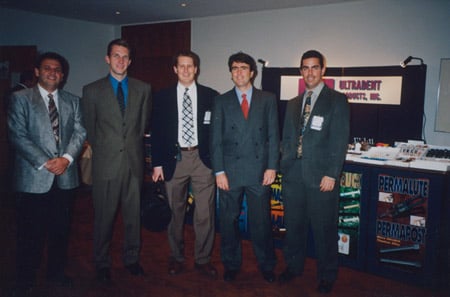 Dirk Jeffs (second from left) works a trade show early in his career at Ultradent.
From then and through the years that followed, I served as the manager of international sales, director of international sales, and vice-president of sales and marketing before being made president of
Ultradent
in 2016.
One of the proudest, most memorable and meaningful moments from my career has to be the day we opened our very first foreign office in Cologne, Germany. It came after great study and debate, and it represented a paradigm for us in terms of international distribution, which led to us eventually modifying a lot of our terms in that sense, and opening many, many more offices globally. That initial opening in Cologne marked a change in
Ultradent's
goals and mission, leading us to a point now where we are able to reach doctors in every corner of the world.
Despite the many positions I've held, one thing has remained a constant, and that is the love I have of working with the incredible people here at Ultradent, both domestically and abroad. Ultradent has amazing, smart, talented, hard-working people from literally all walks of life and all corners of the world. The diversity within the company is astounding and incredibly interesting to me. It is a source of immense strength for Ultradent. I count many of my fantastic international colleagues among my closest and best friends from working together through the years, and having been exposed to their various cultures, thoughts, and ideas is something I absolutely treasure. Our people at Ultradent are without a doubt our greatest, most valuable asset, and they're what make Ultradent such a special place.
In fact, I can't tell you how many times I've seen an employee leave Ultradent for one reason or another, only to decide later that they regretted leaving. They often then come back to Ultradent with a new-found perspective on how truly amazing a company it is. Of course, we're not perfect. We make mistakes and we are always looking to improve, but that too is part of what makes Ultradent a great place—the spirit of continuous improvement, and an environment that encourages its people to try new things and that makes it safe for those things to sometimes fail in order to learn new ways to improve.
When I think about the many ways in which Ultradent is unique from its competitors and really, from any other company in general, is our deeply-rooted, wonderful culture. The family feeling, the hospitality, and the care that is felt throughout any of our offices from any of our colleagues around the world is what truly stands out. I am humbled by the respect, care, and diversity of talent in the many different departments of Ultradent that work together as a team to make Ultradent successful. We need each one of those people. We all care for each other like family, and many customers and people on the outside notice that and comment on it in glowing terms. Our culture is very, very special, and as such, it must be preserved in the years to come!
We've reached the 40-year mark as a company, and with that, I see a unique opportunity for us to look forward to the next ten years, toward our 50th anniversary, and make some goals for where we want to be and what we want to have accomplished by 2028.
I believe our vision serves as a great guide to where we're heading. Continuing to improve oral health globally will be the big job and the largest goal for all of us in the years to come. We must continue to increase our reach to more doctors and more patients with our cutting-edge technologies and chemistries all over the world. I agree with Dr. Fischer's statement that, while we have many amazing products that are making a real difference for clinicians and patients, our best products are yet to come. They haven't been invented yet! I firmly believe that. We must and will continue to innovate and provide progressive and trustworthy solutions that respect the oral tissues of the patient and make life easier for practitioners. I envision this kind of growth and innovation coming from our talented Ultradent colleagues in every department and from every skillset level in the company.
I also expect that Digital will play an increasingly important role in how we operate, communicate, and transact business with our customers.
As for myself, I feel a major part of my role and responsibility moving forward is to ensure that the things that have enabled our success to this point—our culture, our brand (trustworthy and progressive), and our core values—do not get compromised, but rather, grow stronger.
As I look back, I feel immense gratitude for my time, experiences, and relationships that have contributed to my personal growth throughout my career here at Ultradent, and I look forward to doing all that I can help shepherd Ultradent to greater heights, increased growth, and to continuing to build, preserve, and enrich the fantastic legacy that is our culture in the years to come.