As we get ready to close out our 40th year in the
dental industry
, I've enjoyed spending some time reflecting on what a wild, fun, incredible, unexpected ride these four decades have been. Never in my wildest dreams could I have imagined all the things we would experience and accomplish together, but am grateful beyond belief. I often say it this because its true: the truth is stranger than fiction—and in the case of
Ultradent
, that's a great thing! As we move into a new decade for the company and march toward our next big milestone, Ultradent's 50th anniversary in 2028, there are a lot of positive changes and growth I hope to see, but there are some things that I will make sure to never ever change.

Ultradent started as a small family-only company in 1978 and now boasts over 1,600 employees worldwide.
In the next ten years, I expect some great things out of
Ultradent
. In fact, I often say that our best products haven't even been invented yet. I expect us to bring more exciting products to the market that will allow dentists to provide even better dentistry, thus meeting our vision of improving oral health globally.
Some things will, however, always stay the same. The first is that our products will always preserve patients' natural enamel and tissue, which upholds our philosophy of promoting and advancing minimally
invasive dentistry
. This is and will always remain top of mind and our first priority when it comes to product development at
Ultradent
.
Second, our brand will and must always remain trustworthy and
progressive
to the clinician. Not only will
Ultradent
uphold its standards of truth and ethics in advertising, but we will also always strive to never be a "me too" product company. True
innovation
, shunning gimmicks and trends, and providing solutions backed by solid research that clinicians can trust when it comes to investing their hard-earned dollars in our technology, equipment, and products is so very important to us, and will never, ever change.
Third, we will continue to strive toward finding a way to prevent caries and gum disease. That has always and will always be our ultimate goal.
I expect
Ultradent
to continue on the great trajectory and path that it is on and that we've been so fortunate to walk these past 40 years, be it the quality of people, the products, procedures, and techniques we innovate and promote, and of course, our culture and core values.
Looking back at photos of myself at some of our very first trade shows, drawing my own blood to demonstrate how our first and only products at the time—
Astringedent® hemostatic
and our
Metal Dento-Infusor® tip
—worked to coagulate the blood, I marvel at the progress and growth we've experienced as a "little dental company from Utah."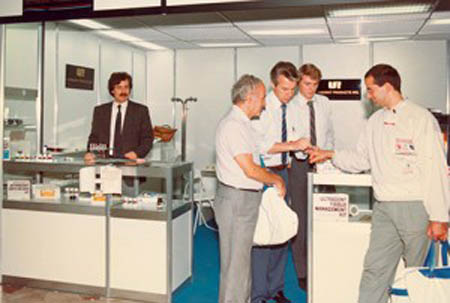 Dr. Fischer draws his own blood to demonstrate Ultradent's first product, Astringedent® hemostatic, at an early trade show.
We're now in almost every country in the world, and we are continuing to grow. I also could never have dreamed of some of the products that Ultradent and our fabulous research and development team would bring to market, including the many equipment advancements like the
VALO® curing light family
, the
Gemini® laser
, etc. I feel immense pride at the growth and respect our
Opalescence®
tooth whitening system has garnered worldwide, and hope that Ultradent continues to lead the way in professional tooth whitening advancements.

The VALO® curing light family remains the most innovative, groundbreaking, and uniquely effective curing light on the market.
It's been a wild ride that I could never have imagined back at those first trade shows, but it's also been a fun one. I look forward to the next ten years with optimism and excitement for the growth, progress, and inevitable surprises to come!
Hugs,
Dan