As we celebrate Ultradent's 40th Anniversary throughout the coming year, we also celebrate the people who work here and the rich stories they have to tell about the company, how it's grown, and the role they've played in its history. Today we talk to two longtime Ultradent employees, Steve Clark and Olga Mencnarowska. Read their stories below about working at Ultradent Products, Inc.
​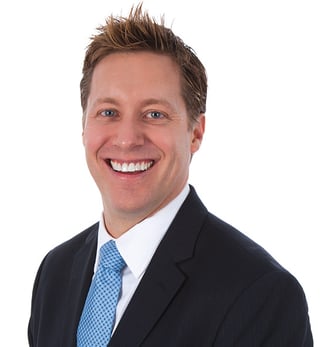 Steve Clark
Director of U.S. Sales and Merchandising
15 Years at Ultradent
When I started here at
Ultradent
15 years ago, I came in very focused on my career goals and where I wanted to get to and what I wanted to achieve. That is how I defined success. While I still value achieving my goals and the satisfaction that comes from accomplishing something I set out to do, I've had a few key experiences that have changed what success means to me over the last few years.
The first experience that made an impact on me was on my very first day at work here at
Ultradent
. The company had hired me as a brand manager for their new orthodontic division,
Opal Orthodontics
, and I was literally the first employee of that venture. I remember on my first day,
Dr. Fischer
—the CEO and founder of Ultradent, and a very busy man—approaching me, crouching down next to the table where I sat during a training, and ensuring that I understood the ins and the outs of the orthodontic bracket by asking me questions. It wasn't a testing or probing situation to see how much I knew—I could tell he had a vested interest in helping me to understand everything about orthodontics so I could better succeed. From there, he put a lot of trust in me as the first Opal Orthodontics Brand Manager and that trust has continued throughout the years. I could tell on that first day that he was interested in what I had to say. I was impressed by the personal time he took with me, and I could tell he cared.
As the years have gone by, I've watched Dr. Fischer and come to realize that what makes Ultradent great is the open marketplace of ideas, listening, and validation that takes place at this company. There is always open access to not just Dr. Fischer, but the
executive team
and upper management to share our ideas, suggestions, even things we think need to change, and everything is considered and validated equally. I've noticed the amount of listening that takes place, and I truly believe that because of that, the best ideas are able to rise to the top without ego getting in the way. That is why, I believe, we've been able to innovate so prolifically and consistently. The concept of taking a step back and looking at the bigger picture and taking time to listen comes from the top and is perhaps the greatest thing I've learned during my time here at Ultradent.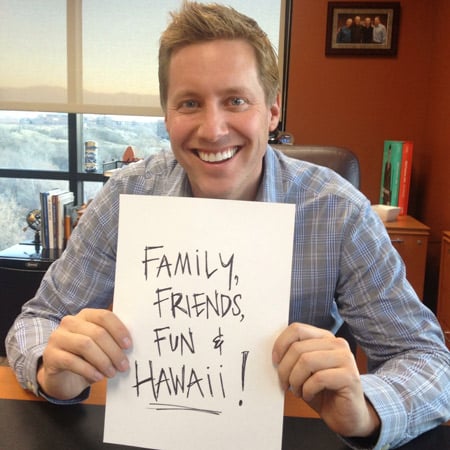 Steve participates in our annual gratitude/Thanksgiving blog post
One experience where this concept truly came into play was just after I took the job of managing our Global Core Marketing Team (GMCT). The team came to Utah from countries from all over the world for a retreat. Together, we hopped in a bus and headed down to Las Vegas for our retreat. I learned so much on that bus ride, and I think it's partly due to the fact that we were finally all face to face. We could connect and see the emotion in each other's faces as we talked about each team member's successes and challenges in their various countries and how we could apply those success stories to other markets. Really spending time together and listening to each person's unique experiences unified us as a global team—and company—in the highest sense. It was a great opportunity to truly understand each other, despite coming from such different backgrounds and cultures. It made me want to listen more often than I spoke so we could make decisions that were good for everyone and so they could know I truly understood and cared about them.
In my many travels throughout the world since then, I always remind myself to set aside the role of "the American" in a foreign country and to get to know their culture and their stories. That's when the "aha" moments come, even if it means being outside of my comfort zone.
I've loved all of my roles at Ultradent—from brand management to working with the GMCT, from merchandising to being over our Opalescence Tooth Whitening line, from being the Director of Marketing to now sales—and the biggest thing I've learned is to listen. It applies to every aspect of the company. I no longer define my success by title or monetary gains. Success to me is learning to appreciate the importance of time and relationships and that everybody has a story and everyone is worthy of our time. If we take the time to listen to their ideas and their story, they can affect our lives for the better. Success to me is about the relationships I build while I'm here. It's the most important and I value it above everything else.
​
​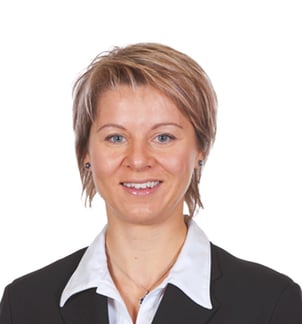 Olga Mencnarowska
International Regional Manager over Northeastern Europe
12 Years at Ultradent
One could say that I learned what was special about
Ultradent
before I even came to work here. Let me explain.
Prior to coming to Ultradent over 12 years ago, I had worked for a competitor company in the dental industry that I enjoyed. Having received an offer from Ultradent, I felt very torn. I truly didn't know if I should leave the job and company I had become so comfortable and familiar with until I got a glimpse into Ultradent's people and culture.
One night, shortly after my interview with Ultradent while I was still trying to decide what to do, Steve Gerber called me pretending, in his goofy way, to be George Clooney, inviting me to a movie premiere in Salt Lake City. At that very same time, one of the former international sales managers at Ultradent whose name was Shaun wrote me an email titled, "Top Ten Reasons You Should Join Ultradent." Those personal, unique, and fun interactions were all I needed to know that this was a company I wanted to be a part of. I made my decision right away and have enjoyed every single moment since then.
The personal care every single person in this company exhibits to one other is extraordinary, including Dr. Fischer and upper management. I have a few stories to exhibit that.
The first time I met
Dr. Fischer
, I remember getting that strong, sincere, trademark hug of friendship that he's famous for. A little later, on a trip to Sweden, we were traveling together and I had just gotten knee surgery five days earlier. I'll never forget Dr. Fischer pushing me on an airport trolley all the way from the plane to baggage claim so I didn't have to walk. He didn't just create the value of "care." He truly lives it.
On another international trip, I unfortunately contracted food poisoning in the country of Georgia, and on top of that, I was pregnant. I sat next to Dr. Fischer on the airplane, throwing up the entire time, and he took care of me. At one point, he literally picked me up off the floor because I couldn't move, I was so sick. I'm truly a lucky girl to have experienced the personal care that everyone, not just Dr. Fischer, shows to one another. I have no doubt that any of the amazing people who work at Ultradent wouldn't hesitate to take you into their own homes should you ever need help.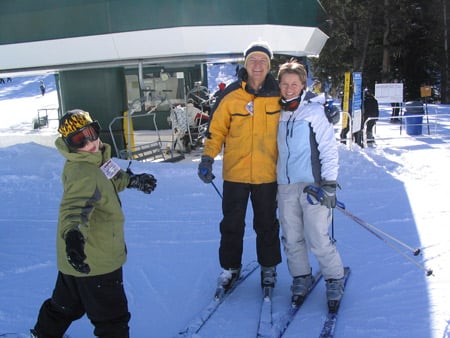 Olga and Dr. Fischer hit the slopes at Brighton Ski Resort in Utah
While we're on the topic of memories and stories, I couldn't let this opportunity pass without sharing a crazy experience that I shared with Dr. Rich Tuttle while we were traveling in Yalta (a Russian territory taken from Ukraine). While we were in the airport there, we received notice that our flight had been canceled at 3:00 a.m. and that we had to find a place to stay for the night. So, we set out into the surrounding forest with our suitcases to find a hotel. When we finally came to the closest one, we were told it was completely full. So, we set out into the dark night once again, but this time, Dr. Tuttle had a knife in his hand for protection "just in case"! We finally got to another hotel in the middle of nowhere and they only had one room available. We shrugged our shoulders and shared the $10/night room but when we got in, it was so dirty, we were afraid to sleep. It was fully of rusty pipes, it had dirty beds, and there were bugs and spiders everywhere. Morning couldn't come soon enough!
Finally, we got back to the airport and boarded a very suspicious looking plane (that we were afraid might crash), but luckily, it landed safely in St. Petersburg where Dr. Tuttle gave an excellent lecture to the awaiting Russian dentists. It's an experience I'll never forget but we confronted it and got through it together!
I have truly loved my time here at Ultradent and getting to know different people and cultures from all over the world. I not only consider them my colleagues whom I respect, but I see them as my extended family and wonderful friends who would do anything for each other. One of my favorite quotes from Dr. Fischer illustrates this: "If your hand is open to give, it is open to receive."