​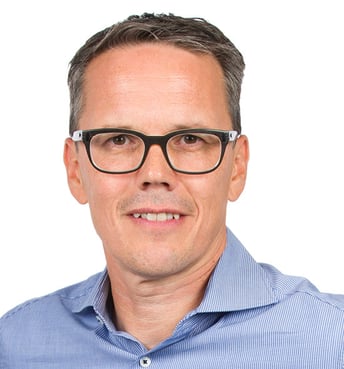 Heinz Seidl
General Manager of Northeast Europe
13 Years at Ultradent
I have so many crazy, wonderful memories from my time here at
Ultradent
, and one of them is my memory of how I first learned about Ultradent. It's a wild coincidence that I've never forgotten.
It all started in Autumn 2004. Although I didn't work in the dental industry, I visited an old friend of mine in Cologne, Germany, who was there for a local trade show. When I walked into the trade show, my immediate perception of the whole show was dark, boring, and full of uninspired people in suits all over the place. That is…except for one booth that was completely outstanding to me. This particular booth had far more visitors than any of the others, and the people behind its counters looked open, energetic, and friendly. They all looked like they had a story to tell. However, the most obvious difference was how they were dressed. They all wore colored shirts that I later learned represented the three flavors of the precursor product to
Opalescence Go®
whitening, the Tréswhite disposable whitening system. The flavors were Mint, Melon, and Peach. I knew this company was different.
As I approached the booth to get a closer look, and by another crazy coincidence, I knew one of the Ultradent employees working there! In fact, we had worked together at another company a couple of years before. We started chatting and the story ends (or begins) with me signing a contract with Ultradent a few weeks later.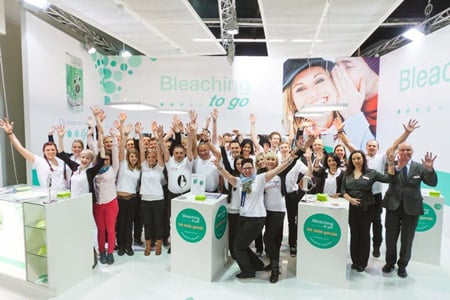 Heinz Seidl's team gets hyped at the Ultradent booth at a trade show
I went to the IDS tradeshow the following year— this time, working for Ultradent— and met
Dr. Fischer
. I watched him as he approached every employee and called them by name, hugging them and treating them like family. Having come from a large stock-listed company before working at Ultradent, I knew this was going to be different. Since then, Dr. Fischer has become a huge mentor for me.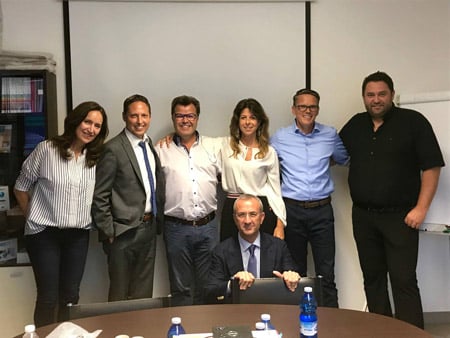 Heinz (blue shirt) smiles with some of his Ultradent colleagues from around the world.
That leads to me to my final anecdote. It's about a very special phone call I received in late 2015.
It was evening in Germany, and I was on my way home from work. It was cold, rainy, and stormy, and suddenly, my cell phone rang. I looked down and saw that Dr. Fischer was trying to reach me. Due to the wind, I couldn't keep on walking while speaking, so I found a bit of shelter for the phone call. I still remember saying, "Hi Dan, I'm sure you're calling me for something important at this time. You just need to understand that it's cold and I'm getting wet so I might not be that communicative. I trust you, as you know, so whatever you called to say or propose, you get an automatic 'yes' from me!" He replied by saying, ""Well. I just wanted to ask you if you are willing to take over the position of General Manager for Northeast Europe. Thank you for saying "yes" so quickly. Congratulations!" Unforgettable, isn't it?
​
​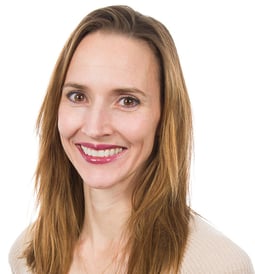 Melanie Jones
Director of eBusiness
25 Years at Ultradent
When I was hired at
Ultradent
as a teenager, I never thought my job would turn into a career here. My first position was working on the molding floor where I sat at a table inspecting syringes for quality defects. There were a few other girls working at my table—some American, some Laotian—and we all had fun talking while working. Though I dragged my feet about going to work after school every night, I really did look forward to seeing them every day. We generally worked Saturday mornings as well and we planned elaborate breaks where we would bring lots of different toppings for hot chocolate or have potluck lunches. Later, one of the Laotian girls asked me to be the maid of honor at her wedding. It was my first experience with a wedding from another culture and I was honored to have been asked—especially when I saw the size of her family. I didn't understand what was said in the ceremony and had never even heard of the delicious food they served. That opened my eyes to a different way of living, which was just a preview of what was to come in my career at Ultradent.
Later, when I returned from college, I accepted a position working as the international regional manager for the Americas and South Africa. During my time in this position,
Dr. Fischer
was asked to lecture in Chile and Argentina and I accompanied him. The flight attendant upgraded Dr. Fischer to first class due to loyalty status, and my seat was located clear in the back of the plane. I settled in for the flight and started a game of Solitaire. Not long after takeoff, Dr. Fischer made his way to the back of the plane and sat in the open seat next to me. He stayed and talked to me for quite some time before returning to his seat to sleep. I was so impressed with how humble and friendly it was of him to seek me out in the back of the plane.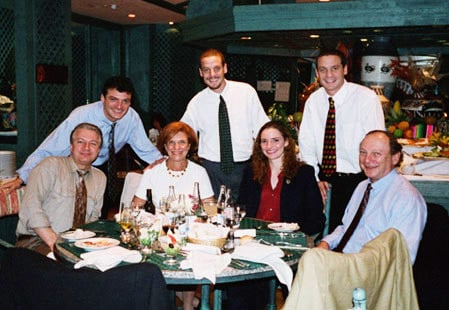 Dr. Fischer and Melanie with the Grimberg family, operators of Ultradent's distribution partner in Argentina
After one of the lectures in Argentina, our distribution partners took us to a nice Argentinian steakhouse, similar to the Brazilian churrascarias that have popped up around the U.S. I'm a lightweight, so it wasn't long before I turned my coaster from green to red. Then, one of the servers brought out a new skewer and our Argentinian partners insisted that I try some of this one. "What is it?" I asked. "If we tell you, you won't try," they said. "Estoy satisfecha," I replied. I've had enough. They continued to insist. "Is it blood sausage?" I asked. I really don't like blood sausage. They assured me it was not blood sausage and that I had nothing to fear. They continued to insist that I must try it because they are famous for this particular dish. Again, I declined and they persisted. Finally, I promised them that if they would tell me what it was, I would taste it, no matter what. The two of them grinned smugly and said, "It's blood sausage." I groaned. Dr. Fischer turned to me and said, "Well, Mel. I guess it's time to find out which of you is the most honest." I ate the sausage.
Once, before a business trip to Venezuela, I accidentally got a terrible sunburn. It was so bad that my entire face was swollen and my eyes were reduced to slits—my dermatologist said I had 2nd degree burns! Nevertheless, I still traveled to Venezuela for the trade show and while I demonstrated products at the booth, the conversation inevitably turned to my sunburn. "This is ViscoStat," I'd say. "What happened to your face?" they'd ask. "Sunburn. Anyway, if you use this tip to burnish the solution into the capillaries…" They would interrupt with, "You should have worn sunblock." I'd laugh and say, "True, but back to ViscoStat." They just couldn't focus—I really was a sight to behold. "Have you tried putting vinegar on it?" Each of them had advice for what I should put on the burn—aloe gel straight from the leaf of an aloe vera plant, milk of magnesia, and many other remedies. I don't think I sold much at that show, but I definitely made an impression. When I returned to Caracas a year later for the next exhibition, dentists would approach the booth and say, "You're the girl with the sunburn!"
One of the most memorable and fulfilling experiences I've had in my career was to participate on the planning committee for Icons of Dentistry: A Workshop for Women. Not only was I able to collaborate with brilliant minds from all over Ultradent, but I enjoyed learning from the varied perspectives of women who attended from all over the world. It was a good reminder that no matter who we are or where we come from, people usually have more commonalities than they have differences. I am bonded to some of those women for life. Even better, I can already see through social media that some of these women—who were total strangers before—left with new best friends and confidantes. That was what our committee hoped we could give with the workshop and to see it come true was so rewarding. My heart was full.
There are almost too many stories and lessons to tell. Throughout my career, I've had the opportunity to travel throughout Latin America, Europe, Africa, the Middle East, and Asia, learning different ways to live and think from our overseas partners and colleagues. Dr. Fischer likes to quote Mark Twain, who said, "Travel is fatal to prejudice, bigotry, and narrow-mindedness." I know travel has helped me with that. I'm so lucky to have connected with so many people and cultures through this amazing job. It has changed me forever.