As we celebrate Ultradent's 40th Anniversary throughout the coming year, we also celebrate the people that work here and the rich stories they have to tell about the company, how it's grown, and the role they've played in its history. Today we talk to three longtime Ultradent employees, Karen Phillips, Nicolas Sondaz, and Steve Gerber. Read their stories about working at Ultradent Products, Inc.



​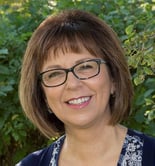 Karen Phillips
Director of U.S. Sales
18 Years at Ultradent
When I started in dentistry as a dental assistant many years ago, I was actually quite shy and had been that way my whole life—through childhood and as a young adult. Quite shy! In a crowded room, I was always the wall flower, but I loved dental assisting. Then, when the opportunity to work for
Ultradent
came around, I started coming out of my shell as I had to go in to dental offices as a sales rep.
Later, as a regional manager, again, I blossomed a little bit more. After a few years in that position, I became a product trainer and remember distinctly a few occasions where I would talk to my mother on the phone and say, "Oh, I have a class of 30 people to train today," or "I'm going to speak at our National Sales Meeting and I have 100 people to present to." One day she stopped me and said, "Oh my gosh, Karen, how do you do that? You're SO shy!"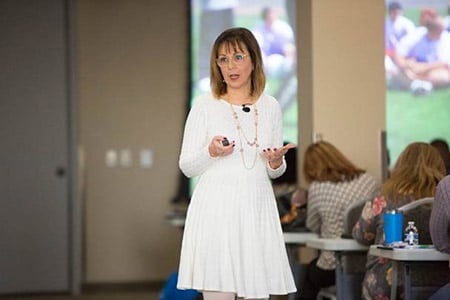 Karen giving one of the many lectures she's performed throughout her career
It stopped me in my tracks and it was an "Aha!" moment for me. That moment was a real marker for me in my career because I had almost forgotten that I used to be shy and to look back and go, "How did I get here?!" was amazing.

I realized, and told my mom, that when you love what you do, and you're passionate about it, you gain confidence. I mean, I went from being incredibly timid to public speaking and presenting for a living!

I believe this all happened because Ultradent recognizes passion in people and fosters growth in those areas. That's what I love the most about Ultradent. The only reason I'm in the position I am today as the director of U.S. sales is because Ultradent identified and recognized the passion I had for our products at the beginning, and helped me cultivate it and build on it by making me a trainer, which helped develop my skills further to help me become what I am today. I thank God for that and that I'm part of a company that does that for and with their people.
​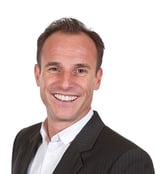 Nicolas Sondaz
Las Americas General Manager
12 Years at Ultradent

Something about my time here that really stands out for me is that Ultradent has provided the environment that caused me to make a huge change in my personal life that has, in turn, greatly changed and influenced my professional life as well.

About ten years ago, Ultradent organized a distributor meeting that was to take place in the summer at the South Jordan, Utah headquarters. As part of the meeting, Ultradent was planning a very small 5K race, and although I wasn't involved in any sports or fitness activities at the time, this little race got me hyped about training for it.

The week that I arrived in South Jordan for the meeting, I trained every day with Fabio Fowler. I wasn't really competitive at that time, but I decided I would give this short race my all.

Well, the race came around and to my surprise and shock, I finished in second place and I got a little prize and recognition. This was a real turning point. For the rest of the meeting, I received many compliments from people, urging me to keep pursuing running, so when I returned home, I started entering and training for more small races, then, over time, they got longer and longer.

Then, from running long races and even marathons, I was inspired by Dirk Jeffs, Ultradent's president, to start doing triathlons and eventually several Iron Man triathlons.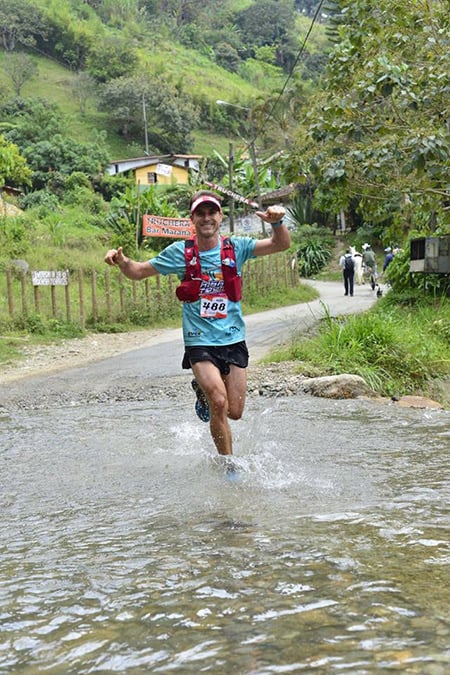 Nicolas running one of the many races he's competed in over the last 10 years


It's been ten years and exercise and fitness has become my passion and my main hobby. I absolutely love it. This happened because of the encouragement of my Ultradent colleagues and my wonderful first experience with that small 5K at Ultradent. It helped me to discover that I had a talent for this and it has truly changed my life. It would be difficult to count how many races, triathlons, long-distance runs, and ultra-trail runs (40, 100, 120, and 160 kilometers) I've done since then. I've got a big race next month in Argentina that I'm looking forward to! I run a race almost every weekend.
However, the real change in myself that I've seen through this process is the focus I've gained in my career, the reduction of stress, and the increase in energy and efficiency when it comes to my career. When I'm exercising in the morning, it gives me so much time to clear my head, strategize, and prioritize what's most important for my work that day. I make my best decisions when I'm training versus when I'm working on my computer or in an office setting with interruptions. It is my special time and it's become essential for me to perform at the highest level in my career. Sports have taught me balance, improved my nutrition, improved the quality of my sleep immensely, elevated my moods, and lowered my stress levels.
Were it not for my career at
Ultradent
and the inspirational people I've been surrounded by through this company, I don't know that I would be the man who I am today.
​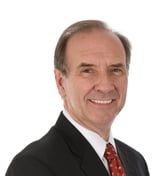 Steve Gerber
Sales Trainer & International Lecturer
25 Years at Ultradent


I travel around the world for about half of the calendar year, training and lecturing to Ultradent's dealers, distributors, sales reps, and managers. I've been everywhere from Russia, the Middle East, China, all over Western and Eastern Europe, North, South, and Central America, and beyond. Although I've had many incredible experiences, there's one that stands out as very special for me.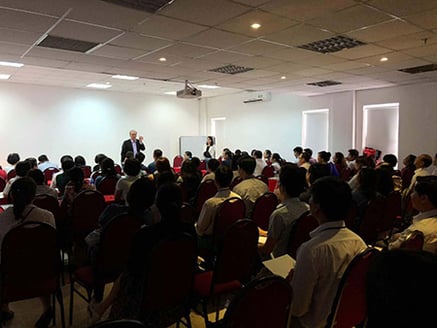 Steve Gerber lecturing to a group of doctors in Asia


I was traveling around Central America in the mid-2000s about ten to twelve years ago when we flew into Nicaragua for a morning lecture/training session with a group of dealers. We landed and went straight to the motel where the lecture was taking place. The motel was layed out in a "U" shape, with rooms and conference rooms, as well as the lobby, surrounding the hotel pool. The lobby had glass windows that looked out on the pool and so did many of the meeting rooms.

We planned to stay overnight, so the dealer who was hosting us took our bags straight to the hotel where we were staying, while we stayed at the motel where the meetings were scheduled so we could set up and prepare. We arrived a bit early, so I had some time to kill before our meetings started.

It's incredibly hot and humid in Nicaragua and I was wearing a suit and tie so I decided to go look for a little shop where I could buy a bottle of water. Upon returning, I walked into the motel lobby and heard a woman screaming "Ayudame! Ayudame!" (Spanish for "Help me!") from the pool area behind the lobby, but no one was doing anything. Everyone was just standing there, frozen, looking at this poor woman.

I ran through the lobby to the pool area and saw the woman frantically pointing toward the deep end of the pool, but the bottom of the pool was painted white, and at first, I didn't see anything. Then, suddenly, I saw a little head of black hair, and realized that her son, who was probably two or three years old, was wearing a white t-shirt and had sunk to the bottom of the pool. I realized no one was doing anything because no one—neither the kids nor the adults—could swim and this little boy was at the bottom of a six or seven-foot-deep pool.

Having no idea how long he'd been down there, I flipped my shoes off and dove in with my suit coat, tie, socks, pants, wallet, cell phone…everything. I grabbed the little boy, he must have weighed 35 or 40 pounds, and he was totally limp. I still don't know how I did it to this day, but I took him in my arms, swam up to the top of the pool, and by some miracle, was able to raise him out of the water and put him on the edge of the pool without anything below my feet to leverage the weight because the bottom was much farther down than I was. It's moving to me, how I was able to do that without sinking us both deeper into the pool.

After I got him to the side of the pool, I lifted myself out, and in that moment, I was just sick to my stomach because I had a son that age at the time and I truly thought the boy was dead. Nevertheless, I started chest compressions and CPR until he started throwing up water and coughing. After a few moments, the ambulance arrived and he sat up, gasped for air, and his eyes fluttered open. The paramedics then rushed him and his mother off.

A few moments later, I walked back into the motel and my American colleague who was traveling with me, completely oblivious to what had just occurred, saw me soaking wet in my suit in the hall and the most perplexed look came over his face. He said, "Steve! WHAT ARE YOU DOING?" and I said, in my joking and sarcastic way, "I had a few minutes before the lecture, I thought I'd take a swim!"

We still had a few minutes before the lecture so I was able to run to our hotel and change my clothes. But unbeknownst to me at the time, that colleague of mine called my wife and told her, "You will not believe what your husband just did. He just jumped in a pool and saved a kid's life. He just performed a miracle."

Anyway, my phone was completely fried, my suit was ruined, but we did the lecture. However, I don't believe I was in Nicaragua on that day to do that lecture. I believe we were there for a very different reason, and I'm grateful I was in the right place at the right time.

Post Script: Steve Gerber later received the Dan E. Fischer Award for his heroic act of bravery and poise under pressure for saving that young boy's life.