"It is only with an open hand to give that one has the ability to receive."
-Dr. Dan Fischer, founder and CEO of Ultradent Products, Inc.
Throughout Ultradent's 40 years in the dental industry, Dr. Dan Fischer, the company's CEO and founder, has made it a point to never forget his grandfather's sage advice that "It is only with an open hand to give that one has the ability to receive." Perhaps this is what influenced the adoption of Care as one of Ultradent's five Core Values: Integrity, Care, Hard Work, Innovation, and Quality.
For Ultradent, care extends far beyond finding a cure for caries, improving oral health globally, or promoting the practice of minimally invasive dentistry throughout the world. In fact, Ultradent and Dr. Fischer's commitment to
caring and giving back has led to quite a few unique and special opportunities to better the world around us, both close to home and abroad. This is also true of Ultradent's flagship, world-renowned tooth whitening brand, Opalescence™ whitening, which has been the industry leader in professional whitening since its introduction to the market 29 years ago.
Opalescence Whitening Was Created to Improve Lives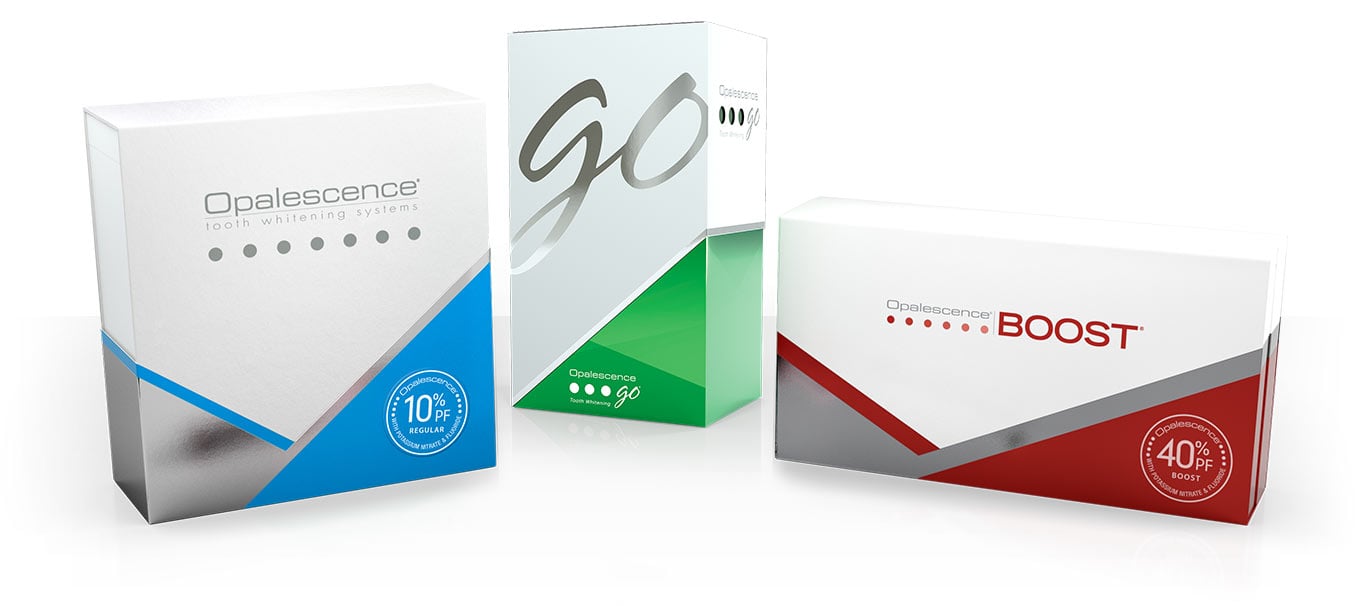 Opalescence Whitening has remained the leader in professional tooth whitening for 29 years, and has a strong commitment and legacy of giving back.
The story behind its creation 29 years ago is a personal one for Dr. Fischer. In fact, although Opalescence whitening has indeed improved the lives of many in the years since its inception, it was initially created to improve one life—the life of Dr. Fischer's young daughter. As a teenager, she would often express self-consciousness over the shade of her teeth, begging her father to create something that could whiten them. Wanting her to have confidence and take pride in her smile, Dr. Fischer and the team behind Opalescence whitening created the brand's signature sticky viscous gel. The first night she tried it he instructed her to sleep with the gel on one half of her upper arch with a competitor product on the other half. When she woke up the next morning, Dr. Fischer recalls, "It was one of those 'Wow!' moments to see the difference from one side of her arch to the other. We learned then we needed to scallop the trays so the gel wouldn't migrate, but on the side that the Opalescence whitening gel had been applied she'd gone from an A3 shade to an A1 overnight! From that moment on, my daughter was excited to smile, and I knew this was going to change many other lives like hers for years into the future."
Crown Council's Smiles for Life Foundation
For the past five years, Ultradent and Opalescence whitening have partnered with the Crown Council to support its annual 120-day Smiles for Life Foundation campaign. The campaign encourages patients, through their local dentist, to "whiten their teeth and help a child." During the campaign, approximately 1,000 participating Crown Council dentists throughout the U.S. and Canada donate 100% of the proceeds from any tooth whitening procedure performed in their office toward local charities in their communities throughout the world. Every year, Ultradent donates 100% of the tooth whitening products to participating dentists so that the whitening product costs don't have to come out of their own pockets. In fact, from 2017 to 2018 Ultradent gave approximately $1.5 million worth of whitening products to doctors participating in the Smiles for Life campaign. In addition to tooth whitening, 50% of other procedure costs are donated to a local children's charity chosen by the participating dentist, and the other 50% go to national or worldwide children's charities selected by the Smiles for Life Foundation.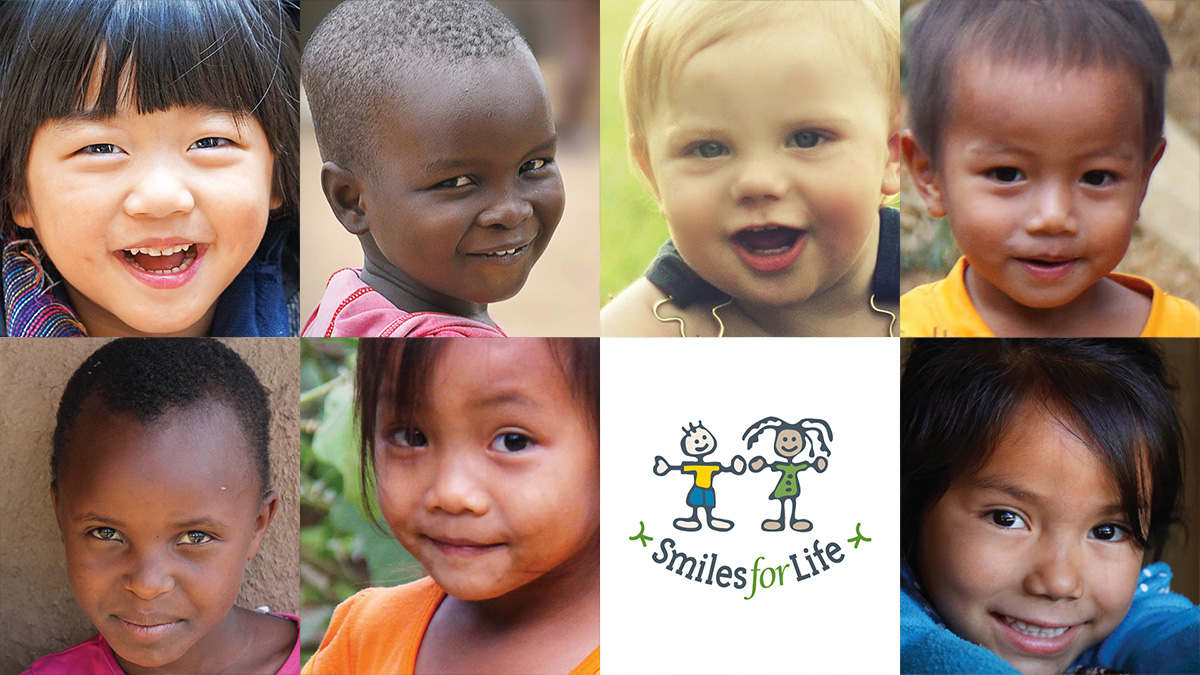 All proceeds from Opalescence whitening procedures through the Smiles for Life Foundation go to underprivileged children throughout the U.S. and Canada.
The Crown Council's prestigious alliance of participating dentists (including one who does extensive work in the Dominican Republic through his foundation, Bright Island Outreach), combined with its patient-centered approach perfectly aligns with Ultradent's foundational value of caring, patient-centered, minimally invasive dentistry. We are proud and honored to support the incredible work they're doing in the U.S. and throughout the world for children in need.
Ultradent's commitment to the well-being, education, and care of children, along with the philosophy that, according to Dr. Dan Fischer, "There is one human health that will always, always be more important than dental health, and that's mental health," makes the Crown Council a perfect partnership for Ultradent and Opalescence whitening. We know the power that tooth whitening has not only on esthetic appearance, but on the confidence and self-esteem of the patient. The patients, the children's charities who receive donations, as well as the dentists who freely give of their time to participate in the Smiles for Life Foundation are all beneficiaries of the initiative.
Humanitarian and Disaster Relief Efforts at Home and Abroad
Ultradent has long been a staunch supporter of the dental professionals all over the world who take it upon themselves to help others through humanitarian missions and initiatives. With clinicians reaching out nearly every day for product support and donations for dental missions in Haiti, Syria, Guatemala, Nepal, Egypt, the Dominican Republic, the Philippines and beyond, Ultradent was able to donate more than $460,000 of product to help support the efforts of humanitarian dentists in 2018 alone.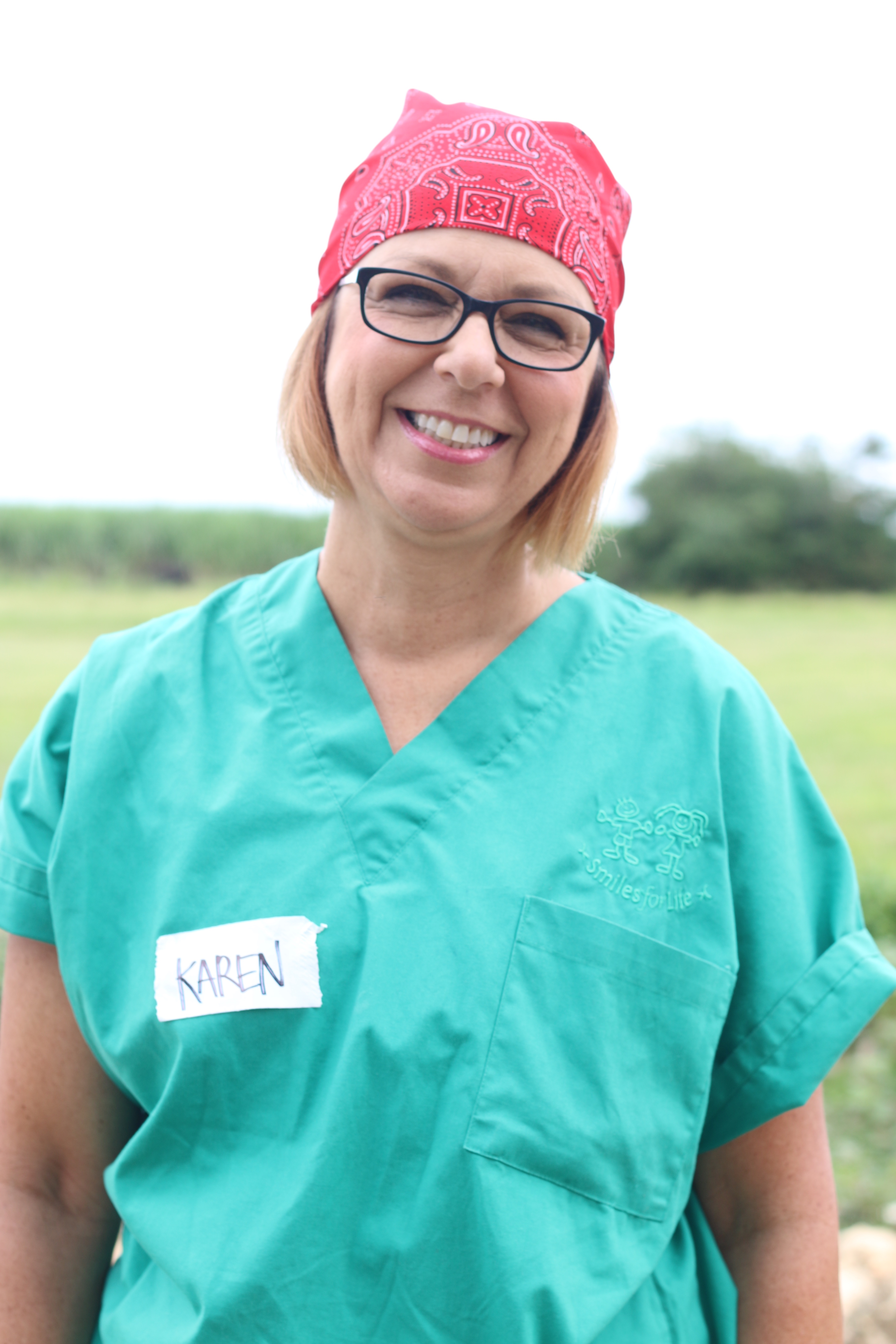 Ultradent's Vice President of Sales and Marketing, Karen Phillips, brought her 24+ years of clinical experience to a Crown Council mission trip to the Dominican Republic, providing free dental care to those in need.
Many of these dentists are members of the Crown Council, like Dr. Kevin E. Miller, who traveled to the Dominican Republic with his entire family in tow to perform charity dental work. In addition to donating Opalescence whitening products to the Crown Council's Smiles for Life Foundation, Ultradent also supports these missions with other necessary products, like Mosaic™ universal composite, Peak™ Universal Bonding adhesive, and more. On Dr. Miller's trip, he recalls using Mosaic composite to free-hand the anterior teeth of a young mother in her early 20s who had sustained injuries in a traumatic car wreck, including knocking out and damaging several of her teeth. Dr. Miller says, "It's physically taxing work, because it's sort of a marathon to get as much done as you can with the limited time you have, but it's an amazing thing as a professional, to be able to give back."
In fact, just last year, Ultradent received more than 300 requests from clinicans to aid in their humanitarian missions in 40 states and 75 countries. Dr. Fischer says, "During my career, I've encountered clinicians who were willing to do humanitarian work abroad and further the mission that Ultradent is also passionate about, which is improving oral health globally. There are so many touching and amazing accounts of these individuals traveling on their own time and at their own expense for the rare opportunity to support others, and we're proud to support them in any way we can."
Ultradent frequently donates products to be used at a small clinic at the basecamp of Mt. Everest, where Sherpa children who experience painful tooth decay can be treated and taught valuable dental hygiene skills.
Thanks to the success of Opalescence whitening, Ultradent's largest and most well-known product line, Ultradent is able to support not only these clinicians' efforts, but also provide disaster relief to parts of the world that are devastated by hurricanes, typhoons, earthquakes, and violence.
Some of Ultradent's disaster relief efforts include the opportunity to contribute significantly to Typhoon Haiyan relief efforts, as well as disaster relief for major devastating earthquakes that took place in Haiti and Ecuador. Closer to home, after hurricanes Florence, Michael, and Harvey caused catastrophic devastation in the Carolinas, Florida panhandle, and states surrounding the Gulf of Mexico, Ultradent pledged $300,000 to aid in the rescue, relief, and rebuilding efforts of those effected, including the many dental professionals whose practices were severely and sometimes irreparably damaged by the storms. Ultradent also pledged $30,000 to victims of the Pulse Nightclub massacre in Orlando, Florida in 2016. In a statement after the shooting, Dr. Dan Fischer reminded us of the reasons why Ultradent gives back and hopes to be able to continue to give back in the many years ahead, saying, "We must band together as Americans to do everything within our power to help those in need and counter those who wish to enact hate against those who are different from themselves. The victims are our collective sons, daughters, and family members. We must have courage and do the right thing, even at our most difficult moments."
The Legacy of Opalescence Whitening
Whether it's giving a music teacher her confidence back, helping a little boy learn how to smile confidently, or helping to improve the lives of children all over the world through the Crown Council's Smiles for Life Foundation, Opalescence whitening's philosophy that every person's smile is powerful continues to guide not only the brand's charitable efforts, but its marketing philosophies.
More than the esthetic improvements that tooth whitening makes possible, the Opalescence whitening team hopes to continue supporting worthy causes and improving the lives of the patients who use it by emphasizing the beauty, happiness, and love that everyone's smile—no matter its shape or color—spreads to those around them. That is why we have done what we have done in the last 29 years, and what is motivating us for the next 29 years and more into the future.
Learn more about Ultradent's humanitarian efforts here.
Follow Ultradent's Heart of Ultradent humanitarian efforts on Instagram here
Learn more about the Crown Council and Ultradent's Smiles for Life Initiative here.
Purchase Opalescence Whitening here.