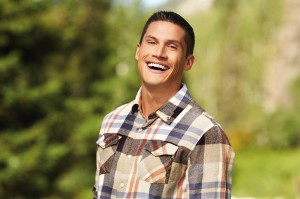 Today we continue with our four-part series on the many reasons that dentists and patients love the Opalescence® Tooth Whitening System. If you happened to miss the first part, no problem. Click here. Otherwise, let's move forward with reasons 6-10. Check it out:
6. Opalescence is available in both hydrogen peroxide and carbamide peroxide formulas to best fit any patient's needs.
When it comes to whitening, hydrogen peroxide formulas and carbamide peroxide formulas are equally effective, although some patients prefer one over the other. Carbamide peroxide formulas like Opalescence® PF allow for a more gradual, slow (but equally effective) release, making this formula ideal for patients who prefer to whiten at a lower concentration for a longer period of time, like overnight whitening.
Hydrogen peroxide, on the other hand, releases more quickly, requiring usage times of only 20–60 minutes per day. For even quicker results, patients can choose Opalescence's in-office whitening treatment, Opalescence® Boost, a dentist-administered, 40% hydrogen peroxide treatment that takes between 1 and 1.5 hours for quick, sparkling results.
7. Opalescence is formulated with a high concentration of water.
The high concentration of water in all of Opalescence's whitening gels has proven to be extremely beneficial in helping to reduce patient sensitivity without compromising the effectiveness of the gel. For a time, many whitening products on the market began to reduce the amount of water in their whitening formulas to allow for a longer shelf life, but Opalescence has always put patient comfort and satisfaction first—which meant stubbornly keeping the water concentration in its products high, while maintaining an equally effective, but more comfortable whitening experience. And, despite refusing to lower its water concentrations, Opalescence boasts a one-year shelf life (unrefrigerated), and stays good for up to 18 months when refrigerated.
8. Opalescence comes in a variety of delicious flavors, is 100% gluten free, and is a certified Kosher product.
Here's another way Opalescence was designed with something for everyone in mind. Not only are all of Opalescence gels gluten-free, but they're also a certified Kosher product. Additionally, gone are the days of yucky tasting teeth whitening products. Opalescence is available in delicious flavors like Mint, Melon, and Peach (in most concentrations), making the Opalescence experience not only comfortable, but pleasant!
9. Opalescence is always sweetened with Xylitol.
All Opalescence products are sweetened exclusively with Xylitol, a non-carcinogenic, sugar-free sweetener that promotes oral health.
10. Opalescence is pH balanced.
Due to the fact that whitening gels can often spend hours inside a patient's mouth, it's essential that the whitening product's pH match the natural, healthy pH of the mouth. Anything higher could potentially cause acid erosion, and lower pHs can oftentimes promote the development of unhealthy bacteria. Opalescence's pH balanced formula safe-guards against these hazards, making whitening a gentle and safe experience for the patient and their teeth.
Thanks for reading and let us know if you have any questions in the comments section of the post. We're happy to answer them!
Stay tuned for Part III of 20 Reasons to Love Opalescence!